Thule T2 Pro XT, Yakima Dr. Tray or Swagman Chinook are maybe the best 4 bike platform bike racks but are not the only ones. Platform or tray style bike carriers are very versatile, accommodating almost any bike style, regardless of wheel size, frame, or suspension. These are ideal for fat bikes, road or mountain bikes, or suspension ones. Fits 2-inch receivers. 4-bike platform hitch racks provide a very good stability, eliminating sway problems. The contact with frames is minimal.
See a full range of 4-bike platform racks or explore some carriers below.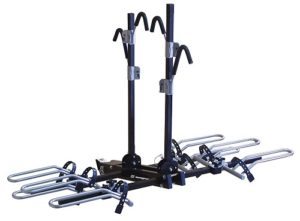 A wallet-friendly 4-bike hitch bike carrier that holds 4 bicycles at once. It is designed for 2-inch receivers and wheel straps are included. Center arms fold down to allow access to the rear-of-vehicle without removing the rack. Rack folds up when not in use. Fits 20-29″ wheel sizes and the maximum load per bike is 35 lbs.
See details