If you are looking for the best trunk bike racks in 2019, then you've come to the right place. First of all, trunk bike carriers are less expensive than hitch-mount or even roof-mount, loading/unloading is extremely easy, it can be used on multiple vehicles, making it a great choice for occasional use. Some bike carrier manufacturers like Thule, Yakima or Saris really mastered the designs of rear mounted bike racks, making them the best in the market.
There are lots of choices out there and you need to take into consideration multiple factors…to make your life easier, we put together a list with best trunk mount bike racks in 2019.
Top 7 Best Trunk Bike Racks
1. Thule Raceway Pro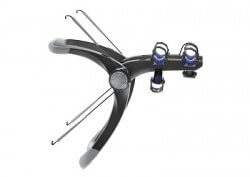 Thule Raceway pro is considered one of the best trunk bike racks in 2018 due to its versatility and security. The primary support arms are adjustable thus increasing compatibility with suspension bikes. The Raceway Pro uses a ratcheting steel cable system and an upgraded locking system, making it one of the most secure trunk mount bike carriers.
Raceway Pro will fit sedans, vans, and SUVs, while it can carry 2 bikes with a 35lb per bike weight limit. It is designed to carry bikes with traditional open front triangle, road and commuter bikes. Individually adjustable arms allow the arms to be in different positions, so it can help when trying to accommodate bicycles such as full suspension mountain bikes. The arms are also adjustable in a span from a 6.5″ to 10.5″ thus increasing compatibility with smaller bikes.
The patented Fit Dial system will help you with the compatible vehicles and also has a tips section that will guide you through the process of attaching the cables to secure the rack. This bike carrier comes with an included cable lock which will lock the bicycle on the rack, preventing its removal. A separate lock will prevent the attachment cables from being loosened and also protects the internals of the ratcheting system from being tampered with.
Like other trunk bike carriers (Yakima King Joe for example) which rely on nylon straps, Raceway Pro uses steel cables for vehicle attachment. It packs up smaller than many carriers and one of the easiest to install due to the Thule Fit Dial System. Great to be used on occasional trips, best for traditional, road and hard tail mountain bikes.
Features
Max security and easy vehicle install with Sure-Tight ratcheting cables

Bike-to-bike contact prevented by no-sway cages

Soft cradles secure the bikes to the rack and absorb road shock and vibrations

Locks the bikes to the bike rack and the bike rack to the car (locks included)
Bike rack arms can be narrowed to easily fit a variety of bike frame shapes
Bike rack arms can fold down when not in use

Folds up flat for convenient storage
Tech Specs
Nr of bikes: 2
Load capacity: 31.8 kg
Max bike weight: 15.9 kg
Folded dimensions: 58.4 x 61 x 53.3 cm
Weight: 10.2 kg
Carbon frame compatible
One Key system compatible
Lockable bike-to-rack and rack-to-vehicle
Pros: High-end construction, versatile, secure, strong, easy to install.
Cons: Pricey, small security cable diameter.
Conclusion: Even if Raceway Pro is a bit more expensive than other trunk mount carriers, it is the only one that uses steel cables for attchment. The excellent construction and first-class security features, durability and versatility recommends it as one of the best trunk mount bike rack.
2. Yakima FullBack
Yakima FullBack trunk mount rack is simple to use, construction is rugged, it has a modern design and also has a built-in bottle opener. New super cush ZipStrip cradles allow for premium bike protection. New four strap consumer interaction for easy installation. Enhanced vehicle fit achieved through bomber external frame construction. Click here for more information.
Features
SuperCush ZipStrip™ cradles secure the bikes and make loading and unloading extremely easy
Modern design delivers an improved fit
Bomber external frame holds tough, cushy padding protects your vehicle paint
Full SKS locking package secures rack to vehicle, bikes to rack to help prevent theft
Simple installation with an interlocking HUB
Four-strap attachment is intuitive and easy
Compact for easy storage
Premium high-gloss finish
2 bike carrier – L 32" x W 25" x H 22" 20lbs
3 bike carrier – L 28" x W 25" x H 22" 23lbs
Pros: Secure, easy to install, adjustable arms.
Cons: Not lockable to the vehicle.
Conclusion: A great choice for road bikes or hardtail mountain bikes. One of the best trunk bike racks in 2018 due to its security, and if you will ride the bike occasionally.
3. Hollywood Racks F2
Hollywood Racks Over-the-Top might be a great choice in 2018 for those who opt for an alternative to the standard trunk mount bike rack. This style benefits from a high risen frame that prevent strap damage to the vehicle body paint. It works by using the roof rack as an anchor over the top of the trunk. It is the best trunk mount bike rack for cars with spoilers so it won't damage them.
The new Hollywood Racks Over-the-Top trunk bike rack features an adjustable "high rise" frame which prevents strap contact with the spoiler. Includes removable hatch anchors and quick connect straps for secure attachment to hatches, trunks, roof rack cross bars and roof rack raised rails. F2 trunk mount bike rack fits most vehicles without a spoiler. Click here for more information.
Features and Tech Specs
Weight Capacity: 35 lbs per bike
Designed for vehicles with spoilers
Includes special attachment straps for roof racks and glass hatches
Soft rubber cradles protect bike's finish
Anti-sway bike cradles keep bikes separated and rigid.
Quick release adjustment hubs
Comes fully pre-assembled
Folds flat for easy storage.
Integrated tie-down strap for extra security
Limited Lifetime Warranty
Pros: Great for cars with spoilers, versatile, adjustable arms
Cons: No additional attachment straps, you need a roof rack
Conclusion: Designed for SUVs, minivans, and hatchbacks with spoilers, it will come pre-assembled and will not damage your car.
4. Saris Bones 2-bike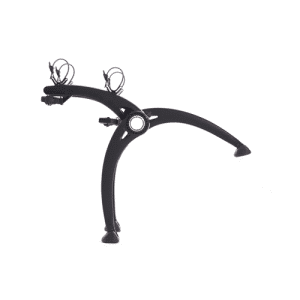 Saris Bones 805 is a trunk mounted best seller due to its popularity. It holds bikes by the top tube, making direct contact with the frame.
Awarded 4.5 out of 5 stars from Bicycling Magazine, Bones has proven that it's more than just another rear-mounted SUV rack, it's a tested statement of style, design, convenience, and durability. The Saris Bones 2-bike trunk mount rack makes use of ratchet straps that keep your bike secure. It also uses anti-sways along with interconnected rubber feet to protect the finish on your vehicle during transport. Saris Bones 2-bike rack is easily installed because of its vinyl-coated hook straps that get secured to the car with spring-buckles.  It fits just about any vehicle – from sedans to mini-vans and allows for easy access because of its trunk-mounting capability.  Saves time on installation since it doesn't require overhead hoisting. Saris Bones 805 is also one of the toughest, environmentally-friendly, and injection molded racks on the market. Click here for more information.
Features
Carries 2 bikes (35lbs/bike)
Spring buckle straps with vinyl-coated hooks
Strongest frame on the market
Built with 100% recyclable materials
Rust-free injection molded plastic
Articulated rubber feet to protect paint
Ratcheting anti-sway straps for a secure hold
Arc–based design separates bikes on different levels
Frame fits over most spoilers
Compatible with most vehicles
Lightweight at 9 lbs
Pros: Secure, lightweight, folds down small, easy to adjust, soft straps for bikes.
Cons: Hard to use for non-traditional bikes, not lockable to vehicle.
Conclusion: Saris Bones 2-bike is one of the best trunk mounted bike racks for carrying road and hardtail mountain bikes. Recommended for occasional use and short distances.
5. Yakima King Joe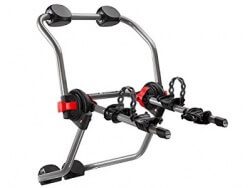 The Yakima KingJoe is a trunk bike carrier that will fit a wide range of vehicles. It is easy to install and can handle road and mountain bikes. The adjustable arms accommodate a wide range of cars, and it comes with a detailed fit guide to make this process simple. Loading bicycles is easy due to the low loading height but you might find it a bit difficult to load full suspension bikes.
Features
Premium QuickTrigger™ II hub system makes installation fast and easy
Compact design with arms that fold down when not in use
Sleek design provides a stable fit on a wide variety of vehicles
Premium oversized padded feet and coated metal buckles protect your vehicle
Narrow arm design fits a wide variety of vehicles
StableCradles II hold bikes firmly in place
Integrated bottle openers
Pros: Affordable, sturdy, adaptable, versatile.
Cons: While installed, the trunk or hatchback cannot be opened.
Conclusion: Yakima King Joe is well suited for mountain and road bikes with traditional front triangle shapes. Ideal for short trips.
6. Hollywood Racks F4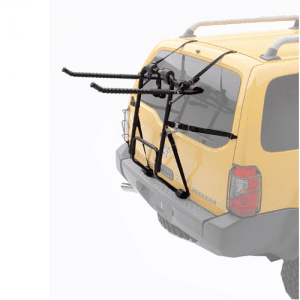 An exclusive dual positioning trunk/bumper bike carrier that allows a custom fit on most sedans, SUVs and minivans. High strength tie down buckles and straps ensure a secure fit for heavy loads and up to 4 bicycles. Hollywood Racks F4 4-bike trunk mount rack is dedicated for those who needs high loads and want to carry up to 4 bikes on their trunk's vehicle. It will fit to your SUV or sedan and comes pre-assembled while folds flat for easy storage. With extra-heavy-duty steel tubing and hardware, the SUV bike rack has an integrated tie-down strap affords extra security for your load and comes equipped with motorcycle tie down buckles and extra side straps to ensure a secure fit for heavy loads. Click here for more information.
Features
Capacity: 4 Bikes (Max. 35 lbs per bike)
Heavy-duty components for carrying up to four bikes
Dual positioning trunk/bumper system allows custom fit on vehicles
Installs quickly and easily
Comes fully pre-assembled
Folds flat for easy storage
Integrated tie-down strap for extra security
Pros: Stable, sturdy, great for multiple bikes, easy to store.
Cons: Incompatible with some vehicles.
Conclusion: A great solution if you have a familty car. Stable, sturdy and easy installation.
7. Thule Passage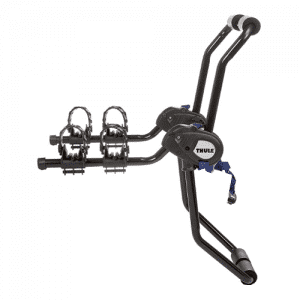 The Thule Passage trunk bike rack is the perfect choice for family-oriented cyclists. It is designed for either 2 or 3 bikes stowed at the rear exterior of your car/SUV. It features rubberized cradles and no-sway cages for minimized movement, FitDial adjustment feature, SoftCushion pads, six strap system that secures rack to the vehicle. Arms fold down when not in use and arms hold a wider range of bike frames including smaller frames for kids bikes. It has a classic black finish that looks amazing on any vehicle and a maximum carrying capacity of 70 lbs.
Features
Soft rubber cradles protect bike frame while holding it securely

Bike rack arms can fold down when not in use

Narrow cradle arms hold a wider range of bike frames including smaller child frames
Car protection with soft cushioned pads against vehicle
Bike-to-bike and bike-to-vehicle contact prevented by no-sway cages
Protects the vehicle with vinyl-coated buckles that provide a firm hold
Pros: Stable, sturdy, versatile, easy to install.
Cons: Does not work with women's bikes.
Conclusion: A stable trunk mount rack built for family-oriented cyclists that features anti-sway functionality, soft rubber cradles, six strap system, patented FitDial for a perfect fit and it folds down when not in use.