Best SUV Bike Carriers: Everything You Need to Know in 2021
You will discover:
Best overall hitch, trunk, and roof racks

Best swing-away, fat-tire, and electric fat-tire carriers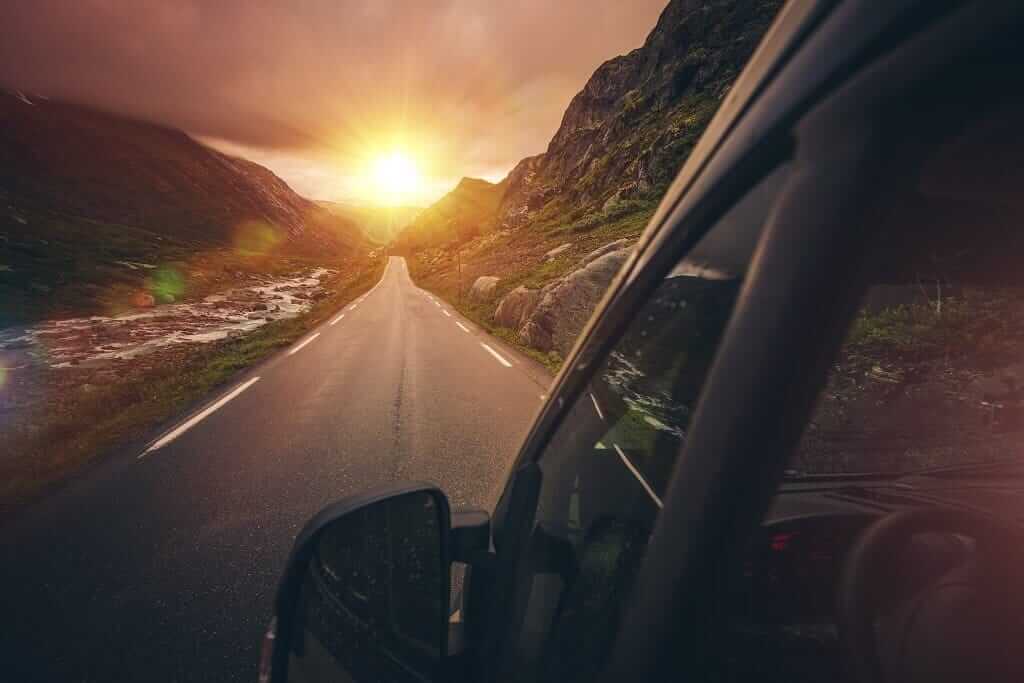 Bike owners, who want to go to a ride and safely transport their bicycles should ask: what is the right SUV bike carrier? Do I need a hitch-mounted rack? Or maybe a roof-mounted? How can I safely transport my fat-tire bike and still not break the bank? These are some of the questions you should ask yourself before purchase. To make it easier we will recommend below some of the best bike racks in 2021 that will fit a variety of bike styles. In addition, so you can have everything you need in one place, we created the ultimate guide to SUV bike racks, a guide that will support you in finding what you need.
Our recommendations are a result of tens of hours of research, customer reviews, observing best-sellers, taking into consideration bike styles, rack features, and budget. Note that we won't go to the lower-end prices as with quality and extra features, the price will go up.
Best SUV Bike Racks by Category (2021 Update)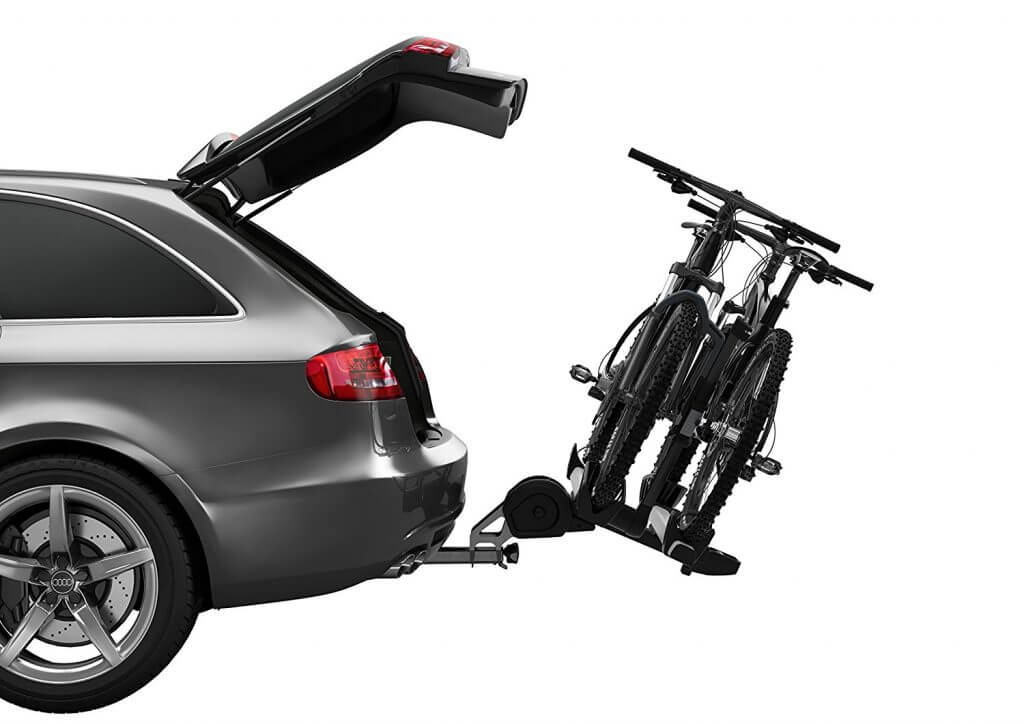 BEST OVERALL
Thule T2 Pro XT
This hitch-mounted rack has an extremely high level of versatility combined with strength, security, and user-friendliness. Extremely intuitive and well designed, this carrier sets the standard of every hitch bike rack. Ideal for carbon frames, mountain, downhill, and fat bikes.
See what we recommended as the top 10 Best SUV Bike Racks in 2021.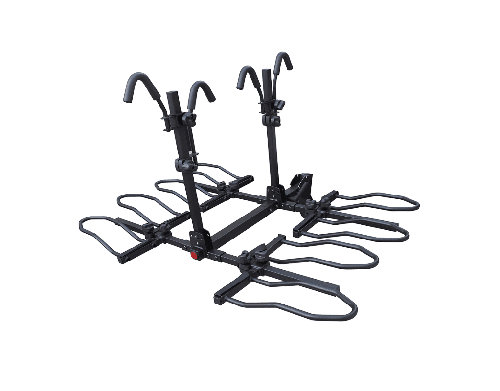 BEST OVERALL HITCH RACK
Overdrive Sport 4-Bike
It is quite hard to come up on the best hitch rack, but definitely this platform carrier is one of the best-sellers. It fits standard, fat-tire, and electric bicycles with 60lbs/bike and featuring smart tilting and anti-wobble.
See what we recommended as the top 10 Best Hitch Bike Racks in 2021.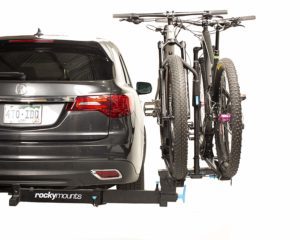 BEST SWING-AWAY RACK
RockyMounts Backstage
The industry's first 180 degree swing away platform hitch rack. Tray can be adjusted 2" side-to-side to avoid bike interference. No contact with frame, secures bicycle by front wheel. Carries road tires up to 5. 0" wide fat bike tires, and diameters from 20" to 29". Compatible with bicycles' wheelbases from 34" to 49". Folds flat against the vehicle, and tilts down 30 degrees to allow for hatch access.
See what we recommended as the top 6 Swing-Away Bike Racks.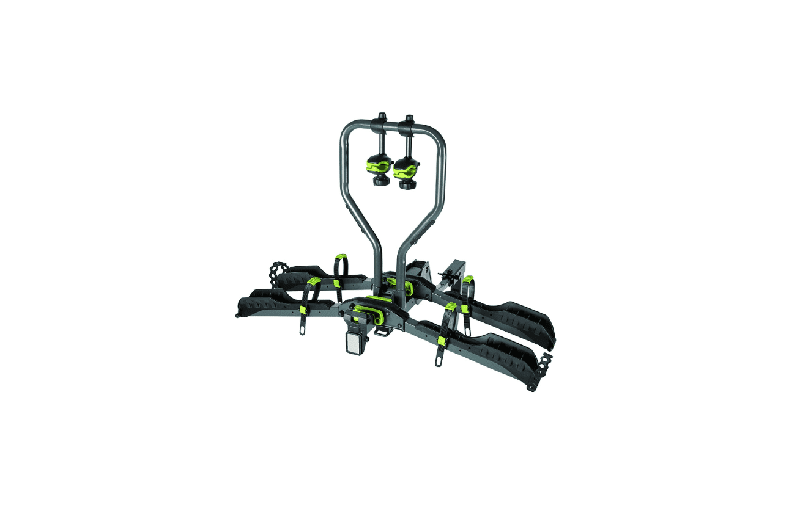 BEST FAT-TIRE BIKE RACK
BUZZRACK Approach Platform
Designed for fat bikes, it fits 1-1/4″ and 2″ receiver hitches and carries up to 2 bikes with a maximum weight capacity of 110 lbs, 55lbs per bike. Movable wheel trays with ratcheting straps and adjustable, padded frame clamps. Rack tilts down with bikes attached.
See what we recommended as the Top 10 Fat-Tire Bike Racks.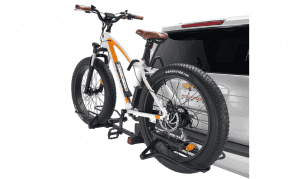 BEST RACK FOR ELECTRIC BIKES
Hollywood Racks Sport Rider
Specially designed for e-bikes and fat-tire e-bikes, this bike rack carries two electric bikes (up to 5 inch wide tires) with up to a 60″ wheelbase; Maximum capacity 80lbs per bicycle. Fits 2″ hitches only. The rack folds flat against the vehicle when not in use, and tilts down for easy cargo access.
See more about Hollywood Racks Sport Rider.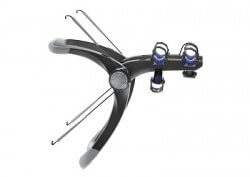 BEST OVERALL TRUNK RACK
Thule Raceway Pro 2
Thule's trunk-mounted bike carrier uses rubber-coated steel cables for mounting as opposed to standard nylon used on other models. Patented No-Sway cages prevent bike-to-bike contact. Adjustable narrow cradle arms hold a variety of bike frames including smaller kids bikes. Lockable cable secures bike to the carrier (locks included).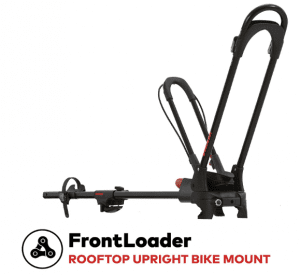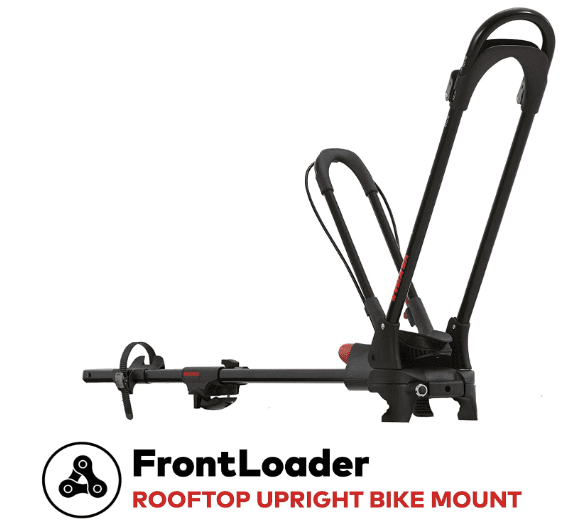 BEST OVERALL ROOF RACK
Yakima FrontLoader
Yakima's rooftop rack fits 20-29" wheels and tires <3" wide, being one of the most versatile and aerodynamic bike carriers. There is zero contact with the bike frame. Accommodates disc brakes, thru-axles, and full-suspension bicycles. No tools or assembly required for a quick and easy installation.
Crossbar spread must be between 16″ and 48″; Fits Yakima round, square, factory or aerodynamic crossbars; Fully assembled out of the box and easy.