Finding the best bike rack for your SUV or car in 2019 is not the easiest thing to do. You might think that having so many options would make the things easier…well, not all the time. Each bike carrier has its own features and each one of them has some advantages and disadvantages compared with what you want. And there are more than ten manufacturers. We are here to give you some help and make your decision easier. The below SUV bike carriers are considered one of the best on the market and are not the cheapest. However, they fit on majority of vehicles and you can put almost any bicycle on them. Some amazing features will really impress you.
Top 10 Best Bike Racks
1. Thule T2 Pro XT Platform Bike Rack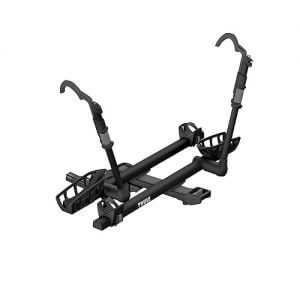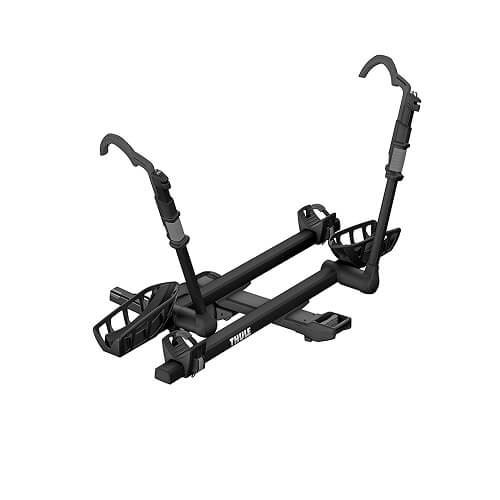 If you're an unstoppable adventurer, always eager to get on the back of your bike and explore wild territories, but don't like headaches when it comes to assembling your hitch mount bike rack, then the T2 Pro XT bicycle hitch carrier might just be the choice for you.
This SUV bike rack is an upgraded version of the durable, convenient, easy to use and stylish Thule T2, and it has, even more, build quality and innovative features, like the remote tilt handle and tool-free vehicle attachment system.
Although Dr. Tray or the 1 Up America may be more secure, this tray-style platform bike rack secures the bike with no frame contact, due to the specially designed ratcheting arm, the cable lock system and the AutoAttach system (based on locking knob instead of locking hitch pin), that secures the rack to the hitch. For the safety features to be completed, the 13" space between the bikes makes this bike rack ideal for carbon bikes.
But this is not the only bicycle style that fits, because the T2 Pro XT allows mounting of virtually any kind of bikes, with its 20-29" supported wheelbase and 5" thickness of the tire, without any adapters.
Versatility is further enhanced at this rack by the fitting of 1.25 and 2" receivers and the possibility to extend it's capacity to 4 bikes with Pro XT add-on from Thule.
Last, but not least, the adaptability of this SUV hitch bike rack is empowered by the easy tilting process, but not perfect, because it is slightly heavy and may be inconvenient to store in the garage assembled. Click here to see more information about T2 Pro XT.
Pros: ease of use, durability, versatility, aesthetics, and ergonomics.
Cons: expensive, relatively hard to store, security of the bikes (due to the short safety cables).
Conclusion: the T2 Pro XT from Thule is an outstandingly good build and it can be considered the benchmark for hitch mount racks or by many the best SUV bike rack, due to the almost perfect jointing of its elements, ease of use, versatility and durability, but let's not forget about the sleek black paint finish, that is almost impossible to scratch.
2. Kuat NV 2.0 Hitch Mount Bike Rack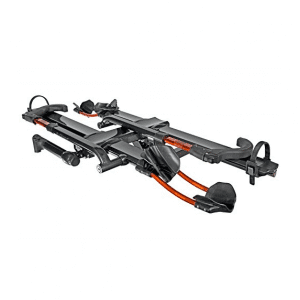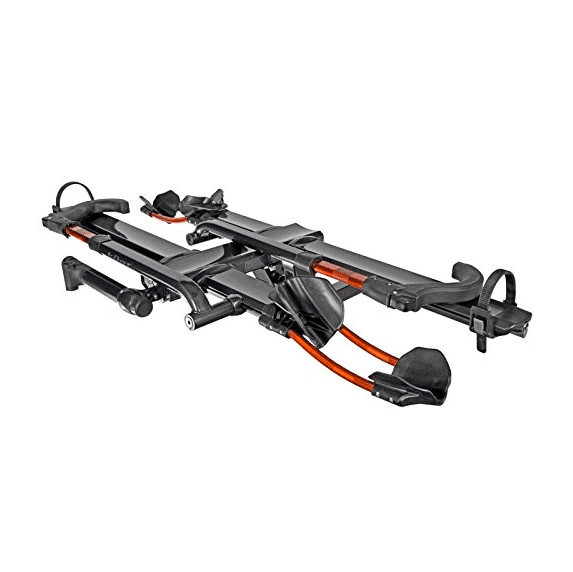 The Kuat NV 2.0 takes to the next level durability, stability and security of the most popular SUV bike carriers, being the successor of Kuat NV. It comes with an integrated work stand being one of the most feature-rich racks. Although it doesn't have the ergonomics of Thule T2 Pro, beautifully combines the design with great functionality. The Kuat NV 2.0 is a durable tray-style, platform hitch mount rack that stands out from nearly every SUV bike rack on the market, due to its increased security and integrated work stand.
It tilts easily to give access to the hatch and we can say that it's easy enough to remove and store, requiring a locking hitch pin. The NV 2.0 bicycle carrier has the ability to carry bikes with wheel sizes from 20"-29" and tires up to 4.8" making extremely versatile.
NV 2.0 hitch bike rack comes with an adjustable front wheel tray, allowing you to lower, raise, or angle the tray to avoid handlebar contact. The Trail Doc work stand comes with quick ratcheting clamp which increases security.
The assembly process is not that easy but Kuat gives clear instructions and it is best approached by two people. The Kuat NV 2.0 uses 2 burly cable locks, really substantial in diameter compared to other carriers.The powder-coated finish is better than painted finish found on other such racks and moving parts are holding up well.
Pros: versatile, secure, durable, integrated work stand.
Cons: heavy, expensive.
Conclusion: NV 2.0 is well suited to carry downhill, mountain or road bikes, basically almost any type of bike. From an aesthetic standpoint, it is the best. You can easily extend to carry 2 extra bikes with Kuat NV add-on.
3. Kuat TRIO Roof Mount Bike Rack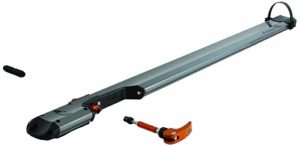 We know that your passion for cycling might mean that you own more than 1 kind of bike, but you still need to be prepared to go on any kind of adventures (road or mountain trails). Well, the Kuat Trio, the most versatile fork mount roof rack there is, might be right for the job.
The Trio roof bike rack fits virtually on any crossbar shape on the market straight out of the box (up to 3.5" wide and 1.5" thick –  even the Aero crossbars from Yakima and Thule).
Versatility is enhanced by the 3 Way fork mount system of the rooftop bicycle carrier, which means you'll have 3 fork adapters included (for 9, 15 and 20mm axles) and be able to buy other 5 separately.
Having no contact with the frame and fitting any axle shape, it can carry anything from a slim road bike to downhill bikes (with the adapter that can be bought, it will even fit fat-tire bikes)
While being one of the best looking roof bike racks on the market, it also brings ease of use, even with the given fact that it requires front wheel removal (it makes it more convenient than the Yakima High Roller, on high roof vehicle).
The Trio fork mount rack is also safe for your bike, due to the Integrated Cable Lock (locks both frame and rear wheel) and the Sliding rear tire strap and to the fact that it has longer cables than most of its competitors, which allows you to secure both the frame and the rear wheel.
The premium materials it is built with not only give good looks and premium standards of performance to this rooftop bike rack but also confer the most durability seen on a fork mount rack. Click here to see more information about Trio.
Pros: versatility, durability, ease of use.
Cons: hard to remove, carries 1 bike, high load height.
Conclusion: While not being the cheapest roof bike rack (the RockyMounts Jetline is), the versatility of this SUV bike rack, combined with its durability, ease of use and beautiful finish make it one of the best bike carrier for SUV or car.
4. Saris Bones 2-bike Trunk Mount Rack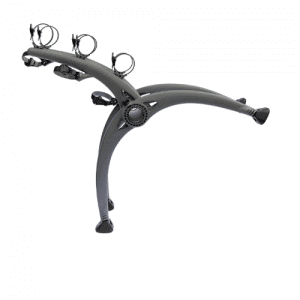 Saris Bones 801 2-bike is one of the best value bike carriers and you will be able to transport your bicycles on almost any vehicle. Being made of lightweight molded plastic, having a solid built, a good price and easy to store and mount, we can say it's a combination of features that few racks can match. Extremely easy to lift onto the back of your SUV or car and strap on. During tests, it proved to be stable and sturdy while driving. The fully adjustable curved arms fit over the most SUVs, hatchbacks, minivans and sedans.
Loading and unloading bikes are extremely easy, front wheel removal is not required. The Saris Bones 2-bike trunk rack has an additional strap that wraps around the seat tube to prevent back and forth movement, a feature that is not easily found on many other bike carriers, like Allen Sports Deluxe. It's important to mention that when Bones is mounted you will not have access to the trunk.
This Bones model has a two bike capacity but there is also Bones 3-bike version. The weight limit is 70 lbs. This design is perfect for carrying bicycles with horizontal top tubes and traditional front triangle shapes. Click here to see more info about Bones 801.
Pros: lightweight, good value, sturdy, easy to mount.
Cons: no security features.
Conclusion: Bones SUV bike rack is perfect for transporting road bikes and mountain bikes. Not so good for carrying full suspension bicycles. We recommend using the carrier on short distances, for occasional trips.
5. Thule Raceway Pro 9001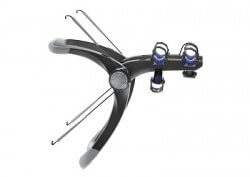 If you own a traditional, triangle-shaped bike and the trunk mount bike racks are the ones that best fit your car and lifestyle, the Raceway Pro 2 bike trunk rack from Thule is the best choice, due to the versatility when it comes to vehicle fit and the enhanced security, compared to other trunk bicycle carriers.
The Sure-Tight ratcheting cables provide maximum security and assure you that the 2 bike rack fits on almost any kind of car trunk (Thule even has a fit guide on its website that will help with the installation)
It best goes with low height vehicles and provides ease of use when it comes to the loading and unloading of the bikes (almost the same as the Kuat NV).
Security is also provided by the no sway cages of the trunk bike rack, that prevent bike-to-bike contact and both the locks that secure the bike to the rack and the trunk rack to the car are included.
The fallback of making frame contact for securing the bike is reduced in consequences in the case of this trunk bike carrier, with the soft cradles used to secure the bikes, that absorb the road shock and vibrations.
It also is the most versatile trunk mounted rack on the market, due to the adjustable arms that easily fit a great variety of bike frame shapes (fitting most road, cyclocross, and hardtail mountain bikes, but it is slightly difficult to mount a full suspension mountain bike).
Convenience is furthermore enhanced by the ability of this bike rack to fold up flat for easy storage.
The Raceway Pro is the heaviest rack in its class, but the 10 kg it has should not be an inconvenience, while it can carry a maximum load of 31.8 kg (15.9/bike) and this trunk bike rack is no larger than 58.4 x 61 x 83.8 cm.
Pros: fits most trunks, Fit Dial system makes the attachment easily, security.
Cons: it makes frame contact, fits 1 bike design at a time, no capacity expansion possibility.
Conclusion: the large variety of vehicles it can be mounted on, the durability and security it brings, makes the Raceway Pro the best trunk mount bike rack you'll find.
6. Yakima Dr. Tray Hitch Mount Rack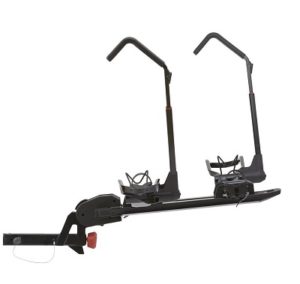 Whether you are looking for a hitch mount rack that fits multiple bike designs at a time or can't take bike to bike interference on the road, the Yakima Dr. Tray 2 bike platform hitch rack may be the right one for you, as it is the lightest, most adjustable and easy to use rack out there.
Dr. Tray fits virtually any kind of bike, with 26" to 29" wheels and tires up to 5" wide (it is fat bike compatible out of the box) and its versatility is further enhanced by the easily adjustable trays, even when the bikes are loaded, through the QuickChange lever
Also, the 18" between the bikes make it a safe option for transporting your bikes and the SKS cable lock system further secures both wheels and frame of each bike (although it is rather difficult to use).
The everyday use of this 34 lbs. aluminum hitch mount bike rack is the best on the market, as it can be assembled, installed and removed tool free and fast, being secured with the SpeedKnob instead of a classic hitch pin.
But the lightweight and adaptability of this platform hitch rack make it a little less durable than the T2 Pro XT from Thule.
Versatility is unmatched in this bike rack, through the variety of bikes supported, the load capacity extension possibility, through the Ez+1 accessory that allows you to carry a third bike.
Although it contains aluminum and plastic parts, the bicycle hitch carrier supports up to 40 lbs. / bike, while being no larger than 6.5″ x 58″ x 40.5″. Click here to see more info about Dr. Tray.
Pros: versatile, highly adjustable, lightweight, easy to use.
Cons: not the most secure, lack of durability.
Conclusion: Yakima's Dr. Tray hitch mount bike rack will suit most of the users that seek a hitch mount tray rack, due to the outstanding adjustability, versatility and ease of use, even though is not the cheapest there is.
7. Yakima FrontLoader Roof Mount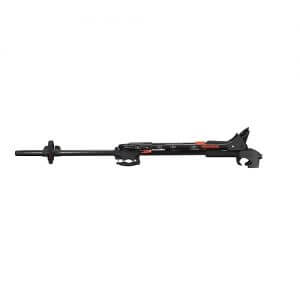 If you have a low roof car and are an everyday rider, but you'd rather remove the rooftop bike rack when you get home, Yakima's FrontLoader could do the thing for you, as it is one of the most versatile and aerodynamic rooftop fork mount bike racks out there.
The FrontLoader can fit virtually any crossbar and all the bikes with 20" to 29" wheels and tires up to 3" wide, thus it will not fit fat-tire bikes, but this compensates with the accommodation of disc brakes, thru axles, and full suspension bikes.
The everyday use is as easy as it gets when you have a low roof car because the front wheel doesn't need to come off, for your bike to be fitted into the roof mounted rack.
Convenience is at home with the FrontLoader, because it comes fully assembled and its mount and removal also require no tools, due to the excellent clamp system, unlike the competitors from Kuat or SwitchHitter.
But this roof rack bike carrier is somehow in the middle when it comes to security because it makes contact only with the wheels for the grip (protecting your expensive ride from damage), but the SKS Locks are sold separately.
Versatility is once again confirmed, as this rooftop bike rack can carry 1 bike, up to 40 lbs. with a range of crossbar spreads between 16" and 48"
A small fallback is encountered with durability, as the FrontLoader roof bike rack has many plastic and movable parts, that can damage over time (as opposed to the Kuat Trio, which is full-metal). Click here to see more info about FrontLoader.
Pros: ease of installation and removal, versatility with car fitting and bike styles, protects carbon frames and custom paint jobs.
Cons: not the most durable, not recommended for high roof cars, locking cables not included.
Conclusion: Yakima FrontLoader could be one of the best fork mount bike racks for small cars and it can live up to the expectations of almost every rider, as it is a versatile and easy to use.
8. Rocky Mounts Backstage Hitch Mount Bike Rack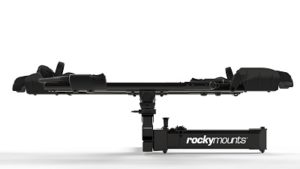 If you are a traveler that likes riding his bike in distant places and like to get there in your van, the Backstage hitch mount bike rack is the one for you, with its swing away function, the only system that allows you full access to the back doors.
The Rocky Mounts bicycle hitch rack can carry 2 bikes, with no extension possibilities, but that does not mean it isn't versatile. You can mount 20" to 29" wheel bikes and this platform, tray-style hitch rack will even get well with your fat bike, as it supports up to 5" wide tires.
Being similar in functionality with the Thule T2 Pro XT, it's an easy to use hitch bike rack, but the Backstage is also a little harder to remove, due to its 60 lbs. The swinging away mechanism also hardens a little bit the mounting.
The hitch mount bicycle carrier does not require a larger storage space than its competitors, but the tool-assisted assembly required when it comes out of the box makes the installation a little bit harder.
Although, these minor drawbacks are compensated with the durability of the bike rack, being almost entirely built of metal and its stylish black finish protecting it from scratches.
The bike clearance is of 13" between the adjustable trays, make this platform hitch rack more fat bike friendly and adaptable.
Last, but not least, security is one of the best assets of the Backstage, as it comes with a locking hitch pin and nose-style cable, that (even though not tool-free like the T2 Pro XT and Dr. Tray) secures the rack to the car. Moreover, the cable system is similar to the lock on the Kuat Sherpa and has the advantage of being able to be strung through wheels and the frame.
Pros: the only 'swing away' bike rack that allows full access to the back doors of a van, security, durability, versatility.
Cons: heavy, no capacity extension, fits only 2" hitch receivers, not compatible with 800 mm handlebars on the first tray.
Conclusion: The Backstage hitch mount bike rack from Rocky Mounts is the ideal tray style SUV bike rack if you're looking for the best fit on your van, combined with sturdiness and versatility.
9. Kuat Sherpa 2.0 Hitch Mount Bike Rack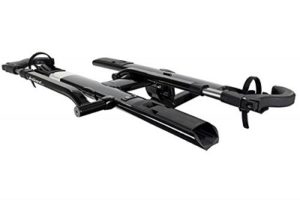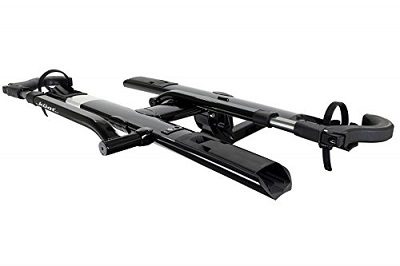 If you are a rider committed to standard tire sizes and like to remove the hitch mount bike rack off your vehicle after every ride, the Sherpa 2.0 is a powerful contender and should be on your shortlist, because it is the lightest rack in its class (32 lbs.), it is easy to use and offers a secure transportation to your bike.
With a simple and stylish design, the Sherpa hitch bike rack is easy to use and store, especially due to its redesigned pivot with foot assist, the low loading height and the ergonomics of the front wheel clamps and rear wheel straps. The loading and unloading of the bikes is this way a piece of cake.
Security is present with this bicycle hitch carrier too, as it comes with a locking hitch pin (a little harder to handle than the knob on T2 Pro XT and Dr. Tray), a semi-integrated cable locking system (easier to use than Dr. Tray's) and an increased 14" space within trays. This way, both the rack is firmly secured to the rack and the bike is safely carried.
The adjustability and adaptability on the Sherpa could be better, as it has fixed wheel trays and fits only tires up to 3" wide, with no extensions possible.
This fact is somehow compensated by the platform hitch rack, as it fits 2 bikes up to 47" wheelbase, at 40 lbs. each and it can be mounted both on 1 ¼" and 2" hitch receivers.
Although paint job of the hitch bicycle carrier gets relatively easily scratched, the Sherpa is a durable, solid rack, that will most likely pass a lot of endurance tests.
The assembling of the hitch mounted bike rack has been made easier by the guys at Kuat through improvements on the parts and smart packaging, and the installation and removal of the product are easy, one-handed task to be done. Click here to see more info about Kuat Sherpa.
Pros: lightweight, good price, easy to use, durable, good looking.
Cons: lack of versatility and adaptability.
Conclusion: the Sherpa 2.0 is a viable and high-value option for the more expensive NV 2.0, T2 Pro XT, and Dr. Tray, as it is a solid, good-looking and easily usable hitch mount bike rack. The disadvantage, when compared to the previously mentioned racks, comes from the adjustability and versatility.
10. Saris Freedom 2-bike Hitch Bike Rack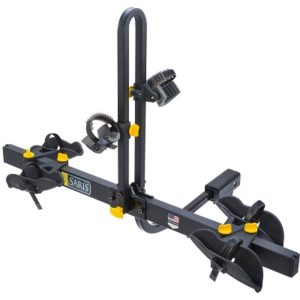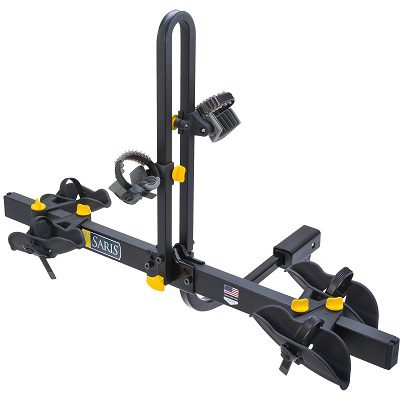 If you own vehicles with variable hitch dimensions and are used to alternate them when embarking on new bike adventure, then you might consider the Freedom 2 bike hitch bike rack, because of its unique design and versatility.
The Saris Freedom platform hitch rack can carry any type of bikes, from the slim road ones to the full suspension mountain bikes, while fitting both 1 ¼" and 2" hitch receivers, proving its versatility.
Also, the trays and ratchet arm (that gives it a unique design, combining the features of the Kuat NV and Thule Parkway 4 bike) are adjustable, so that you can rest assured that any 2 bikes up to 60 lbs. each and of a maximum wheelbase of 48" will fit. Moreover, the wheelbase length can be enhanced with this bicycle hitch carrier, with an add-on from Saris.
Ease of use is also in the spotlight with this hitch bike rack, due to its low loading height, convenient storage, fast and easy assembling and mounting/removal processes.
There are a few drawbacks when it comes to security (it has no security features) and durability (the plastic made trays can break if too much pressure is applied). Furthermore, although the 2 bike platform hitch rack has a protective rubber and the producer state that its compatible with carbon frames, there still is the frame contact, that you need to pay attention to.
But this minor disadvantage is also compensated with the fact that all the weight of the bikes will be placed on the wheel trays, thus the wheels are the ones put in battle, not the frame. Click here to see more info about Saris Freedom.
Pros: lightweight, unique design, versatile, easy to assembly, install and store.
Cons: no security features, no capacity extension, frame contact when mounting the bike, lack of durability.
Conclusion: The lightweight, good looking and versatile hitch mount rack designed by Saris is worth the money asked for it and is best suitable for carrying lightweight bikes, but then again it remains the first choice if you're looking for an affordable, versatile and easy to use hitch mount bike rack.