First-Class Bike Racks for Electric Bikes
You will find:
5 hitch bike carriers that will carry your eBikes safely to destination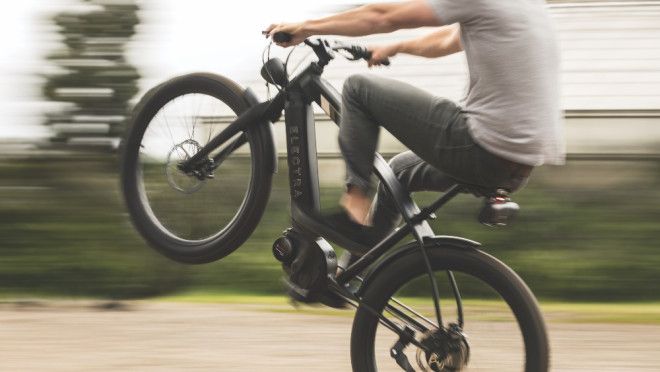 Some links may be affiliate links. We may get paid if you buy something or take an action after clicking one of these. Learn more.
Are you looking for a great option to transport your electric bike (eBike) safely on your car? We are aware that this can be challenging since traditional bike carriers are designed to carry non-electric bicycles which have a lower weight. Plus, electric bikes are quite expensive and you want a safe ride.
Now, over 50% of all new bike sales are electric ones, a trend that is increasing year on year. And it opens a world full of opportunities and places to discover. This opens up the following question: which bike carrier is the best for eBikes? These kind of bikes are heavy and you would need a carrier which is sturdy enough and stable. At a minimum, buy a rack that is built to carry the weight of an e-bike with room to spare. There are several mount options like trunk, roof or hitch mount. Most of trunk racks or roof racks are rated for light bikes, not to mention about the need of carrying more bicycles at once. These are simply not designed for e-bikes. The very vast majority of electric bike racks are hitch-mounted because these are versatile and sturdy enough to carry any bike. The downside is their cost.
We will have a look at the best hitch bike racks for your eBikes. Here is what you have to know:
Platform hitch bike carriers distribute weight best, minimize any damage due to car movement, and are easiest to load/unload.
You will need a 2-inch trailer hitch which allows you to carry multiple eBikes without wobbles. A smaller hitch will result in more movement of the rack.
Top electric bike racks (2021 Update)
Hollywood Racks SE Hitch Rack
Overdrive 4-bike Platform Bike Carrier
Thule EasyFold XT Hitch-Mount Rack
RockyMounts BackStage Swing-Away Carrier
Saris SuperClamp Platform Hitch Bike Rack
Carrier
Capacity
Weight/bike
Other features
1. Hollywood Racks 3″/5″ Tire
2-bike
80 lbs per bicycle

Fits 2″ hitches only
Up to a 60″ wheelbase
Folds flat against the vehicle

2. KAC Overdrive Sport
4-bike
60 lbs per bicycle

5″ wide heavy duty wheel holders
Quick release tilt design
Rear reflector included

3. Thule EasyFold
2-bike
66 lbs per bicycle

4.7″ max tire width
Receiver lock included
Tilt function

4. RockyMounts Backstage
2-bike
60 lbs per bicycle

Carries road tires up to 5. 0" fat bike tires
Wheelbases from 34" and 49"
Folds flat against the vehicle

5. Saris Superclamp
2-4 bikes
60 lbs per bicycle

Weighs only 35 lb
Tilt feature
Fast loading
Tip: Remove the batteries from your eBikes while transporting to reduce the weight supported by the carrier.
1. Hollywood Racks SE Hitch eBike Rack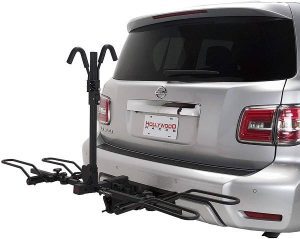 This platform hitch bike rack carries 2 or 4 electric bikes (up to 3-inch and 5-inch wide tires) with ratcheting frame hooks and sliding wheel hoops. Can carry 2 x 80 lbs per bike with the max wheelbase of 60″.  The rack folds flat against the vehicle when not in use, and tilts down for easy cargo access. It includes a keyed-alike locking hitch pin and security cable. For 2″ hitches only. Features patented no wobble-no tools hitch tightening system. A versatile carrier that is easy to use and it features locking frame hooks and adjustable wheel hoops so you can quickly load and unload your bicycles. Installs without the need of tools. Includes keyed-alike locking hitch pin, 8' security cable and locking frame hooks. Space between bikes: 10″. For step through bicycles you will need to also purchase a Bike Adapter. Additionally, have a look at the fat bike rack version. Not to be used on any trailer, fifth wheel or towed vehicle.
Pros
Heavy-duty hitch rack capable to support two 80-lb bicycles
Racks tilt down for rear cargo access
Locks included
Cushioned hooks that secure your bike by frame without scratching it
Cons
A loading ramp might be something that should be considered in future
2. KAC Overdrive Sport 4-Bike Electric Hitch Rack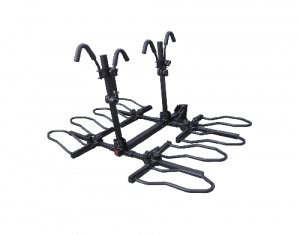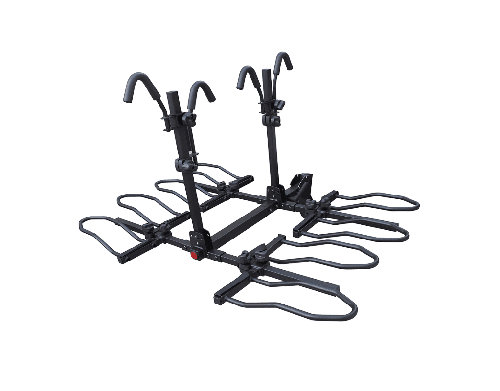 Overdrive bike carrier is one of the best-sellers when it comes to hitch racks. And there is no wonder why – accepts electric bikes, fat and standard bikes, being extremely versatile at an affordable price. It can support bicycles up to 60 pounds in weight so it's a great contender if your bikes are heavy, electric, and have fat tires. The wheel clamps are adjustable, though, making perfect for standard bicycles, as well. It has a quick-release system and a tilting pivot and is very easy to install. The carrier utilizes a system to eliminate slack between the receiver and the rack, keeping your bikes sturdy and safe.  Smart features, solid construction, and durability make it one of the best bike carriers in the market. Its adjustability makes it a good choice for regular bikes. It provides a very good value for the money. 
Pros
Perfect fit for electric bikes
5″ wide heavy duty adjustable wheel holders to fit most bikes
Power coated steel tubing holds bikes up to 60 lbs each
Quick-release tilt design
Anti-wobble system
Cons
Reflector plastic isn't durable
3. Thule EasyFold XT Electric Bike Rack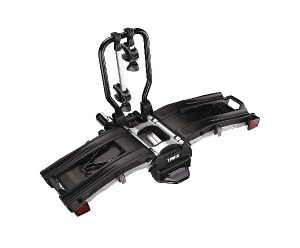 The best bike rack for electric bikes from Thule, EasyFold XT, can hold a max weight of 130 pounds, or up to 65 pounds per bicycle. It has a carbon fiber protector available if you're clamping on a carbon frame. The folding down feature to get rear hatch access is very easy. However, you might find a bit difficult to load and unload the bikes. With an One-Key Lock System and a tilting function for rear cargo access, EasyFold comes equipped with all the features you will need for a safe ride. There is an optional Thule Fat Bike Wheel Strap Kit to fit longer wheelbases and tires up to 4.7″ (sold separately). It fits 1.25″ and 2″ receivers. With EasyFold platform carrier, you will be going to have arms that are fully adjustable. High load capacity and large distance between wheel holders enable transport of electric bikes, heavy mountain bikes and sturdy bikes with large wheelbases.
Pros
Premium, high-load capacity bike rack ideal for electric bikes and heavy mountain bikes
Integrated folding bike loading ramp
Fits 1.25″ and 2″ receivers
Fully foldable design with transport wheels and a carry handle
Cons
Non-adjustable wheel straps

Frame clamps don't work well on some bikes
4. RockyMounts Backstage eBike Hitch Rack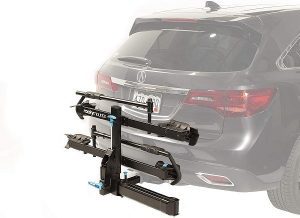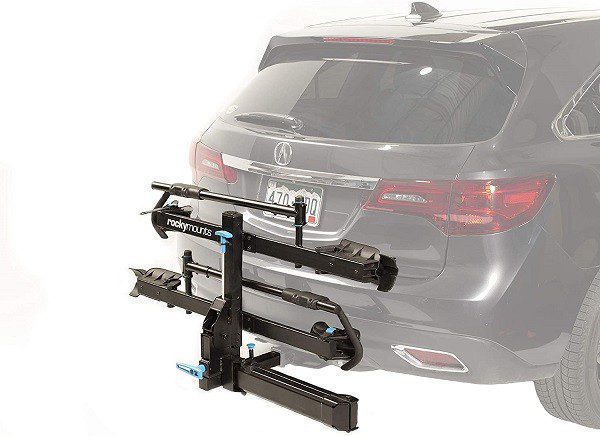 The RockyMounts Backstage is the contender of Monorail and we must say that the 1st  one just gone a step further being capable to carry road tires up to 5-inches fat bike tires and diameters from 20" to 29". It is a fat-bike ready hitch carrier that impresses by how easy is to use and the robust mix of materials. Also similar in design and function to the Thule T2 Pro XT, this platform hitch carrier is easy to use due to a low loading height. The locks are included. The rack weighs 59 lbs. It is one of the best swing-away bike carriers in the market, its unique design enhancing the access to the vehicle's rear cargo area. The carrier is shipped in several pieces thus a good amount of assembly is required. The BackStage platform carrier is doing great at security coming with a nice noose-style cable lock.
Pros
Great option for electric bikes
180-degree twist and 30-degree tilt
Sturdy design with highly durable materials
Extremely easy to get the bicycles on and off
Folds up against the car when not in use
Cons
Heavy and tilt mechanism can be a little tricky
5. Saris Superclamp EX Platform Hitch Rack for Electric Bikes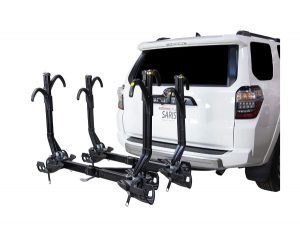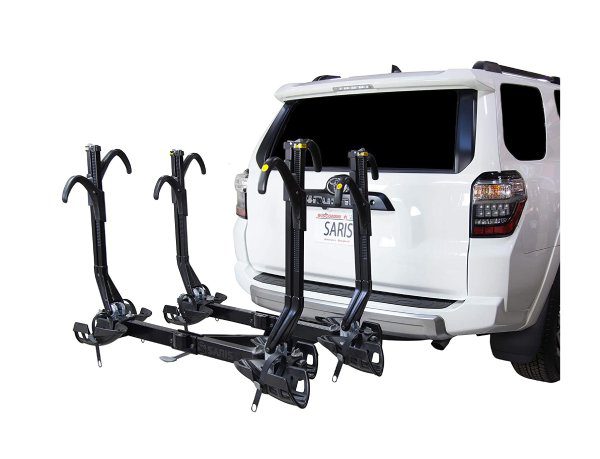 A very solid eBike rack that provides stability and is capable to carry two or four bikes at once (60 lb per bike). With its robust construction and compact design, it does not lack rear visibility when it's not in use and it's folded up. The downside of compactness is that care needs to be taken when loading to avoid damage. Putting the rack together should take approximately 5 minutes. With its robust construction, eye-catching style and compact design that carries both bikes on a single bar, the SuperClamp platform bike carrier is your bike's new best friend. Fastest loading bike rack around thanks to the dual wheel-clamping hook with no frame contact. Tilting feature allows hatch access, even when fully loaded. Features integrated locks and reflectors for extra security and visibility, day and night. Fits up to 4″ tires and 20″-29″ wheels. 
Pros
Extremely compact with the 4-bike tray
Includes cable locks for extra security
Tilting feature folds up when not in use and allows easy access to rear of your vehicle, even when the rack is fully loaded
Wheel straps are provided for e-bikes, kids' bikes, and bikes with fenders
Can you put an electric bike on a bike rack?
Obviously yes! We recommended above 5 top carriers that could transport your eBikes safely to the destination. Of course, there are other options in place from other brands, with other features. Choosing the right bike rack for your eBike is not an easy process and you need to consider various factors like bike weight and rack weight, SUV model, length of your journeys, number of bikes being transported, and so on. Read our full guide to get more insights.
What is the best bike rack?
Tough question to answer, but not impossible. You might think that having so many options would make things easier…well, not all the time. Each bike carrier has its own features and each one of them has some advantages and disadvantages compared with what you want. Here are our Top picks of the best SUV bike racks.
Are Hollywood bike racks any good?
What if we will tell you that Hollywood Racks Sport Rider for Electric Bikes is one of the best-sellers? It features a 5-inch tire width, 80 lbs/bike, and many more – have a look and convince yourself. 
What if I have fat-tire electric bikes?
No worries, we have options for you 🙂 In fact, we specially created a guide which will guide you to choose the right fat-tire bike carrier. Great brands like Hollywood Racks, Yakima, Thule, RockyMounts have designed fantastic carriers for your eBikes.