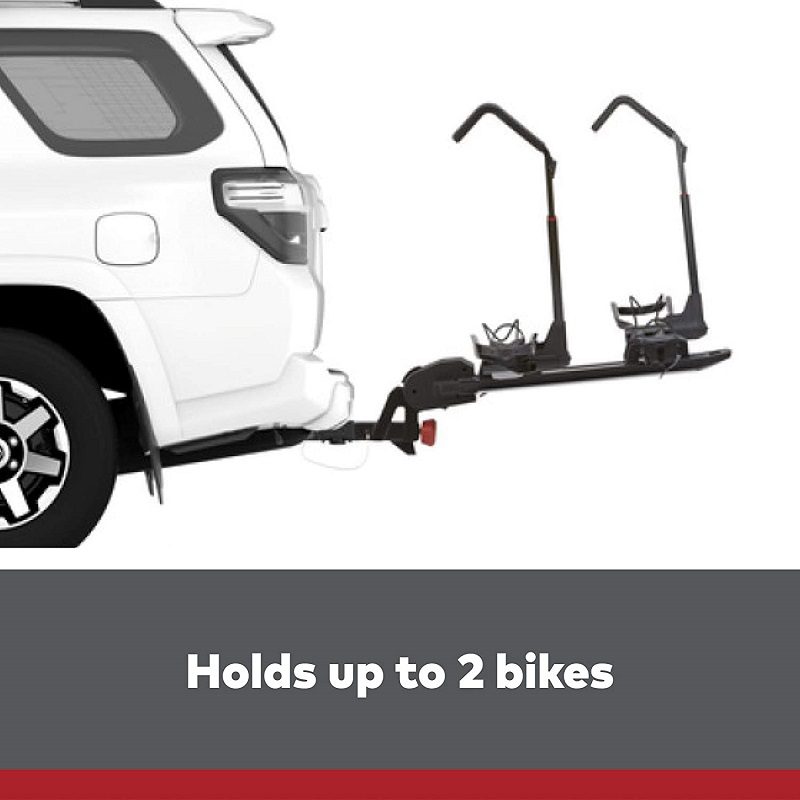 Yakima Dr. Tray 2-Bike Platform Carrier
When preparation for new cycling trips is in progress, you have to take everything into account, from the safety provided by your hitch mount bike rack, to its weight and capacity and so on. Reduce the number of worries with Yakima's Dr. Tray platform hitch bike rack.
If you're looking for the best tray bike rack, hitch-mounted, your search may be over. By this we mean that Yakima came up with Dr. Tray, a hitch bike rack with an 18'' clearance between the trays (it can carry 2 bikes), this spacing being possible to be adjusted tool-free while the bikes are loaded (thanks to the QuickChange lever).
What's more interesting is that it doesn't really matter if your next adventure will be on the road or in the wild, because Yakima's 2 bike platform hitch rack can easily handle road, mountain, and fat-tire bikes. But don't take our word for it, explore it's features and decide if it's what you need
Key Features
It is the lightest rack in its class, carries 1-2 bikes, 37 lbs. – 1.25″, 32 lbs. – 2″, but also one of the safest, with the 18'' spacing between trays virtually eliminating any issues with bike-to-bike interference.
Alongside with convenience and versatility, this hitch mount bike rack comes with enhanced security, through the slide side to side and along the spine, SKS cable lock system, available in 1 1/4-inch and 2-inch hitch receivers.
Feel free to create new memories anywhere and be sure you'll get there, no matter the length of the road trip or the type of the destination, as the Dr. Tray hitch rack carries 26" to 29" wheels and tires up to 5" wide.
Moreover, it also folds up for easy storage and comes with a built-in handle for transport.
Those who think that loading the bike on the hitch rack has to be hard work, don't yet know about the RemoteControl tilt lever and lightweight, aluminum design of Yakima's tray hitch rack, that makes raising and lowering the rack a breeze.
Additionally, to the 2 bikes you can carry (at a max. weight of 40 lbs. each), you can always add the EZ+1 and carry a third bike (sold separately).
The dimensions of this rack are also something to be considered, as they contribute to the stylish look you'll gain when transporting your bike towards new adrenalin filled rides: the 1.25″ variant of the bike hitch rack Size is – L 16" x W 54" x H 11.50" 41lbs, while the 2″ hitch mount bicycle carrier's size is – L 16" x W 54" x H 11.50" 34lbs.