Bike racks are welcome equipment for adventurous bikers. They are a safe and convenient way of transporting bikes over long distances for excursions, hikes and long haul. The equipment comes in different types, each suited to meet varying functionalities. Among the many types, let us look at the best swing away bike racks.
Swing Away Bike Racks – What are they?
The old-age problem with racks is the inconvenience that comes with having additional equipment on your car. These can interfere with the roof, doors and access to the trunk.
Swing away bike racks enable easy access to the tailgate or rear hatch. They "swing-away" at varying degrees to leave the back of your car unblocked. 
In our opinion, here are the best swing away bike racks in 2019:
#1. Yakima Full-Swing 4-bike Rack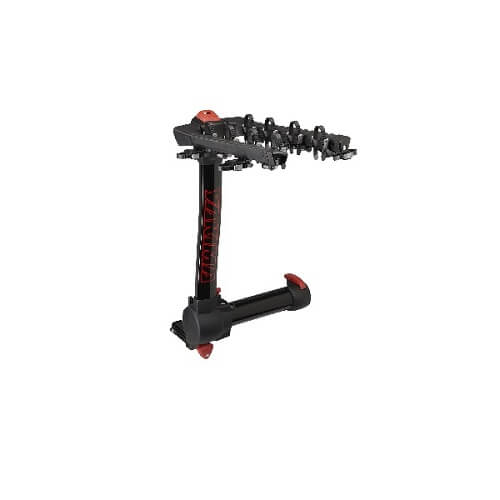 This is among one of the most revolutionary products from Yakima. It's an easy to assemble hitch rack that swings away from your car with bikes loaded. Installation is tool-free; all it takes is sliding the rack into the hitch and tightening it by turning on the SpeedKnob- located on the end of the mast.
The swing function is a one-touch button, adding to the appeal of an already trusted brand. The rack also comes with ZipStrips for securing the bikes to the rack. For additional security, the straps can only be unfastened by pressing a release button.
The FullSwing weighs 56 lbs and can carry up to 4 bikes with a total weight of 150 lbs. During use, the model allows bike protection by incorporating fully paddled arms- which can be folded down when not in use.
#2. Saris Glide EX 4 Rack
This is a hitch-mounted rack that promises better bike spacing and a swing-away function with bikes loaded. It carries up to 4 bikes hanging on dual arms and held in place with anti-sway cradles. Unique placements of lower cradle straps prevent bikes from scratching on each other or the car. It also comes with sturdy dual arms that can support up to 140 lbs, (4X35 lbs).
The arms are strategically attached to the mast, allowing for easy folding down when not in use. The mast tilts upright at the touch of a button to allow access to the trunk. This keeps the arms parallel to the ground as the mast tilts away. The rack can be secured to 1 1/4 and 2 inches hitches with the help of a locking pin plus a hitch pin lock.
The rack weighs 37 pounds making it lighter than most hitch racks. Also, it's made of aluminum and steel, materials that withstand elements for improved durability. No assembly is required for the product and it comes with a locking cable for the security of your bikes.
#3. SportRack Ridge Swing Rack
This is a hitch mounted rack that carries up to 4 bikes with a total weight capacity of 140 lbs. The swing function operates with bikes fully loaded allowing easy access to the cargo area. It comes with dual arms for holding bikes with a folding down mechanism for when not in use.      
To prevent contact between bikes and between bikes and the car, the model has anti-sway cradles that hold each bike in 3 places- 1 by the seat post and the other 2 by the top tubes. The cradles also move along the arms to enable strapping your bikes at proper spacing.
The unique placement of arms and cradles can prove disadvantageous for some bikes. Such include small children's bicycles, alternative frame bikes, and dual-suspension bikes. In such cases you may have to buy a bike adapter bar– sold separately.
#4. Thule Vertex Swing Away Bike Rack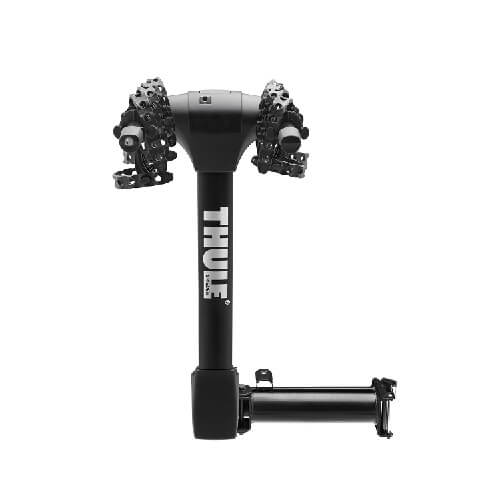 This is a swing-away hitch rack from Thule, one of the leading manufactures in the industry. The product is designed to carry up to 4 bikes weighing 140 pounds on a rack compatible with 1 ¼ and 2-inch hitch receivers. A pivoting mechanism allows you to swing away a loaded rack to the side of your vehicle, allowing full access to the rear. 
The model is rated highly due to its arched cradle arms design. Essentially the design provides extra ground clearance and also makes loading and off loading easier. The curved arms also help in hanging the bikes at different heights, reducing interference between pedals and handles. The arms can also be folded when not in use.
This rack also comes with anti-sway cages that hold the bikes into place while preventing bike-to-bike and bike-to-car contact. Thule Vertex Bike Rack comes with a lifetime warranty- a true testament to the superior quality of the model.
#5. StowAway2 Swing Away Rack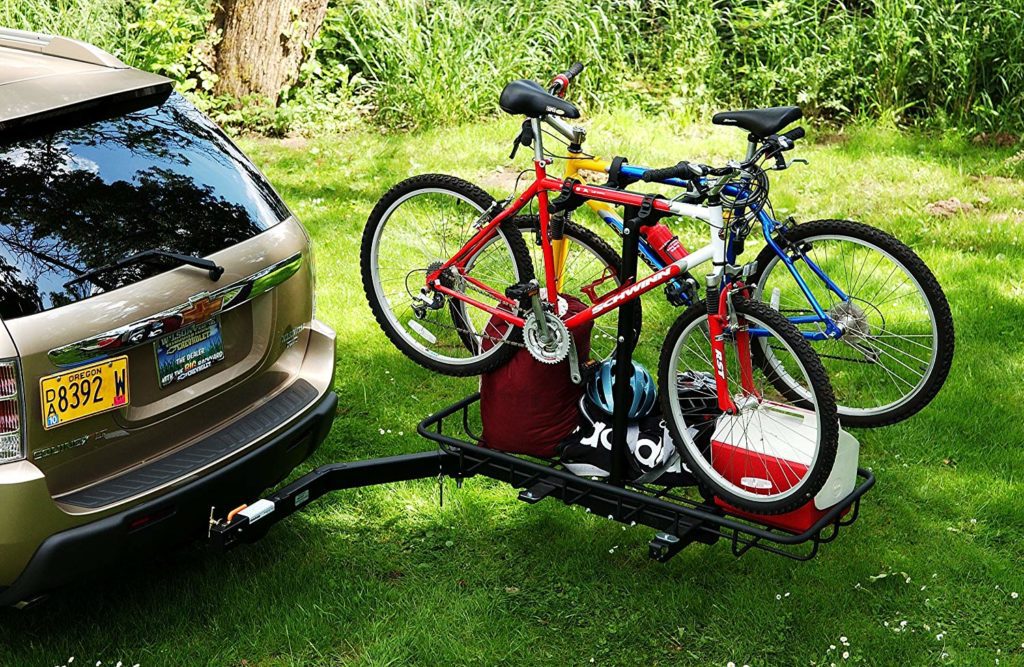 This is a hitch rack that can carry up to 200 lbs on a 2-inch hitch receiver (class III or IV). For 1¼ inch hitches (Class II) the brand offers a rack with 125 lbs load capacity. The 2-inch hitch rack has a capacity of 4-bike and is made of stainless steel, which allows it to hold out against elements.
To keep your bikes in place and scratch free, the model comes with soft rubber cradles and straps. To eliminate rack rattle, the product has a hitch tightener. For additional security of the rack and bikes, a Hitch Lock can be bought separately. Its swing-away functionality is a pivot frame that displaces the rack 1800 from the rear.
It comes with a 10-year warranty. The model also has a cargo rack going for it. This can come in handy in hauling extra language; both cargo and bike racks can be used separately.     
Choosing a Swing Away Bike Rack- Factors to Consider
Hitch Type
Among the carriers that you will come across are platform and hanging racks. For swing away racks, the hanging models are more advisable. Such are kept upright by a mast that is secured onto the vehicle's hitch receiver.
Hitches are classed according to the weight (Tongue Weight) that they can support. For example Class I can hold up to 200 lbs while Class II holds up to 300 lbs. The size of the hitch also matters with the most common sizes being the 1¼" and 2″- these are the sizes you should expect on your SUV.
Load Capacity
The number of bikes that you can carry on a rack depends on the Tongue Weight Capacity. This is defined as the maximum vertical weight that your car's frame can support during normal driving conditions. This is usually calculated as ten percent of the total towing capacity.
So how much weight can a rack carry? For a hitch rack, this is the difference between the Tongue Weight and the Weight of Unloaded Rack.
Accessories/ Extras
Some swing away bike racks may require additional equipment for security and added functionality. Such include extra straps to hold the frames and adapter bars for securing non-conventional bikes.
Wrap Up
Swing away bike racks are the solution for hassle-free access to your vehicles cargo area. Most of the models are easy to carry and install, hence no technical know-how is required. Each rack, however, comes with specifications and features that bring out unique functionalities. Above is our hotlist of the best swing-away models for your consideration