10 Best Roof Bike Racks in 2023
Searching for the best roof bike rack in 2023?
So are we. To help, we analyzed 10 models before purchasing any of them. The bicycle may be the most efficient means of transportation ever created, if you are an adventurer and also a nature lover, you likely use your bike for recreation as well. Our wanderlust has driven us to load up ours, by any means necessary, and head off in search of the next epic ride. Using multiple vehicles and bikes of every variety, we loaded, unloaded and drove thousands of miles on highways, dirt roads and everything in between, in a quest to find the perfect one. Keep reading to see what types of rooftop bike racks are and to find out which one fits best for your needs.
 Here is the list of our proposed best roof racks:
Yakima Highroad
RockyMounts TieRod
Thule UpRide
Yakima FrontLoader
RockyMounts Tomahawk
RockyMounts BrassKnuckles
Yakima ForkLift
Thule Pro Ride
Kuat Trio
Yakima RaptorAero
1. Yakima HighRoad Roof Rack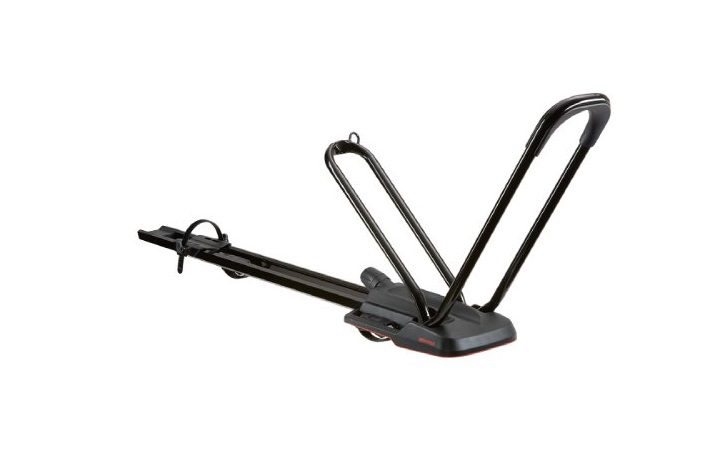 Yakima HighRoad rooftop bike carrier is a high-end rack that is sleek, secure and simple to use. It loads a variety of bicycles while secures the bike by the wheels for ultimate protection. There is no frame contact and the installation/removal is extremely easy. New wheel hoop fits 26" to 29" wheels and tires from 23mm to 4.0" with no adjustment needed.
2. RockyMounts TieRoad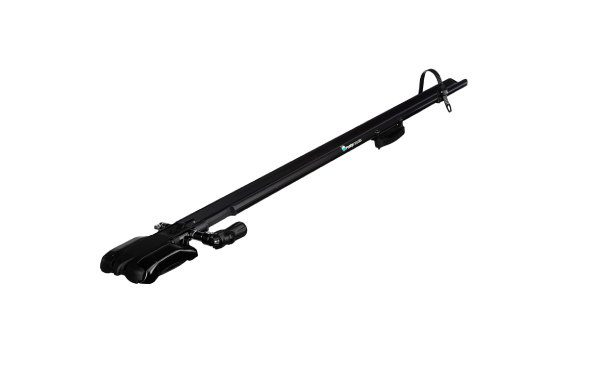 This fork-mount carrier will fit road tires up to 2.7" wide mountain bike tires, and diameters from 20" to 29". Stainless steel mounting straps allow the TieRod to mount to just about any rack situation, and is adaptable to most factory cross bars. Carries 1 bike, up to 35 lbs.
3. Thule UpRide Upright Roof Rack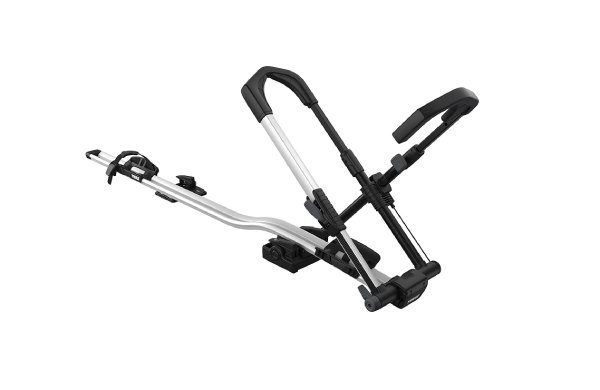 An universal upright bike carrier with no frame contact, for fast and secure mounting and maximum frame protection.It does a wonderful job holding your bicycle secure. Suitable for bikes with carbon frames. Fits most 20–29" wheel bicycles with tires up to 3″ wide. Maximum bike weight up to 20 kg.
4. Yakima FrontLoader Roof Carrier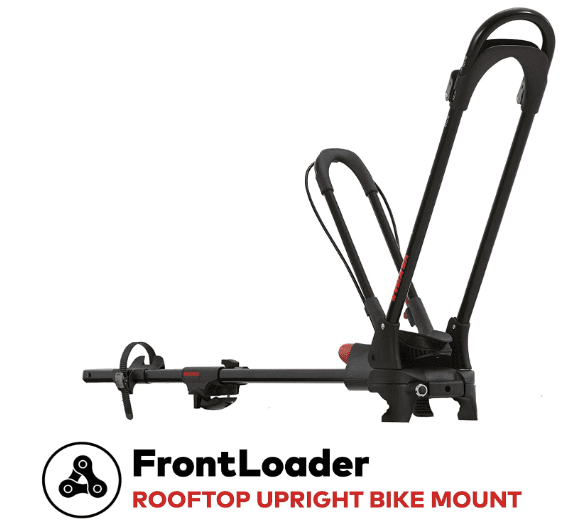 The design makes it capable of carrying almost any bike, regardless of axle standard. The main downside of the design is a relatively higher loading height compared to fork mount racks.
The rack attaches to almost any type of crossbar. A large hand knob on the front end of the rack is turned which draws the front clamp up snugly around the crossbar. This system is much easier to use than the U-Bolt set up on the Kuat Trio.
5. RockyMounts Tomahawk

An amazing rack and one of the best roof bike carrier if you have a lot of different bikes. Fits almost any bike size, secure, easy to load and unload. The process of mounting and unloading the bike is simple. This rack comes with a small nub to keep wheel straps out of the way. Rhe rack is streamlined with a low height profile which is likely to reduce the noise by wind and also minimize height clearance issues. It is also updatable for all bikes styles, including mountain, bike, children's bikes, cruisers, and even fat bikes with a maximum of 5 inches rubber.
Carries road tires up to 5.0" wide mountain bike tires, and diameters from 20" to 29". Compatible with bicycles' wheelbases from 34" and 48". Carries 1 bike, up to 40 lbs, 35 lbs on factory crossbars.
6. RockyMounts BrassKnuckles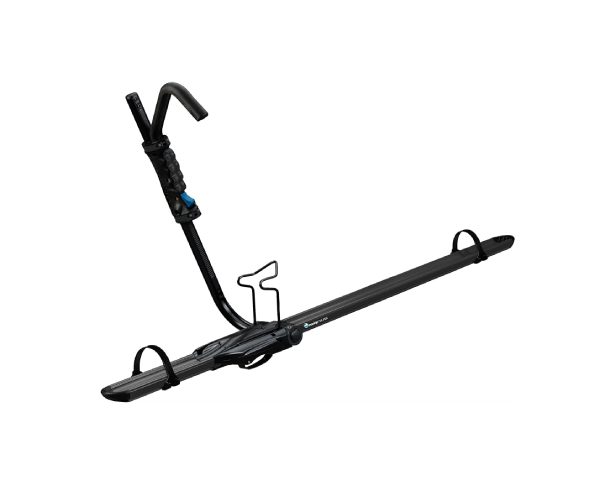 A good quality roof mount carrier that is user-friendly and sturdy, compatible with most roof bars. No locks included. Carries 1 bike, up to 45 lbs on RockyMounts®, Thule®, or Yakima® bars, 35 lbs on factory crossbars. Compatible with bicycles' wheelbases from 34" and 48". Carries road tires up to 3.0" wide mountain bike tires, and diameters from 20" to 29". Can fit up to 5" with additional fattie kit. Not for use with bicycles with front fenders.
7. Yakima ForkLift Roof Bike Carrier

Experts agree the ForkLift is the way to carry your bike and could be one of the best car roof rack ever. The fork-style roof rack bike mount fits nearly every crossbar right out of the box — no tools necessary. This model receives high scores for versatility due to a crossbar clamp design that is compatible with round, square and almost any factory crossbars.The Yakima ForkLift is a fork mount roof rack that excels at transporting bikes with standard quick release forks. It is secure, stable and easy to install.
Fits most disc brakes. 1 bike up to 35 lb. Min of 16" crossbar spread. Minimum and maximum crossbar spreads: 16" – 42".
8. Thule ProRide XT Roof Carrier

Upright bike carrier for the quickest, most convenient mounting – for bikes up to 44 lbs. Automatically positions your bike when you secure it, thanks to the uniquely designed frame holder and wheel tray. Improved mounting hardware fits most factory cross bar profiles. Mounts to all Thule rack systems, round bars and most factory racks.
9. Kuat Trio Rooftop Rack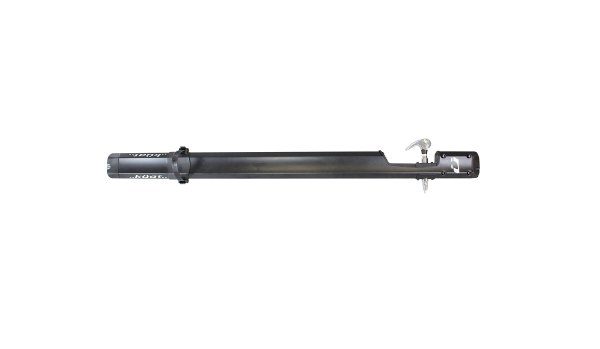 The Trio eliminates the need for axle adapters and can carry nearly any type of bike on the market. Due to its awesome durability and ease of use, top quality construction and materials are what we have come to expect from Kuat, and the Trio is no exception. The Trio is a beautifully constructed fork mount roof rack that provides an elegant solution to the multiple axle standards found on bikes. It is secure, durable, easy to use, and it will fit on the vast majority of cross bars. 1 Bike Capacity (45 lbs max).
10. RockyMounts Jetline Fork-Mount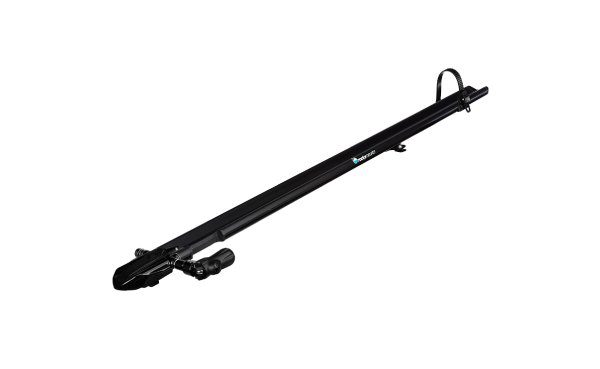 The JetLine is a great low price option, but the rack looks anything but cheap. Is true that it is simple and easy to use and provides a secure and provides stability while transportation. The JetLine was not designed to be taken on and off frequently, but it does not take up much room and is easily stored in the corner of the garage. Most roof rack users tend to leave their racks on roof most of the time. To remove the JetLine, you will need a 4mm Hex wrench.
The most aerodynamic & low profile fork mount carries road tires up to 2.7" wide mountain bike tires, and diameters from 20" to 29". Compatible with bicycles' wheelbases from 34" and 48". Carries 1 bike, up to 35 lbs.
Disclaimer: bikerackforsuv.org is a participant in the Amazon Services LLC Associates Program and other affiliate advertising programs and may receive a commission if you purchase a product via a link on this page.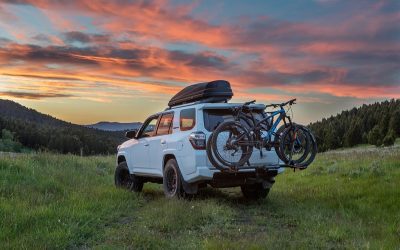 Exploring the Best Heavy-Duty Fat Tire Bike Racks for Adventurous CyclistsCycling enthusiasts, whether they prefer leisurely rides or challenging off-road adventures, understand the importance of...
read more