Bike racks come in handy when you need to go somewhere and take your bike with you. Majority of these bike racks are however not compatible with the wider tires of fat bikes and may require modification of the bike rack in order to accommodate your bike.
Luckily, fat bikes have become so popular nowadays and many bike rack companies sell spare or adapter parts to accommodate fat bike tires.
Are you shopping for bike racks for fat bikes? We have prepared what you need to know beforehand and reviewed 5 of the best in the market.
Best Fat Bike Rack Reviews
Let's have a look at the best bike carriers for fat bicycles in 2019:
#1. Thule T2 Pro + Fat Tire Kit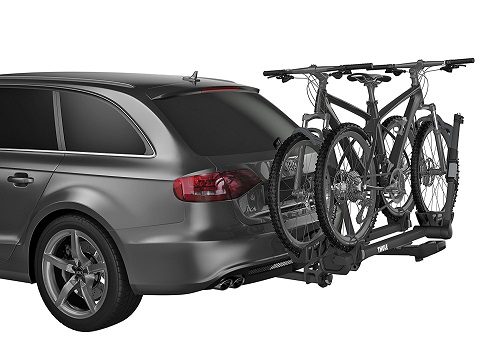 Thule T2 Pro is a tray style hitch mount rack capable of carrying 2 bikes weighing up to 160lbs. It is popular to many since its reasonably priced. Thule fat tire kit is an upgrade that allows you to carry fat bikes on a Thule T2 platform hitch rack. The rack comes with a wheel holder which is optimized to work with all tire sizes without affecting stability.
The holders are also Extra-large and can strap up to 5-inch wide tires. To fasten the rear wheel, the rack has a spring-loaded buckle and a long wheel strap.
A ratcheting arm clamps the front wheel and tire, eliminating contact with the bike frame. The rack can carry any type of bike regardless of the wheel size or frame design.
#2. Kuat NV 2.0 with Add-On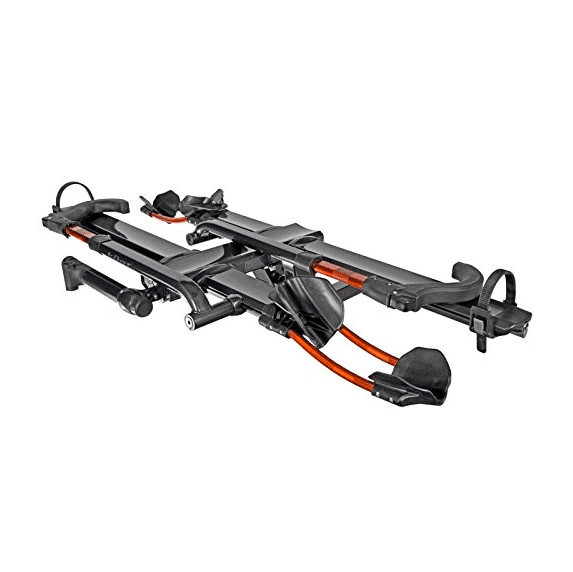 Looking to double your load capacity? Whether going out with family or a group of friends and need to carry more than 2 bikes, the Kuat NV 2.0 with add-on does the work. It carries up to 4 fat bikes with the NV add-on family. The add-on family is available for the NV 2.0 and the NV BASE 2.0.
The rack has fully integrated cable locks to secure your bike and rear straps that keep the wheel in place. With the adjustable front wheel holder, you can raise or lower the front wheel of the bike to prevent bike-on-bike contact.
The model supports a wheelbase of up to 48 inches and tire size of up to 4.8 inches. The NV add-on is sold separately which lets you quickly increase your capacity from 2 to 4 bikes.
#3. Saris Freedom 4 + Fat Tire Holders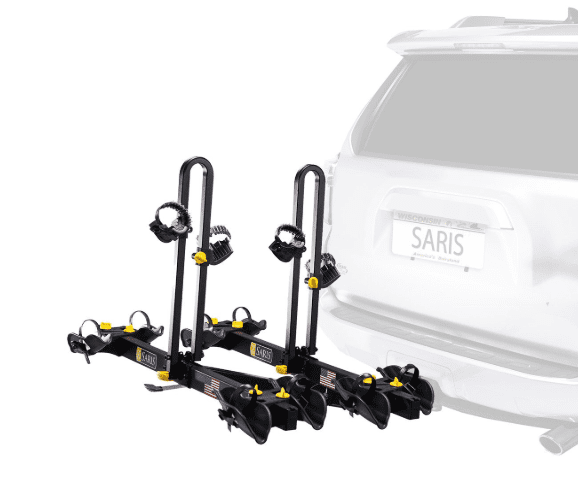 Saris Freedom 4 Hitch Rack allows you to carry different bikes, from 12″ kicker bikes to 29″ fat bikes. This platform-based rack is specifically designed for fat bike tires and can carry up to 4 bikes. Cradles with cushioned straps firmly hold the bike frame to prevent any wobbling while driving.
With secure strapping, no scratching on the frames is expected since the cradles are cushioned. The model is designed with flexibility in mind; you can add wheel holders also known as fat tire holders to increase the load capacity. The add-on is compatible with all Saris Freedom Racks making it a versatile piece for the brands' enthusiasts.
There are however some limitations with the rack including the fact that it's only compatible with a 2-inch hitch. The model also comes with limited lifetime warranty. Nevertheless, it stands out due to the inclusion of a foot operated tilt pedal which makes vehicle access and compact storage.
#4. Hollywood Racks Fat Tire Holder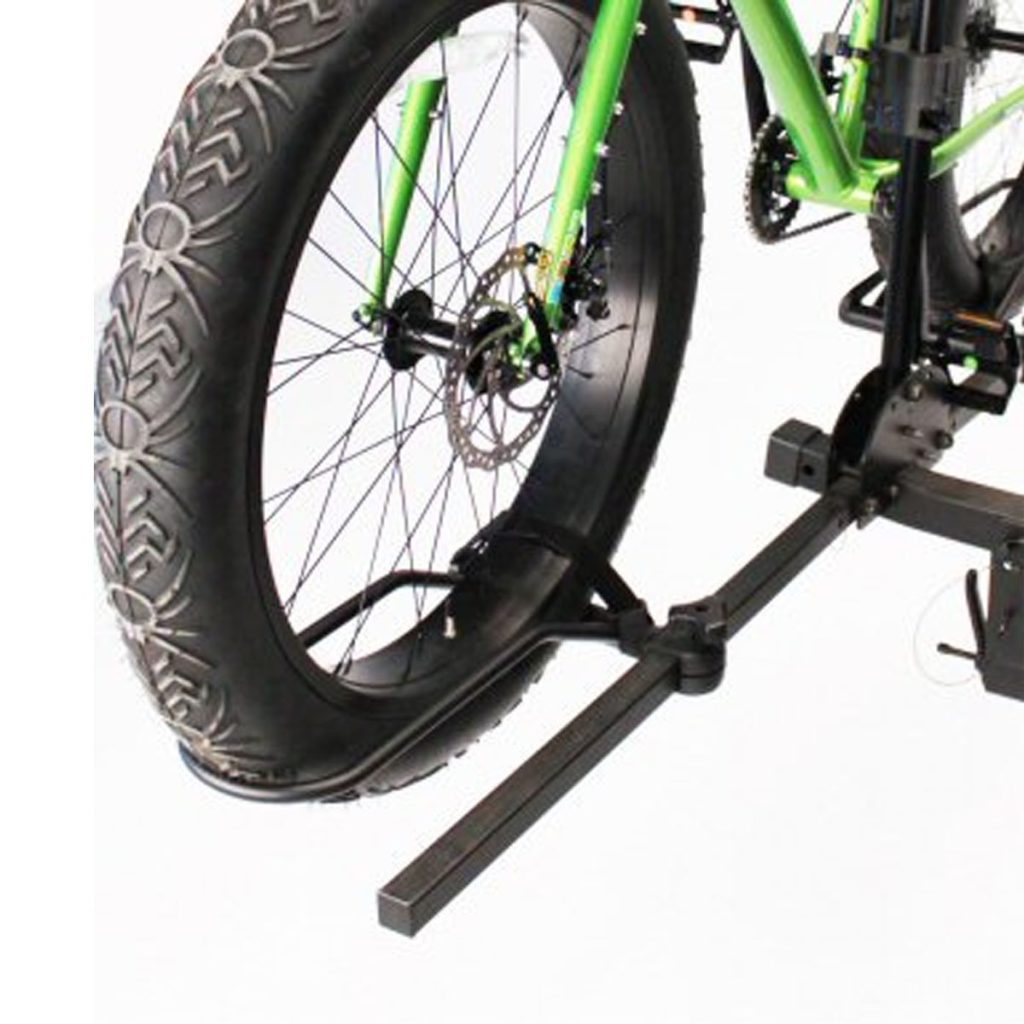 When it comes to ease of loading and unloading, nothing beats this model from Hollywood Racks. The rack fits on any style of bike using a universal clamp and adjustable wheel holder. One simply rests the bike on the wheel holders then slides the self-locking clamp to firmly hold the frame of the bike.
It can fit tires of up to 5 inches wide. This is a heavy duty model with powder coated steel frame. It's designed to carry up to 50lbs on both sport and trailer rider racks. This is a single fat bike rack and can be fitted on 1¼ to 2-inch hitches.
When it comes down to economy of space, this rack can be simply folded to easily fit on one corner of your garage when not in use.
#5. Yakima Two Timer + Fat Straps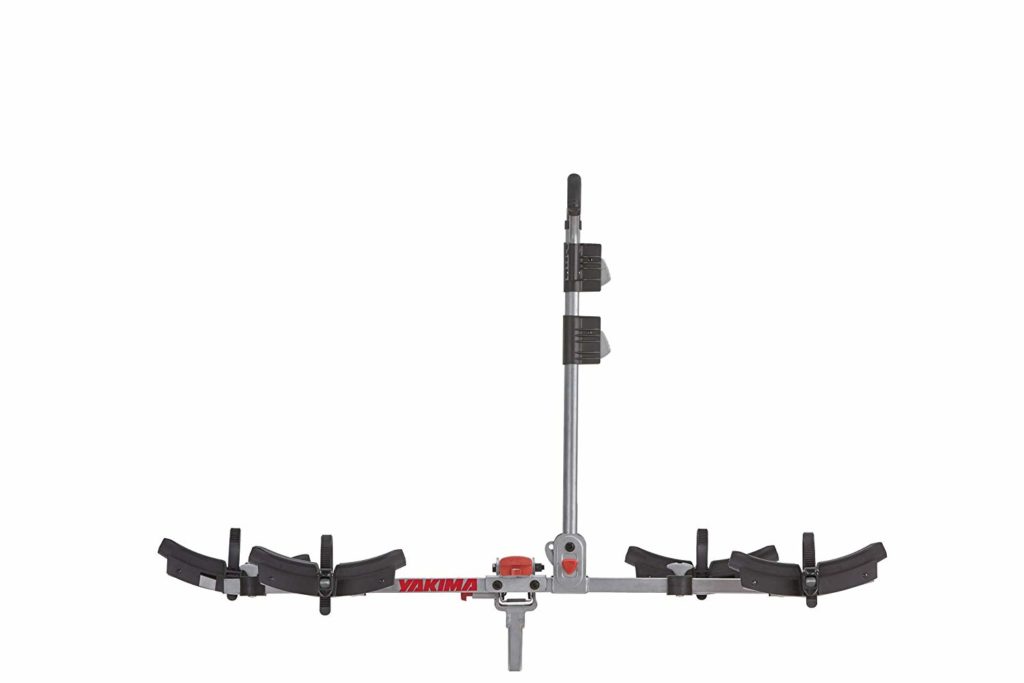 The Yakima Two Timer is a hitch-mounted rack that carries up to 2 bikes. With the addition of fat straps, it becomes suitable for the wide-tired bikes. It comes with a mounted hook designed to grip the bike at the center of the top tube or frame. These hooks can either be mounted at the top tube, the down tube or bottom tube when it comes to a lady's bike.
Yakima rack wheel holder can move independently to the farther right or left, therefore, overcoming the challenges of interference between two bikes or interference between seats and handlebars. The holders can fit fat tires of between 4 and 5 inches securely.
There is a lever on the fat straps that enables you to tighten down the bikes firmly. However, one challenge with this rack is that there is a chance of scratching bicycles since they have cables that run over the top tubes. It also does not have some of the advanced features installed in other racks.
Why we Recommend Hitch Racks for Fat Bikes
As many bike enthusiasts will attest, hitch racks are among the best carriers for any bike, fat tires or otherwise. Why is this? To start with, hitch racks are easy to install and offer faster offloading of your bike compared to other racks. They are also stable and most of them can be adjusted to fit different hitch sizes; meaning you won't be limited on which vehicle to use. Lastly, hitch racks are quite sturdy and durable.
Factors to Consider when Choosing a Fat Bike Rack
Rack and Hitch type
There are two types of hitch type racks for fat bikes namely:
Platform Racks – Platform racks are compatible with a wide variety of different bike styles. They are stable and sit lower to the ground for easy loading and unloading. They strap the front and rear tires or frames to prevent wobbling while driving and don't come into contact with the painted frame. They are however bulky and more expensive.
Hanging Racks – They are cheaper compared to the platform racks but are also quite firm and compact. The downside, however, is the fact that they strap the bike around the frame which can lead to scrapping. The bikes are also held very close to one another which can lead to swaying while driving or the bikes rubbing against one another.
Load Capacity
Generally, platform racks carry from 1-4 fat bikes whereas hanging racks hold from 2-5 bikes. Load capacity should depend on the number of bikes you are likely to carry.
Add-ons can be used to increase load capacity. Some bike racks (Recon Racks Gen2 R6) can carry up to six bikes. The quality of materials used to make the rack is also important; some racks are stronger than others.
Add-ons/Accessories
Add-ons also called extensions are a way to increase the load capacity of bike racks to be able to carry more bikes. These add-ons or accessories are easy to attach and remove. Some add-Ons may cost as much as the racks themselves.
Wrap up
With the above information, landing on a fat bike rack that suits your needs shouldn't be a problem. Now you can take your fat bike along for your trips without worrying about its security or damage while on transit. Whether you want to haul one or more bikes, there's always an option that works for you.