Top 10 Bike Racks for Fat Bikes
What is a fat bike?
Simply put, a fat bike is a bicycle with extremely wide tyres. The usual width is between 4 and 5 inches, which is wider than a mountain bike. The distinct advantage of having such a bike is the ability to travel over diverse terrain, from snow to sand. The wide tyres provide you with extra traction and grip. Therefore, you will need a special bike carrier, which supports extra weight and larger tire width, combined with versatility and security.
If you are looking after some good options to transport your fat bike or electric fat bike, we prepared a list of 10 best-rated fat tire bike racks in the market.
Top 10 Bike Racks for Fat Bikes in 2023
1. Best Overall:

Sport Rider for Fat Bikes from Hollywood Racks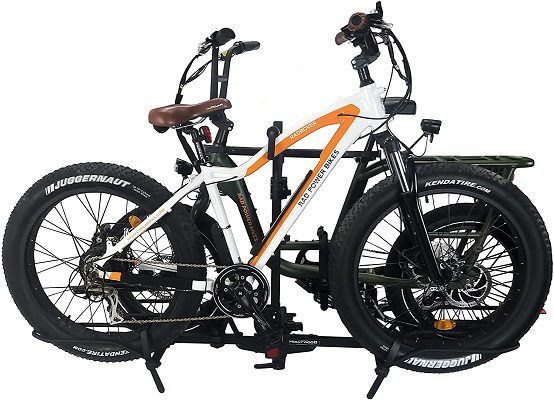 Sport Rider from Hollywood Racks is truly one of the best fat tire bike racks, being recommended by a lot of happy customers. It is specifically designed to carry fat tire bikes and electric bikes with any sized tire up to 5″ wide. It includes new universal extra heavy duty wheel holders for heavy load capacity. Sport Rider can accommodate two fat bicycles with up to a 60″ wheelbase and a maximum capacity of 80 lbs per bike. It is designed for 2″ hitches only.
Sport Rider bike platform carrier comes with plenty of great features: folds flat against the vehicle when not in use, tilts down for easy cargo access, comes with an internally reinforced frame, and an external brace for heavy load carrying capacity, patented no-wobble hitch system, includes keyed-alike locking hitch pin, 8' security cable, and locking frame hooks. For step-through bicycles you will need to purchase a bike adapter.
This is a heavy-duty platform fat bike carrier with strong adjustable wheel loops and long-lasting materials designed to fit and safely transport your fat tire bike to destination. Feel free to read our Hollywood Racks Sport Rider Review to get more insights before you came to a decision.
2. For Bikes with Fenders:

K2 Overdrive Sport 2-Bike Hitch Rack from KAC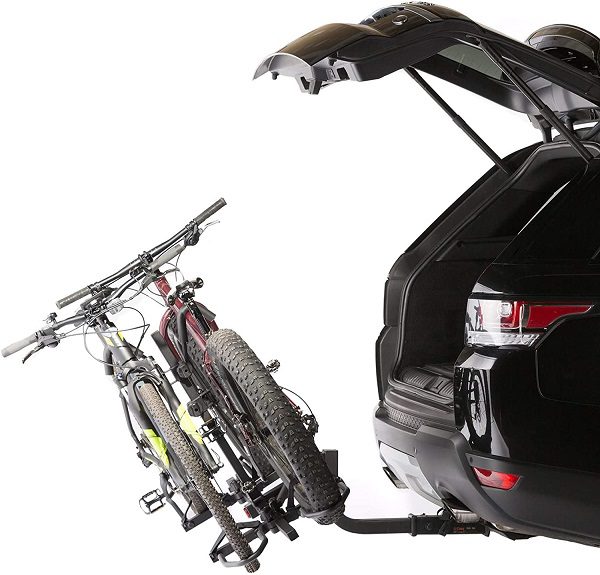 KAC K2 platform hitch carrier is a versatile rack for fat bikes with a load capacity of 60 lbs per bike. Adjustable padded hook arms and heavy duty 5″ wheel holders easily carry a wide range of bicycles no matter the frame, suspension, or tire size. It comes equipped with tire straps and includes a Safety Strap to safeguard your bikes and better protect you against the unexpected.
KAC K2 hitch fat tire rack comes equipped with a safety strap, a patented anti-wobble system that eliminates slack between the rack and receiver and a rear reflector that adds enhanced visibility at night. Quick release smart tilt feature allows cargo access while the entire carrier can be folded up flat against the vehicle to save space. Here is where you can see a great user review of K2.
You should use it on 2-inch receiver only. It is ideal for bicycles with fenders as bikes are secured with cushioned top frame hooks. Step-thru bikes and low y-frame bikes may require use of a frame bar adapter which is sold separately. If you are carrying ebikes make sure you remove the battery to help lighten weight. It can be taken down to 1-bike carrier but if you want to carry 3 or 4 bikes we recommend K4 platform rack.
3. Quality:

T2 Pro XT/XTR Hitch Bike Rack from Thule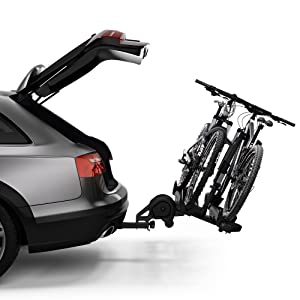 Thule T2 Pro XTR is a tray-style hitch mount rack capable of carrying 2 fat bikes bikes weighing up to 60lbs each. There is no need for extra adapters to carry 20 – 29″ wheels and up to 5″ tires, making it ideal for fat bicycles, carbon frames, mountain, kids or downhill bikes. T2 Pro XTR is our best rated electric bike rack scoring high at versatility, security and quality. The rack features integrated wheels to allow you easy maneuvering, lock the bicycles to the carrier and secure the rack to the hitch receiver, tilts down with bikes loaded and offers a generous 12.5″ spacing between bike mounts.
If you wish you can increase the load capacity to 4 bikes with Thule T2 Pro XT Add-on. Our T2 Pro XTR Review can give you more insights but rest assured that this rack sets the benchmark of hitch bike carriers. Recently Thule added 2 small wheels to the carrier to make it easier to move it to storage location when not in use. However, it remains unchanged from the XT model.
4. For Fat Tire e-Bike:

Backstage Platform Hitch Rack from RockyMounts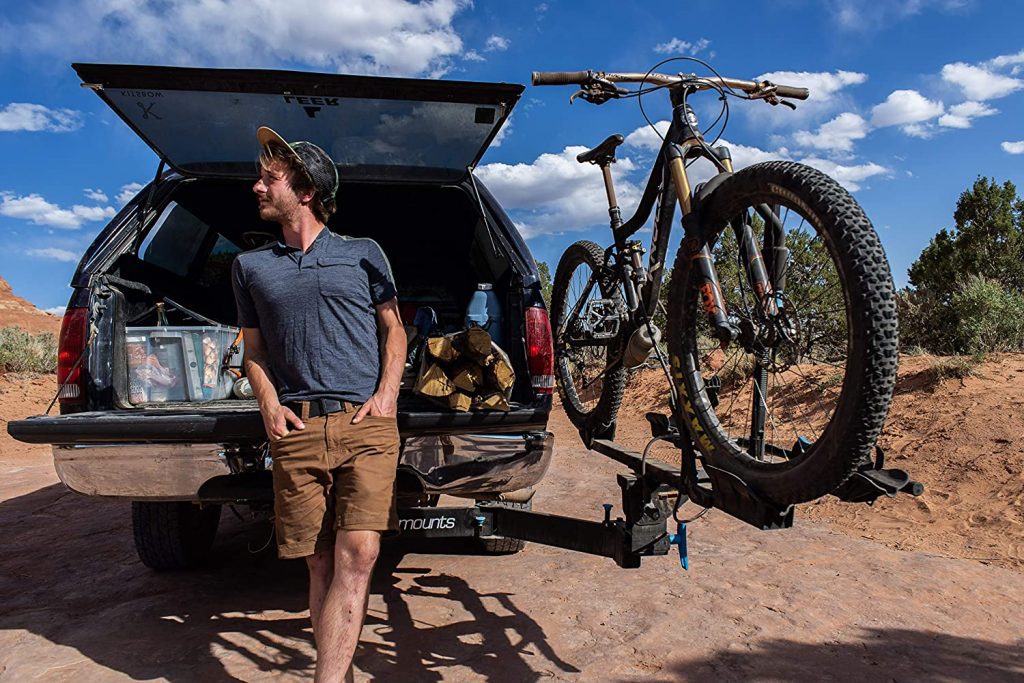 Backstage hitch rack from RockyMounts is the only swing-away carrier that swings out 180 degrees for easy cargo access. You can easily carry 5″ fat bike tires and road tires with diameters from 20″ to 29″. Compatible with bicycles' wheelbases from 34" and 49" which is making it highly versatile. Folds flat against the vehicle, and tilts down 30 degrees to allow for hatch access. Due to the front wheel clamp design, Backstage won't work with most fender-equipped bicycles.
Backstage fat tire bke rack is also a great option for electric bikes. With 120 lbs in total weiht limit, it can handle just about any bicycle, including heavy electric ones. It is a well-built carrier being made of metal but it is resistant to scratches and corrosion. 
5.

TomaHawk from RockyMounts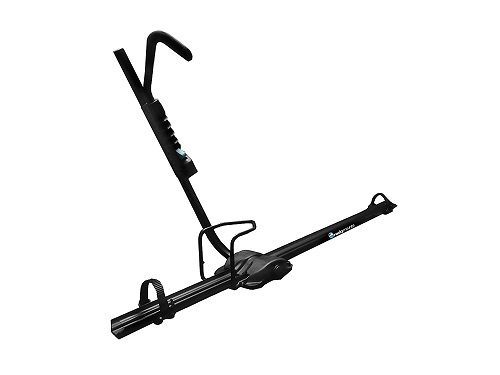 While the majority of roof-mounted bike carriers are fork-mounts (you have to remove your bike's front wheel), RockyMounts designs Tomahawk roof rack which is capable of carrying your bicycle without front wheel removal and on top of that it carries any fat bike (up to 5″ tires) out of the box. The package includes two wheel strap extensions. Tomahawk is a great option and alternative to hitch carriers, which for fat bikes are more popular, being capable of transporting a variety of bicycles including fat bikes, mountain and electric bikes with road tires up to 5″ and diameters from 20″ to 29″. If you are looking for an alternative to platform hitch mounting while carrying fat bicycles and you don't mind the added height to your SUV, RockyMounts Tomahawk might be a very safe option.
6. EasyFold XT 2 Hitch Rack for Fat-Tire Bikes from Thule

Premium, high-load capacity hitch bike carrier ideal for e-bikes and heavy mountain bikes with up to 4.7″ tire width. Smart foot pedal tilt allows trunk access while bikes are mounted. It has a load capacity of 65 lbs per bike and 130 lbs in total. It has a clever folding design that allows to be more compact when not in use, while it is relatively lightweight. Fits both 1.25″ and 2″ receivers (it comes with an adaptor installed for use with 2-inch hitches). This carrier is quite versatile being suitable for heavy bikes, allowing a more easier loading onto the rack. It will work with most bike styles however, bikes with very long wheelbases may not fit.
7.

Monorail Hitch Rack from RockyMounts

Probably the best value for a hitch rack, the Monorail from RockyMounts carries tires up to 5.0" wide fat bike tires, and diameters from 20" to 29". Compatible with bicycles' wheelbases from 34" to 49". Folds flat against the vehicle, and tilts down 30 degrees to allow for hatch access. The tray can be adjusted 2" side-to-side to avoid bike interference. No contact with the frame, secures bicycle by the front wheel. Carries 2 bikes, up to 60 lbs each. 2" variant is expandable to 3 bikes up to 45 lbs each, with Add-On. Monorail platform hitch rack has a low loading height while it secures the bikes by the wheels with no frame contact.
8.

NV 2.0 from Kuat

With premium quality and designed to work with a variety of bike styles and sizes, Kuat NV 2.0 is rated at 60 pounds per bike being capable of transporting your fat bike with ease. It is one of the most stable, good looking and well-built hitch platform rack that exist today. It comes available in 1.25 and 2-inch hitch receiver sizes being capable of holding wheelbases up to 48″ and tires as large as 4.8″. The dedicated 2″ model is able to carry up to 4 bikes with optional NV add-on 2.0 (weight capacity drops to 40 lbs/bike with 4 bike set-up. It features adjustable front tire cradle system, front tire ratchet with intuitive release, rear tire strap to protect wheels, fully integrated cable locks and hitch lock included, and a premium gloss metallic powder with water transferred logos. The trail doc station is surprisingly sturdy as it has tension adjustments at all points of movement.
9. Swagman CURRENT for Fat Bikes

The Swagman CURRENT is a heavy-duty hitch mount bike rack platform with a maximum capacity of 60 lbs per bike, making it eBike and fat bike approved. Fits most frame sizes, shapes, and style (fits 5″ wide tire sizes). Easily transports up to 2 bikes and is compatible with 1-1/4″ and 2″ hitch receiver. The Swagman Current bike rack is designed for all types of bikes including fat bikes, E-bike and nearly everything in between. It will tilt away from your SUV with bikes and rack secured to your vehicle and folds up when not in use.
Locking ratchet hooks keep your bike secure and are padded to protect your frame's finish.
However, note it will not fit RVs.
10. Yakima TwoTimer Fat Tire Hitch Bike Rack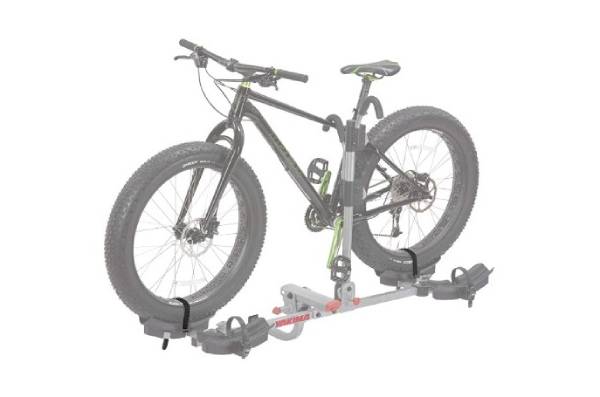 Yakima TwoTimer is versatile enough to fit almost any bike size or type, accommodates tires up to 3″ wide and up to 4.5″ wide with fat straps (sold separately) and provides a total maximum load of 90 lbs. Transport 2 bicycles regardless of frame design, suspension or wheel size. Ideal for fat bikes, fenders, kids' bikes, and women's specific bicycles. Fits 1 1/4″ or 2″ hitch receiver right out of the box. It is fairly easy to install and reliable to keep your bikes safe and secure. The downside is that it isn't compatible with different sized bikes simultaneously.
Best Seller

from Kuat:

Sherpa 2.0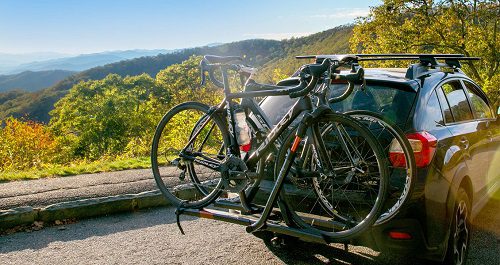 Inspired from Himalayan sherpas who are known for being strong enough to carry everything you need, Sherpa 2.0 can carry any bike with wheelbases up to 47″ and tires as large as 3″. It promotes a lightweight platform rack design as low as 32 lbs being made of aluminum all over the pace. Sherpa 2.0 is available in both 2″ and 1.25″ hitch sizes and can carry up to 2 bikes with up to 40 lbs per bike. It features an increased spacing between bikes to 14″, pivot lever with optional foot assist, bike lock with matching hitch lock, front tire hook design with intuitive release, adjustable ratchet arm.
Why do We Recommend Hitch Racks for Fat Bikes?
As many bike enthusiasts will attest, hitch racks are among the best carriers for any bike, fat tires or otherwise. Why is this? To start with, hitch racks are easy to install and offer faster offloading of your bike compared to other racks. They are also stable and most of them can be adjusted to fit different hitch sizes; meaning you won't be limited on which vehicle to use. Lastly, hitch racks are quite sturdy and durable.
Factors to Consider When Choosing a Fat Bike Rack
Platform racks – Platform racks are compatible with a wide variety of different bike styles. They are stable and sit lower to the ground for easy loading and unloading. They strap the front and rear tires or frames to prevent wobbling while driving and don't come into contact with the painted frame. They are however bulky and more expensive.
Hanging racks – They are cheaper compared to the platform racks but are also quite firm and compact. The downside, however, is the fact that they strap the bike around the frame which can lead to scrapping. The bikes are also held very close to one another which can lead to swaying while driving or the bikes rubbing against one another.
Load Capacity – Generally, platform racks carry from 1-4 fat bikes whereas hanging racks hold from 2-5 bikes. Load capacity should depend on the number of bikes you are likely to carry.
Add-ons can be used to increase load capacity. Some bike racks (Recon Racks Gen2 R6) can carry up to six bikes. The quality of materials used to make the rack is also important; some racks are stronger than others.
Add-ons/Accessories – Add-ons also called extensions are a way to increase the load capacity of bike racks to be able to carry more bikes. These add-ons or accessories are easy to attach and remove. Some add-Ons may cost as much as the racks themselves.
With the above information, landing on a fat bike rack that suits your needs shouldn't be a problem. Now you can take your fat bike along for your trips without worrying about its security or damage while on transit. Whether you want to haul one or more bikes, there's always an option that works for you and your bicycle. If you want to look at more options we put in place the ultimate guide of SUV bike carriers for your consideration.
Disclaimer: bikerackforsuv.org is a participant in the Amazon Services LLC Associates Program and other affiliate advertising programs and may receive a commission if you purchase a product via a link on this page.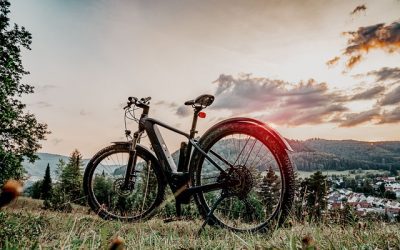 Weighing double than a standard bike because of the battery of course, it might seem difficult to transport an e-bike. However, most e-bikes have detachable batteries that can be transported separately.
read more