SUV
 

Bike Racks for Electric Bikes

: Best eBike Carriers and Buying Guide
Electric bikes (also called ebikes or e-bikes) became extremely popular these days and this sector continues to grow. When it comes to transporting your electric bicycles things are getting a bit complicated, but not by much

.  Transporting your ebike doesn't need to be a burden. You will want to make sure the carrier can support the weight of your bicycle and it's safe enough to protect it. Compared to standard bike carriers, ebike racks have a higher maximum weight capacity (some models can hold up to 80 lbs per bike). The materials used are more durable, the protection is increased, tire width are up to 5-inches and some carriers even include a loading ramp. We are here to help you find the right carrier for your electric bicycles!

We are stepping in to help you purchase the best possible carrier based on your bike style, SUV and needs. Explore the best electric bike racks in 2023 and get the right one for you today.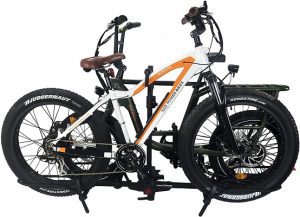 Best for Heavy eBikes
Hollywood Racks Sport Rider
Sport Rider from Hollywood Racks features a 5-inches tire width, being excellent to transport 2 heavy electric bikes with max 80 lbs per bike. This high-quality platform hitch carrier is able to carry any fat tire bikes and will match a wide range of bike styles.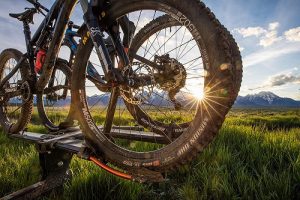 Best Quality
Kuat NV 2.0
NV 2.0 from Kuat brings one of the most stable and well built bike carrier on the market. Strong enough for any bicycle, expandable, and built for the long haul, this is the rack to compare all others to. Trail Doc and pivot with optional foot assist are included.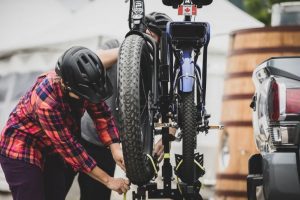 Best Value
Swagman Current
A heavy duty rack designed to carry 2 heavier electric bikes. It's a fantastic choice if you have an ebike (or two), with a higher weight capacity of 60lbs per bike. It also comes ready to fit your fat tire bikes up to 5" wide. Rack security included.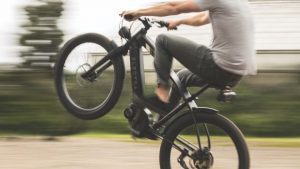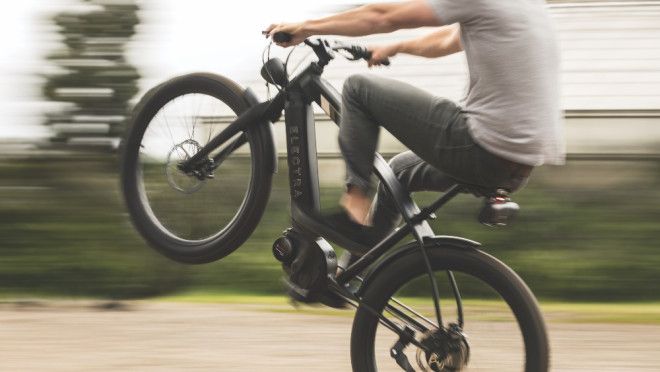 Why Should You Go For an eBike Hitch Rack?
There are several mount options like trunk, roof or hitch mount. Most of trunk carriers or roof carriers are rated for light bikes, not to mention about the need of carrying more bicycles at once. The easiest and safest way is to use an ebike hitch rack. Platform hitch rack secures heavier bikes and offer increased protection. Of course, these cost more but the risk of damaging your electric bikes is quite low, if used properly. Hitch mount carriers distribute weight best minimizing any damage due to car movement and are easiest to load and unload. Most of them require to have a 2-inch hitch receiver. Therefore, we present you 5 hitch eBike racks that will protect your gear and make your life easier.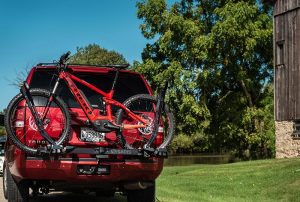 5 Heavy Duty E-Bike Hitch Racks That Will Make Your Next Trip Easier
The electric bike industry increased exponentially lately and fortunately, bike carrier manufacturers came in with solutions. A heavy-duty ebike rack is able to carry big bikes weighting up to 60 or even 80 lbs and a 5-inches tire width. Usually, these racks are designed to carry fat bikes or mountain bikes as well. We prepared a list of 5 heavy-duty ebike hitch racks so we encourage you to have a look. Most probably you will find the right one for your needs (or it will find you 

).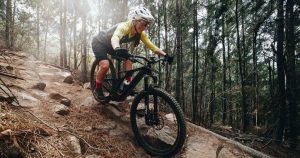 3 Premium Bike Carriers That Will Fit Your Electric Mountain Bikes like a Glove
With the plus size tires, that are wider than the regular mountain bike, and reaching up to 29", the electric mountain bike ensures stability and durability like no other. As it weighs significantly more than a regular MTB it requires a proper rack. After an intensive research we found 3 outstanding bike racks for electric mountain bikes (and some alternatives if you are still unsure).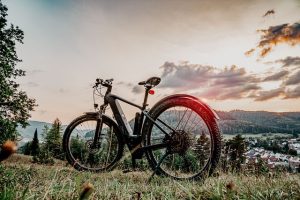 (Almost) Everything You Need to Know About Electric Bikes
"Power bike," "motorized bike," "pedal assisted," "pedelec," whatever name you prefer, electric bikes have come a long way. First off, electric bikes are not much different from the traditional bikes. They share a few similarities such as wheels, frame styles, wheels. Additionally, pedals and brakes in most bikes work similarly. Weighing double than a standard bike because of the battery of course, it might seem difficult to transport an e-bike. However, most e-bikes have detachable batteries that can be transported separately. This is an important feature that ensures you do not exceed the load capacity of a bike rack.
What is a Good eBike Rack Brand?
There are definitely some options out there but only some of them are focusing in building long-lasting, heavy-duty carriers for ebikes: Thule, KAC, Hollywood Racks, RockyMounts, Kuat, Saris and Vibrelli. The most popular and best-sellers are T2Pro XT and EasyFold from Thule, Sports K2 and K4 from KAC, Backstage and Monorail from RockyMounts, NV 2.0 from Kuat, and Superclamp EX from Saris. Explore in detail below the most notorious electric bike racks: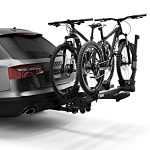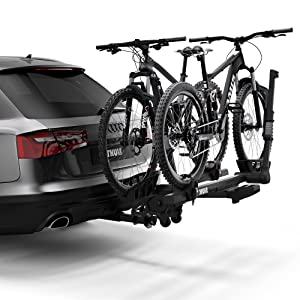 T2 Pro XT from Thule
The heavy-duty, award-winning, ebike rack fits all types of bicycle sizes and makes no frame contact. It features a load capacity of 120 lbs and 5″ max tire width.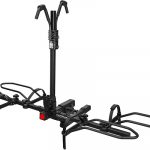 Sport Rider from HR
Ideal for heavy-duty ebikes, capable of carrying two bicycles with a 60-inch wheelbase and max capacity of 80 lbs per bike. Will fit any bike with up to 5-inches tires.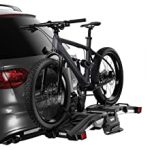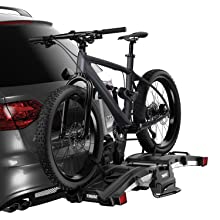 EasyFold XT from Thule
A compact and heavy bike rack designed for electric bikes, fat bikes, suspension and mountain bikes. It features 130 lbs load capacity and 3-inches max tire width.
Buying guide: How to Choose an eBike Rack
Everything you need to know before buying your electric bike rack
We're sure you're looking forward to traveling more this year, and as social distancing is still mandatory in most countries – the best options remain local travels or car trips. Therefore, if you're thinking about purchasing your first SUV bike rack for future trips or simply want to upgrade the old one, you've come to the right place. We've done our research and put together a guide that will help you make the right decision, based on your goals.
Let's start with the basics: your type of e-bike.
Electric bikes are modern, fast and very easy to use by yourself and your family, which is why we're thinking these are here to stay for a while. E-bikes are great for mountain trips, bumpy roads and adventures in any weather as the effort is minimal and you get to enjoy the view without breaking a sweat. The only challenge when it comes to carrying an e-bike to your destination is loading, unloading and transporting it with your car – that's why we're here, to offer the best advice for your future purchase.
There are multiple types of e-bikes on the market, starting with the most popular pedal assist reaching a maximum of 20mph and available for anyone without the requirement of a specific age or driver's license. Secondly, there is the throttle only e-bike equipped with a motor and much easier to use than the previous one. Lastly, there is the fast pedal assist e-bike – reaching up to 28mph and requiring a helmet and the user must have at least 17 years old. The usual wheel size of an e-bike is 26" and the bike is weighing up to 70 lbs.
Whatever e-bike you choose for your specific goals, we've got a few steps to consider in order to carry it safely and securely to your destination. Here is a quick guide on how to choose a suitable carrier for ebikes.
Research
In order to get the most out of your new SUV e-bike rack and to be sure it fits securely onto your car, you'll need to do some research. Firstly, search for opinions and reviews coming from different users and see which model sounds good for your specific goals. This initial research should help you decide on the brand or the features. It's important to hear the opinion of other people just like you, their pros and cons, their choices and advices.
When it comes to research, look for reviews on major retailers' website, blogs or even social media on specific topics. We do also offer bicycle carrier reviews and definitely can help you with buying process.
Consider your budget
After you've made your research on the brand or features you are looking for in a new e-bike rack, it's important to have a budget and make your decision on how much you can afford to spend on it. There are plenty of options to choose from, depending on the weight and features or your e-bike you have, its weight or tire size.
What to look for when you're purchasing an e-bike rack
When it comes to choosing the best rack for your electric bicycle, it's important to consider your lifestyle, how often you travel and how heavy is the bike you carry. We chose our favorite options based on the weight of the rack, the capacity it can carry at once and how easy it is to install, load and unload the e-bike without breaking a sweat. There are many options you can choose from, as the T2 Pro XT and EasyFold XT from Thule, RockyMounts Backstage, Saris Superclamp EX, Hollywood Racks Sport Rider, KAC Sports and many more.
What you should avoid
As a final point on our guide, we'll talk about a few 'flaws' that should be considered and preferably avoided when you're shopping for a new ebike carrier. Firstly, when it comes to electric bikes, you must consider the weight and how you're going to load it to your rack without damaging the car or the bike. Don't forget to double check the maximum weight your rack supports and to always take out the bikes' battery – to save space and to respect the weight it supports. The most popular types of racks remain the hitch racks, as the examples listed above, but there are also roof racks that could represent a good option, depending on your needs. We stand for a premium hitch rack as it comes fully equipped with all the items you need for transportation, has easy access to your trunk, easy loading and unloading process and lastly – most hitch racks come with a very simple installation process. However, if you still want to explore roof racks we recommend to have a look at Thule UpRide and Thule Proride XT, RockyMounts Tomahawk and RockyMounts Brassknuckles.
As a conclusion for our ebike rack buying guide, it is important to always consider your goals, lifestyle and how many e-bikes you'll be planning to carry on your trips. The electric bikes are usually heavier than standard ones or even than fat bikes, which is why only a heavy duty rack will securely support it, without any damages or potential scratches. As a final advice, consider the options we've listed, take notes of the steps we put up and make sure you're always double checking the specs and features of your rack, before making the purchase.
Safety and precautions
Do not use 1.25-inch to 2-inch hitch receiver with an adapter (and vice versa). Always check weight capacity. If you use 1 bicycle on your 2-bike rack always place the bicycle closer to your SUV or car. Keep the rack keys safe. Batteries on electric bikes must be removed before mounting and transportation. Try to use a hitch mounting option instead of a roof or trunk.
Frecquently Asked Questions about eBike Racks:
Can electric bikes go on bike racks?
Yes, you can definitely transport your ebikes on a bike rack. Actually, our guide shows that hitch carriers are the best option due to their durability. Scroll up to find the best bike racks that will protect your electric bicycle or ready more about how can you put an electric bike on a bike carrier.
Can an ebike go on a roof rack?
It is not the best option to carry your electric bike on a roof rack as most roof carriers can hold up to 40 lbs. The alternative is to go with a hitch mount carrier that can hold a load of 60 lbs and even 80 lbs.
Can you put an ebike on a Thule roof rack?
You can use a Thule's roof rack to put your ebike as there are some options like ProRide or UpRide. However, we do recommend to go for the hitch mount option (or towbar racks). Thule have one of the best electric bike carriers, like T2 Pro XTR or EasyFold XT.
Can a Thule bike rack hold an electric bike?
Thule's bike carriers can definitely hold your electric bicycle.  You can choose from the award-winning T2 Pro XTR or the heavy-duty EasyFold XT – both are great solutions.
How do you lift a heavy electric bike?
Lifting an ebike is a challenge. Here is a short but comprehensive video on how to do it.
Why you should not transport your ebike on a standard bicycle trunk rack?
Simply put, trunk bike racks are not constructed to hold and carry heavy bikes. You don't want to see your expensive bike not secured enough or have some damage during transportation. We highly recommend to use hitch style instead.
How much weight does a bike rack hold?
A bike rack can hold the average weight between 40 lbs to 80 lbs per bike. In general hitch mount styles can hold a higher weight.
How do you transport an electric mountain bike?
You can transport an electric mountain bike safely by using a hitch bike rack. RockyMounts Backstage, Hollywood Racks Sport Rider, Saris Superclamp EX are some great ebike racks. We actually recommended 3 premium carriers for electric mountain bikes – check it out!
Disclaimer: bikerackforsuv.org is a participant in the Amazon Services LLC Associates Program and other affiliate advertising programs and may receive a commission if you purchase a product via a link on this page.
Best Hitch-Mount Bike Racks for Fat-Tire Bikes (2023)Fat bikes have revolutionized the biking experience with their impressive versatility and rugged design. These burly beasts, equipped with oversized tires ranging from 3.8 to 5 inches wide, effortlessly conquer...