Thule T2 Pro XT/XTR Review
The heavy-duty, award-winning Thule T2 Pro XTR fits all types of bike sizes and makes no frame contact. Perfect for carbon frames, fatbikes, ebikes and more.
View on Amazon
Hitch-mounted bike racks offer extra stability and durability while being extremely versatile with capacity of carrying a variety of bike styles (ultra secure for full suspension bikes and crazy aero TT machines alike). The Thule T2 Pro XT / XTR sets the standard for tray-style bike carriers. This is an evolution of the popular T2 Classic, now being easier to install, remove and store. Thule recently released T2 Pro XTR which is the newer version of Pro XT but this time featuring the new rolling wheels for ease of transportation and storage ('R' comes from rolling). 
HIGHS (+)
User friendly
Extremely durable and sturdy
Compatible with a wide range of wheel and tire sizes
Fits tires up to 5″ wide without an adapter
Performance
Thule's T2 Pro XTR is one of the best SUV bike rack ever built. That's a bold claim but its features come in support: easy-to-use tilt lever, built-in locking system, sturdy ratcheting arms, carries almost any type of bike. Despite many other carriers now having the same features, Thule maintains the top spot due to its flawless execution compared to its competitors. Carries up to 4 bikes with Thule T2 Pro XT Add-On (sold separately, 9036XTB, 2″ receiver only). If you're looking for one hitch-mounted carrier to rule them all, that could be T2 Pro XTR, even if the competition is tough: KAC Overdrive Sports K4, Yakima FullSwing, or RockyMounts Backstage. Top to bottom, it's thoughtfully designed and executed, an ideal bike rack for families.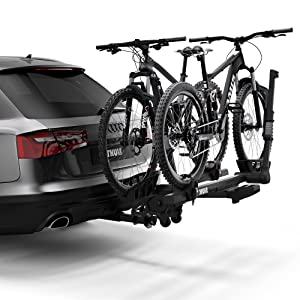 Versatile bike fit
Fits 20 – 29″ wheels and up to 5″ tires without adapters making it ideal for carbon frames, mountain, downhill, or fat bikes.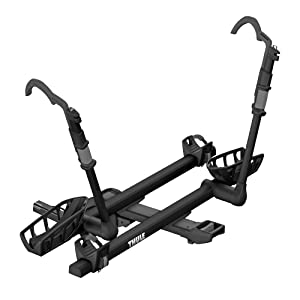 Optimal spacing
Generous 12.5″ spacing between bike mounts. Bike racks can adjust side to side to eliminate any bike to bike contact.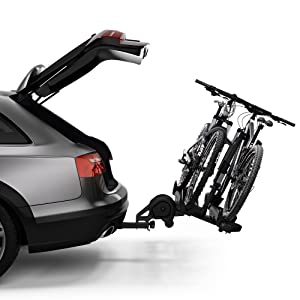 Vehicle access
HitchSwitch lever allows the rack to tilt down with bikes on loaded for access to the rear of the vehicle, and tilt up when not in use.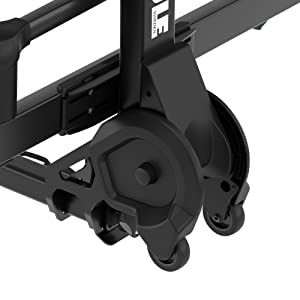 Integrated wheels
Maneuvering the rack is easy thanks to integrated wheels.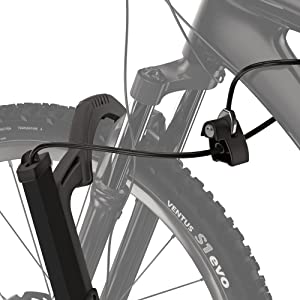 Secure transport
Lock the bikes to the rack and secure the rack to the hitch receiver with integrated locking systems.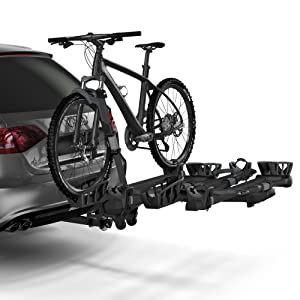 Expandable capacity
Increase the load capacity to 4 bikes by adding Thule T2 Pro XT Add-On (sold separately, compatible with 2″ receiver only).
Ease of Use
The T2 Pro XTR is one of the most user-friendly carrier ever tested. It still has the smoothest and most user-friendly release mechanism on the market. The tilt mechanism and ease of loading bikes counts the most on ease of everyday use. Thule has slowly made its carriers easier to install with its auto attach system, and the T2 XTR looks to have a more robust version of the feature. However, it may take a little bit longer to set up, compared with other platform-style bike racks like the Kuat NV Base 2.0. Loading and unloading bikes is easy, taking no more than 10-15 seconds per bicycle. Ratcheting arms are easy to use –  place the bike on the carrier, lift the arm up and over the front wheel, then pull down on the handle until it cinches on the tire. The anti-wobble system keeps the rack secure, and also eliminates the need for a locking hitch pin.
Key Features
Tire width – Thule's front tire tray has 3 different sized groves to match with various tire widths. This hitch rack is designed to hold any tire up to 5″ in width – road bikes, standard-width tires and fat bikes. 
Wheel size – T2 Pro XTR can secure without any adapter any wheel sizes from 20″ to 29″; kids' bikes, 26″ fat bikes, and 27″ mountain bikes. By comparison, Yakima HoldUp and RockyMounts can also transport 20″ and 24″ bikes without an adapter, while Kuat NV cannot.
Bike spacing – T2 Pro XTR is quite generous in offering spacing between bikes featuring a 12″ space. 
Folding and tilting – one of the best features is the ease with which the T2 Pro XTR folds up, with the lever placed at the end of the main mast of the carrier. Just squeeze the lever and push up. For access to the rear hatch, the carrier tilts down.
Compare to similar products
Our verdict
Thule's T2 Pro XTR is probably one of the best hitch-mounted bike racks you'll ever use. It just sets the standard for tray-style carriers. The design might not be perfect but the execution of the design is exceptional, with every feature working as intended making it user-friendly and versatile being capable of handling almost any bike on the market.
Disclaimer: bikerackforsuv.org is a participant in the Amazon Services LLC Associates Program and other affiliate advertising programs and may receive a commission if you purchase a product via a link on this page.
Here are Some Questions About Thule T2 Pro XTR Bike Carrier:
What is the difference between Thule T2 Pro and Thule T2 Pro XT?
Simply put, the XT versions have cross trays and base spines that are slightly longer. This allows for more offset to fit various styles of fat bikes.
Will it work with a 2.5 inch hitch that has a 2.5 to 2 inch converter?
This configuration is not recommened but you could do it at your own risk. 
Does it work with an ebike that has fenders?
Bikes with front fenders are not compatible with the Thule T2 Pro XT/XTR. The front wheel ratcheting hook needs to sit directly on the tire where it meets the front fork for a solid connection. A fender prevents that from happening and can make the connection insecure and unsafe.
Does this bike carrier come with the lock at the hitch receiver?
The AutoAttach connection system on the Thule T2 Pro XT/XTR has a built in lock. No additional lock accessories are needed to secure it to the vehicle.
Will it fit children's bicycle?
It must be 20″ frame size or larger.
Does this rack come with the screw in anti wobble hitch pin?
This model bike rack features an Acu-Tight tensioning knob that holds the rack in place inside the hitch without the need for additional bolts or locks. When locked, the internal wedge should hold the rack sturdy in transit. The auto-pin on the side of the hitch receiver insert is a secondary safety mechanism to ensure the rack stays on the hitch.
Is this carrier constructed from aluminum or steel?
It is constructed of steel.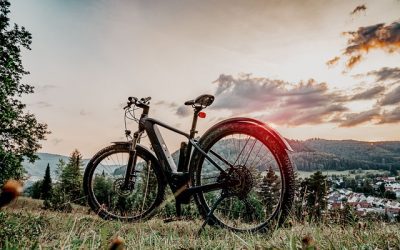 Weighing double than a standard bike because of the battery of course, it might seem difficult to transport an e-bike. However, most e-bikes have detachable batteries that can be transported separately.
read more