SUV Bike Racks: The Only Guide You'll Ever Need
We help you get the perfect bike rack no matter of bike style. Explore with us impressive hitch and roof mount bike racks which score high on versatility, security, durability and ease of use.
When you need to carry your bikes by car or SUV, you want to do it as smoothly and securely as possible. Think about a bike rack as a way to enable new adventures. But then it comes into the landscape various factors that will influence your purchase decision. There is a huge number of bike racks on sale today and many manufacturers who offer different options. First of all, there are mainly three types of bike carriers: hitch, roof and trunk. Hitch-mounted and roof-mounted attach to become semi-permanent extensions of your car, while trunk-mounted are designed to be more portable. Each one of these three types have advantages and disadvantages.
Then, it depends on your bike style: is it a road bike or a mountain bike? Or possibly you want to have a family weekend and you need to carry multiple types of bikes on the same carrier. If you own an electric bicycle, again, it will change the way you should choose. Ease of use, loading and unloading, versatility, security, ease of removal and storage, durability of any bike carrier are other factors you should consider. To make your life so much easier, we did a research and we can recommend you top amazingly good bike racks who will fit to almost any bike style so you won't need to worry about details. However, this will come with a cost – these carriers are not cheap but will have a long life and will protect your bikes. ?
5 All-Time Great Bike Racks ?
Swing-Away Bike Rack: RockyMounts Backstage
Overall Bike Rack: Thule T2 Pro XTR
Electric Bikes: Hollywood Racks Sport Rider
Heavy Bikes: KAC K2/K4
Roof Bike Rack: Thule UpRide
1. RockyMounts Backstage Swing-Away Bike Rack
Said by many, Backstage from RockyMounts is the benchmark in bike racks. Even if it's heavy, this platform style rack swings out 180 degrees (with bikes loaded) and tilts down at 30 degrees to give you full access to vehicle's cargo compartment.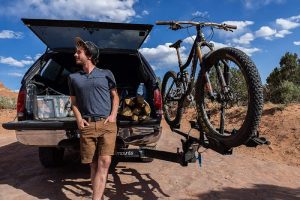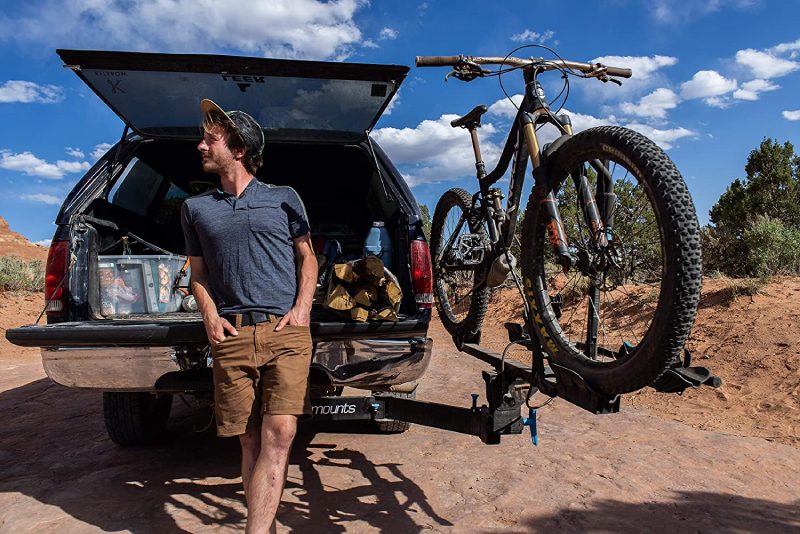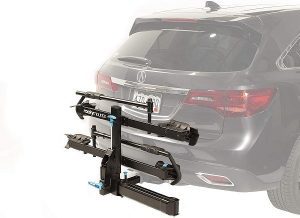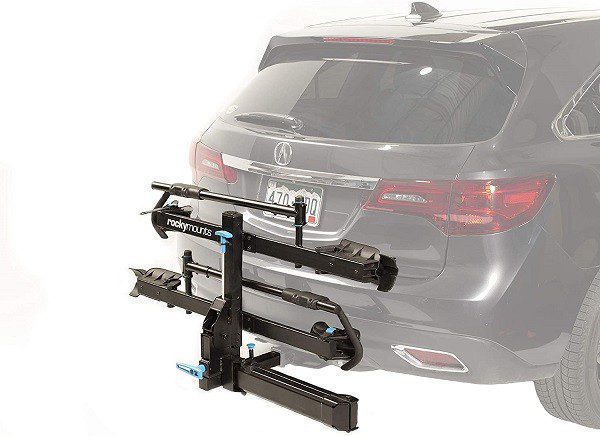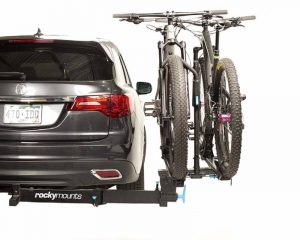 The Backstage has a good looking profile and promotes a safe distance from the vehicle. In terms of versatility it can fit a huge range of wheel sizes and tire widths – compatible with bike wheelbases from 34" to 49", carries tires up to 5" in width without the need of any adapters and diameters from 20" to 29". On top of that, with a 60 pounds per bike weight limit, it can handle any bike style, including mountain bikes and heavy electric models. However, make sure your bike's fenders are removed because of the front wheel clamp.
In terms of durability, you will notice the robust mix of materials and their great quality which is something specific to all RockyMounts products, but it adds more weight, as a downside. The majority of the carrier is made of metal and the black finish is resistant to scratches. Although the assembling could take a little bit longer versus his contenders it scores higher on security and ease of use. The Backstage comes with a heavy-duty cable lock and 2 hitch pin locks for locking up the bicycles. The diameter of the cable is thicker, compared to other models which are thinner.
The BackStage is one of the best swing away bike racks that fits 2-inch receivers and can carry two bicycles that weigh up to 60 pounds each while the overall rack extra weight is one of the only drawbacks we noticed. It is a high-end rack and is not cheap but putting in balance the amazing swing-away feature, well-executed design, and the other great features you will find that it has an excellent value.
2. Thule T2 Pro XTR Platform Hitch Rack
With a bombproof design and execution, Thule T2 Pro XTR is incredibly user-friendly and highly versatile – one of the best bike racks on the market. An evolution of the popular T2 Classic and then T2 Pro XT, this is an improved version which brings more durability, versatility, security and ease of everyday use. Amongst T2 Pro XTR's smart features we mention a tool-free vehicle mounting and easy-to-reach tilt release handle placed at the end of the carrier. The whole execution is impeccable compared to its contenders.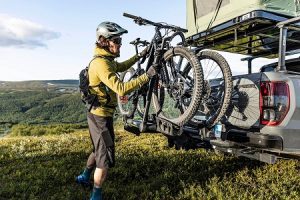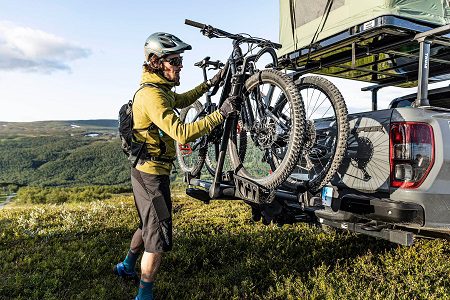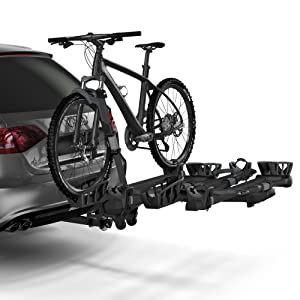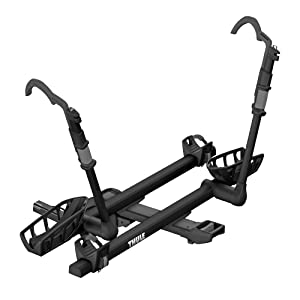 In terms of performance, T2 Pro XTR combines all the features you could possible need so any type of bike will fit and will be secure. V-shaped tire trays are capable of holding any tire, from road tires to 5-inch fat bike tires and electric bikes. In addition, its individual trays are adjustable laterally thus improving bike clearance. You can easily accommodate kids' bikes, road bikes, fat bikes and mountain bikes without any adapter. If you need to carry more than 2 bikes you have the possibility to buy a separate add-on (this is available for the 2-inch receiver). This platform hitch bike carrier is able to handle two 60 lbs bikes while it fits 20 – 29" wheels being great for families who need to haul bikes 20-inch and up. In case you have an e-bike it might be worth checking Thule EasyFold XT2 which includes a ramp.
In terms of durability, the overall construction is stout, the moving parts and almost the entire rack being made of metal with small parts of plastic. It is probably the most user-friendly rack due to its release mechanism and ease of loading bikes.
All in all, T2 Pro XTR may be heavy and relatively pricey but giving its impressive features, ease of use, versatility and durability, you should definitely consider it.
3. Hollywood Racks Sport Rider for Electric Bikes
The Sport Rider from Hollywood Racks is THE rack for any electric bike; one of the best 12 bike racks for ebikes, in our guide. This platform bike rack will carry up to 2 electric bikes with ease and guess what – you don't have to remove bike fenders. Specifically designed for electric bikes it has probably the highest rating on Amazon amongst carriers who can transport ebikes. This durable ebike carrier features extra heavy-duty wheel holders for heavy carrying capacity (max 80 lbs per bike) an internally reinforced frame and an external brace for heavy load capacity.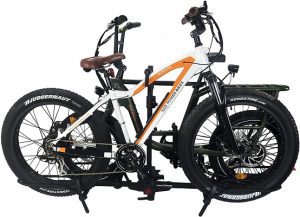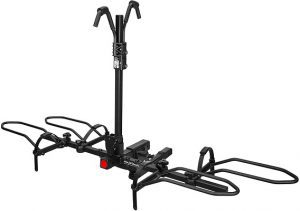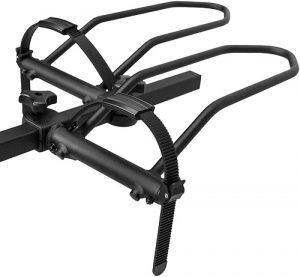 In terms of versatility there will be no issues with any electric bike as it comes with a maximum tire width of 5 inches and a minimum wheelbase of 36 inches (max wheelbase is 60 inches). It will fold flat against the car when not in use and can be tilted for easy access to the cargo area. Sport Rider includes a keyed-alike locking hitch pin, 8′ security cable, and locking frame to keep your rack and bikes secure during travel. In case of 20" tire rear wheels you will have to purchase a small wheel adapter and for step-through bikes you will also need an adapter.
If you need to transport electric bikes you should definitely consider Hollywood Racks Sport Rider and you won't be sorry. We promise.
4.
KAC K2 and K4 Platform Hitch Bike Rack
In a nutshell, KAC K2 or K4 hitch mount bike racks work with many bike and vehicle styles being ideal for bikes with tire fenders and capable of transporting any bike from road, gravel and mountain bikes to fat bikes and electric bikes. Heavy duty 5-inch wide trays are adjustable to fit most ebikes, fat tire, road, and mountain bikes. Low Y-frame bikes may require support of a KAC Bike Frame Adapter. Featuring a full metal construction, it can transport 4 bikes up to 60 lbs each with durable powder coated steel tubing. It might be a bold statement, but we can easily say it is one of the best weight capacities rack on the market.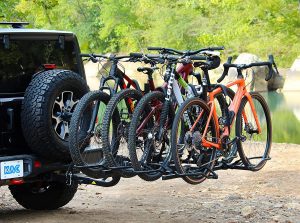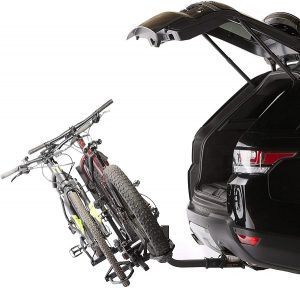 KAC K4 is the perfect bike rack for a family of four, or better said a family bestseller. Featuring a unique anti-wobble unit technology and a rear tilt system, this is an extremely user friendly and easy-access car bike carrier. Smart Tilt design with quick release lever allows rack to be folded up when not in use or tilted down for rear cargo access.
The rack weighs 39 lbs and the parts come pre-assembled to make it easier for installation. It has padded clamps and a locking knob for increased security and a wedge attachment mechanism that makes the bicycles steady and stays on the carrier without wobbling even on rough terrains. Safety strap (to be used at all times during transport), locking hitch pin, key for hitch pin lock, instruction manual, and all installation hardware are included.
All in all, KAC K2/K4 platform hitch bike rack stays strong on durability, security and versatility while the price stays a bit over the average of other contenders, making it one of the most wanted bike carrier today.
5.
Thule UpRide Roof Bike Rack
Thule UpRide is remarkably secure and sturdy with a unique approach to carrying your bicycle. It scores very well on security, storage and ease of assembly while it promotes no frame contact for maximum protection.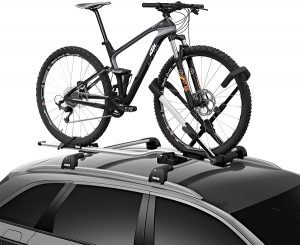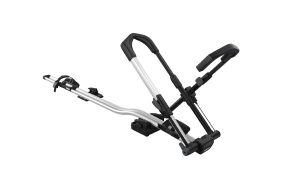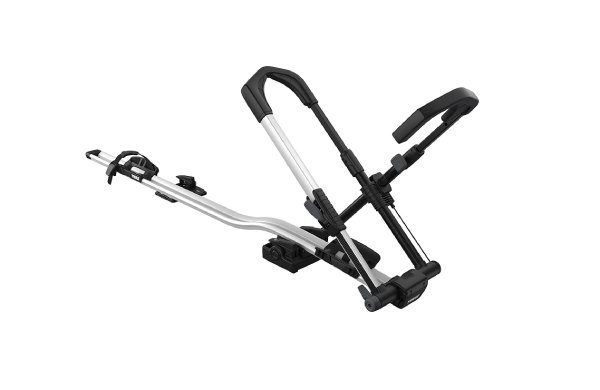 It works with a huge range of wheel sizes and tire widths: fits most 20-29″ wheel bicycles with tires up to 3″ wide (you have to buy Thule UpRide Fat Bike Adapter to fit 5" tires). The lack of contact with the frame or fork makes it suitable for bikes with carbon frames, non-traditional designs, rear suspension and bottle cages. Downhill, kids or road bikes – they all fit on this carrier. Note that there is a 44 lbs load limit so any heavy bikes won't be a match.
Thule UpRide roof mount bike rack promotes an innovative counteracting front arm design, something that is quite different vs traditional roof carriers. This system works by hooking on to a bike's front wheel to hold it in place. The rack is going to be shipped pre-assembled promoting a tool-free installation.
No doubt this roof rack has a strong hold and a high level of security. It has a locking cable that extends out of the rear of the tray and it also locks onto the crossbars. While you might be considering to look at its contender, Yakima HighRoad, these two are similarly priced while Thule's system is more innovative (although more complicated).
Best Seller

from Kuat:

Sherpa 2.0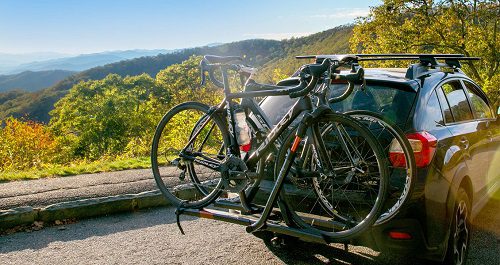 Inspired from Himalayan sherpas who are known for being strong enough to carry everything you need, Sherpa 2.0 can carry any bike with wheelbases up to 47″ and tires as large as 3″. It promotes a lightweight platform rack design as low as 32 lbs being made of aluminum all over the pace. Sherpa 2.0 is available in both 2″ and 1.25″ hitch sizes and can carry up to 2 bikes with up to 40 lbs per bike. It features an increased spacing between bikes to 14″, pivot lever with optional foot assist, bike lock with matching hitch lock, front tire hook design with intuitive release, and adjustable ratchet arm.
Explore Your Favorite SUV Carriers
? RockyMounts Monorail is a 2-bike platform hitch rack that carries road tires up to 5.0" wide fat bike tires, and diameters from 20" to 29". Tray can be adjusted 2" side-to-side to avoid bike interference. It is compatible with bicycles' wheelbases from 34" to 49". No contact with frame, secures bicycle by front wheel. Folds flat against the vehicle, and tilts down 30 degrees to allow for hatch access.
? Thule T2 Pro XTR, undoubtedly is one of the most amazing hitch bike racks on the market. It scores high on durability, versatility, security and ease of use. Bascially, Thule, one of the world's leading manufacturers, puts in T2 Pro XTR what it has the best in house:  a stout construction made of metal, capability to carry any bike style, zero frame contact, easy-to-reach tilt release handle, user-friendly design.
? Yakima DoubleDown is a hitch hanging rack capable of carrying 4 bikes with traditional frame geometry. It is compatible with both 1.25 and 2-inch receivers out of the box. TriggerFinger technology lets you fold down the arms with one press of a button. Standard SwitchBlade anti-sway cradle eliminates bike-to-bike contact.
? RockyMounts BrassKnuckles is a roof mount bike rack which carries 1 bike, up to 45 lbs per bike. Will fit road tires up to 3. 0" wide mountain bike tires, and diameters from 20" to 29". Compatible with bicycles' wheelbases from 34" to 48". Maximum crossbar spread: 43″. Form-fitting stainless steel mounting straps that fit most square, round, factory & aero crossbars.
? Hollywood Racks Destination is a lightweight platform hitch mount rack capable to transport 4 bikes and a maximum load of 35 lbs per bike. With a max wheelbase of 48 inches and max tire width of 3 inches, this carrier accommodates most kids bicycles, ladies frames, hybrids, road, and mountain bikes.
? Thule Helium Pro, a super lightweight aluminum hitch mount bike rack, has the capability of carrying 2 or 3 bikes using a 1.25″ or 2″ hitch receiver. It features 7″ spacing between bikes and superior stability with integrated anti-sway cradles that prevent bike to bike contact. It has a load capacity of 75 lbs. Rack tilts down for cargo access.
? Kuat Transfer V2 is a 2-bike hitch rack that has modular configurations available so you get a multi-rider carrier. Dedicated 2" hitch version in the 2 bike configuration can be directly mounted on campers, recreational vehicles, or trailers with chassis mounted receivers only. It includes semi-integrated bicycle cable lock and holds up to a 50″ wheelbase bike.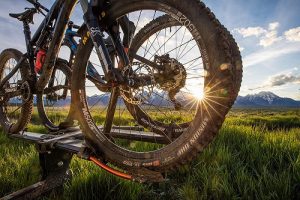 Best Design - Kuat NV 2.0 ?
With an eye-catching design, NV 2.0 from Kuat brings a suite of premium features and one of the most stable and well built bike carriers on the market. Strong enough for any bicycle, expandable, and built for the long haul, this is the rack to compare all others to. Trail Doc and pivot with optional foot assist are included.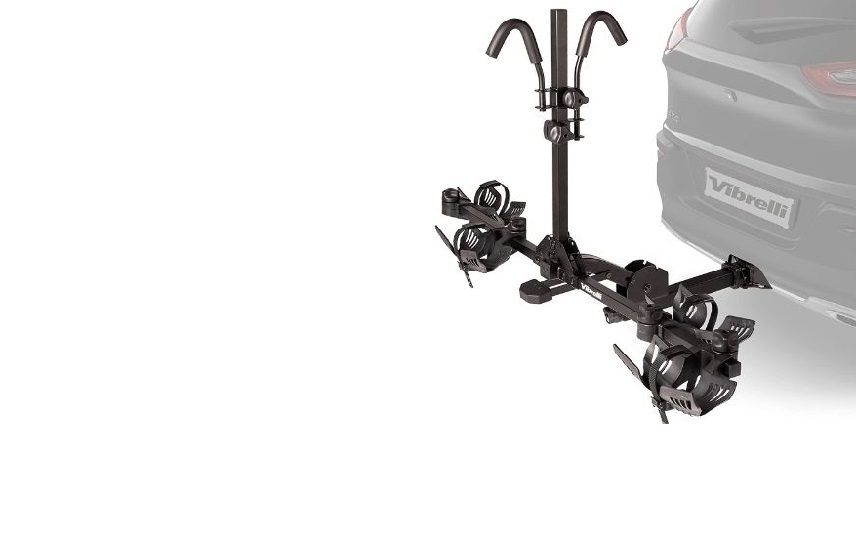 Best Seller - Vibrelli V70 ?
Being well positioned in terms of cost compared to its features, Vibrelli V70 will definitey impress you. It fits fat tire (up to 5″), mountain bike, electric bikes and standard bicycles. Easily tilts down and folds up when not in use.  Three locking mechanisms will keep your bikes extra secure. 10-years warranty.
Best Sellers ?
We put together a distinguished collection of successful SUV bike carriers that did their job over time and made customers happy. Obviously these racks are doing what they promise so they become popular – a very strong hint that the chances of buying one of these and be disappointed are quite low.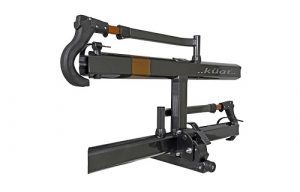 1. Kuat Sherpa 2.0 - Platform Bike Rack ?
Kuat Sherpa is an outstanding tray-style hitch rack which has a simple design and a good-looking powder coat finish. It is mainly appreciated because it's lightweight and easy to use it. The Sherpa comes with a lower price versus his big brother Kuat NV 2.0. It comes with a limited weight per bike of 40 lbs so it's a good option for most road, gravel or mountain bikes. The Sherpa is better than advertised so we recommend you to have a look.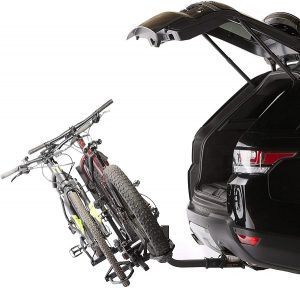 2. KAC K2 - Fits Fat Tire and Electric Bikes ?
Due to its increased versatility, KAC K2 platform hitch bike rack will carry not only road or standard bikes but also ebikes and mountain bikes with up to 5″ tire width! Most parts come pre-assembled for easy installation and adjustment. Quick-release tilt design makes it easy to access rear hatch and fold up rack when not in use. Keeps bikes sturdy and safe with patented Anti-Wobble System. For the money you pay you will get a top quality product.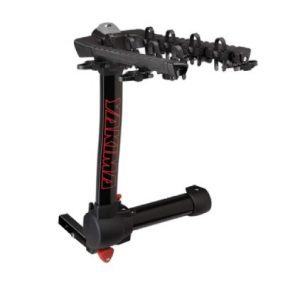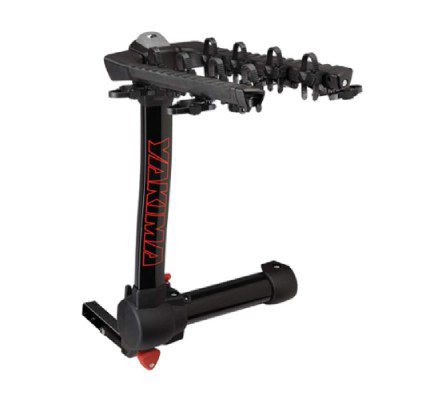 3. Yakima FullSwing - Hanging Hitch Rack ?
This 4-bike hitch moun bike rack fits all types of bikes with traditional frame geometry (some mountain, women's and kids' bikes require the TubeTop adapter, sold separately). Bikes swing out of the way with a single touch to provide access to back of vehicle. Anti-sway bike cradles eliminate bike-to-bike contact and bike-to-vehicle contact. Includes fully integrated security that locks bikes to rack and locks rack to vehicle.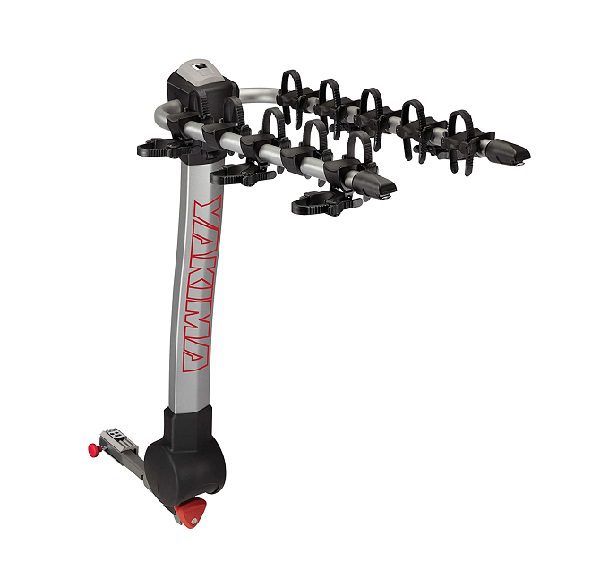 4. Yakima RidgeBack - Tilt-Away Hitch Rack ?
Incredibly easy to install and uninstall from your SUV, RidgeBack hitch carrier folds flat for easy storage, it comes fully assembled while tool-free SpeedKnob quickly tightens and locks the rack to your car. UpperHand lever tilts the rack down to access the back of your vehicle and folds flat for easy storage. Best for families who are looking for a bike carier to transport standard, road, and hybrid adult bikes, as well as 20″ kids' bikes.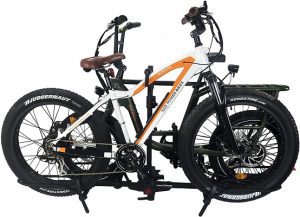 5. Hollywood Racks Sport Rider for eBikes ?
Probably the best rack for electric bikes, Spot Rider is sturdy and well built. It is designed to carry electric bikes with any sized tire up to 5″ wide and a maximum bike wheelbase of 60″. Folds flat against car when not in use. Tilts down for easy cargo door access. Features extra heavy duty wheel holders, an internally reinforced frame, and an external brace for heavy load carrying capacity.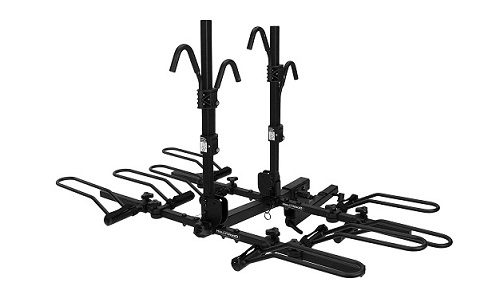 6. Hollywood Racks Sport Rider SE 4-Bike ?
The Sport Rider SE4 hitch-mount bike rack comes out of the box set up as a 2-bike base unit. This rack can fold flat against the car when not in use and tilts down for easy cargo door access. Includes keyed alike locking hitch pin with 8′ security cable to prevent rack sway, and locking frame hooks to deter theft. Configurable as either a 2 bike or 4 bike rack. Fits 2-inch hitch receiver only.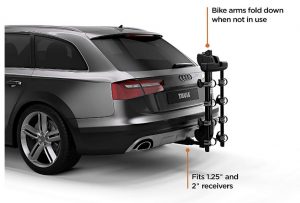 7. Thule Camber 2-4 Bike Hitch Rack ?
Thule Camber hitch bike rack promotes superior bike stability and fit with integrated anti-sway that prevent bike to bike contact and 'disappears' when not needed. Bikes are safe and secure during transport thanks to 7" of spacing between each bike. Compact cradle design accommodates wide variety of bike sizes/frame styles. Convenient access to the rear of the vehicle using the HitchSwitch lever to tilt the rack down. Easily transfers between 1.25" and 2" hitch receivers.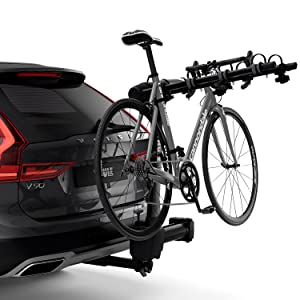 8. Thule Apex XT 5-Bike Hitch Rack ?
Thule Apex XT is a premium haging rack for 5 bikes which offers superior bike stability and fit with anti-sway cradles. Heavy duty integrated cable lock allows you to lock the bikes to the rack. The cable stores inside the hitch rack when not in use. The HitchSwitch lever tilts the carrier away from vehicle for trunk, hatch, or tailgate access. SnugTite Stinger provides a tool free installation, eliminates hitch rack movement, and locks the hitch rack to the vehicle. 5.5″ of spacing between each bike.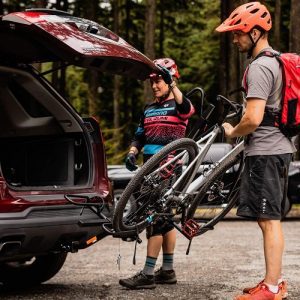 9. Swagman XTC2 TILT Hitch Bike Rack ?
The Swagman XTC2 TILT is a hitch platform bike rack that securely transports up to 2 bikes. It's one of our most popular racks and packed with user-friendly features. The rack tilts back so you can access your trunk without taking your bikes off and conveniently folds up out of the way when not in use. Fits tires up to 2.5" wide and wheels from 20" to 29" diameter. Wheel hoops with straps secure your wheels in place.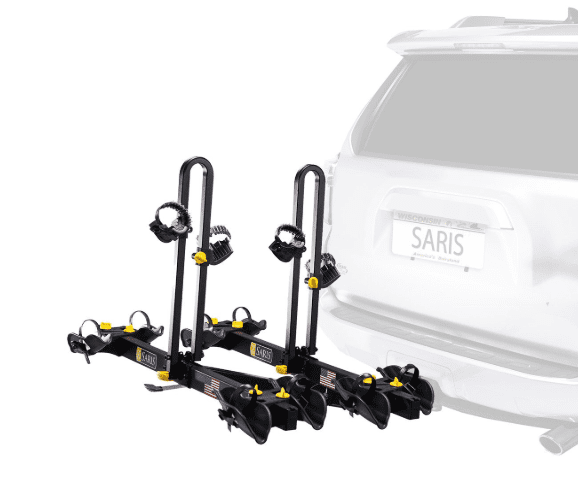 10. Saris Freedom 2-4 Bikes Hitch Rack ?
From electric bikes to unicycles to everything in between, the Freedom 4-bike hitch rack has ability to carry just about any style and combination of bicycles out there (190 lb total, with the two outer bikes not exceeding 35 lb each). This rack fits a wheelbase up to 48″ right out of the box. If your bike has a longer wheel base, you will need our long wheelbase bar. Protective rubber holders adjust to fit any frame. Fits most 2″ hitches.
Bike Racks for

Electric Bikes: Best Carriers and Buying Guide
Electric bikes became extremely popular today. When it comes to transporting your electric bicycles things are getting a bit complicated, but we are here to help. You will want to make sure the carrier can support the weight of your bicycle and it's safe enough to protect it. Compared to standard bike carriers, ebike racks have a higher maximum weight capacity (some models can hold up to 80 lbs per bike). The materials used are more durable, the protection is increased, tire width are up to 5-inches and some carriers even include a loading ramp.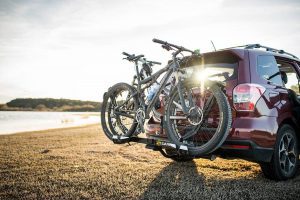 Here are the most wanted electric hitch bike carriers: Hollywood Racks Sport Rider, KAC K4, Thule EasyFold XT, RockyMounts Backstage and Saris Superclamp EX.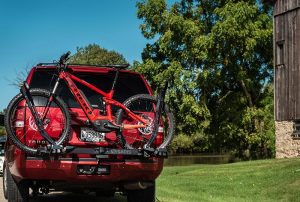 Here are our top 5 heavy duty e-bike hitch racks: Thule EasyFold XT, KAC K4, Hollywood Racks Sport Rider, Saris Superclamp EX, Thule T2 Pro XTR.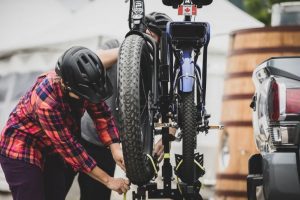 The advantages of an e-MTB are solid and we could start with the fact that you'll cover more ground on your trip, explore more and save a lot of time without breaking a sweat.
Types of Bike Racks for SUVs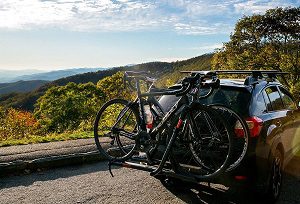 Hitch-mounted (or towbar racks)
These types of carriers slide into the receiver of a trailer hitch. In this case, a hitch receiver is installed on the vehicle. Hitch racks are a fantastic option for families or frequent users, being designed to haul up to 5 bikes at once. They are usually more expensive vs other types but the ease of use, ease of loading and unloading and versatility  made them a popular option. These racks are either platform-style (also called tray) or hanging-style.
Platform racks: the bikes sit on a platform being anchored in place on trays. They typically carry two or four bikes (with extensions) and can handle a variety of bike sizes and shapes, including electric bikes and fat bikes with tire width up to 5″ out of the box. It represents the easiest and most secure way to load and unload while preventing any damage. On the downside is definitely the price and it goes higher if the rack has more features.
Hanging racks: the bikes hang from the rack while it offers more ground clearance. They are compact,  less expensive than the platform style, can carry up to 5 bikes. However, it will not fit all bike sizes and shapes and will often sway and make contact with the other bikes.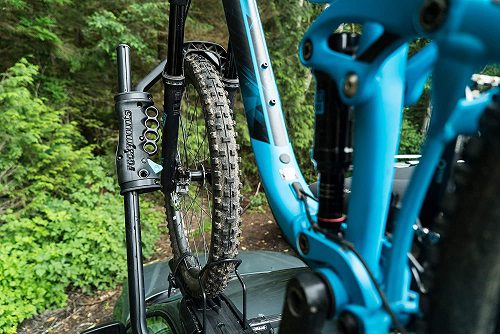 Roof-mounted
Roof racks are stable, secure, versatile and can attach to factory-installed crossbars. On the downside – it may not fit in low-clearance spaces and overhead lifting is required. There are 3 types of roof bike racks: frame-mount, fork-mount, and wheel-mount. 
Frame-mount: also called upright bike racks, on this system the bike is secured to its frame so you don't have to remove the front wheel. Easy to install, secure and remove, this style is a good fit for mountain and downhill bikes.
Fork-mount: a classic roof bike rack style that attaches to the fork of your bicycle. You have to remove the front wheel of your bike, which will provide stability and clearance. A great option for bikes with carbon fiber frames.
Wheel-mount: it is basically an upright roof bike carrier with no frame contact. The bike is secured at its front wheel. Good fit for carbon fiber bike frames, mountain and downhill bikes.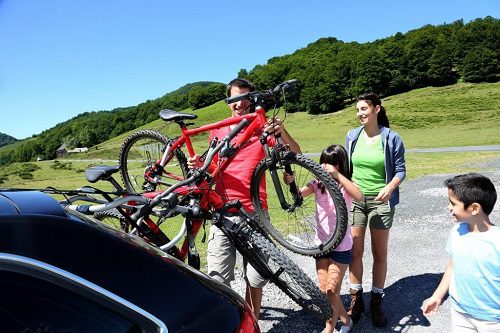 Trunk-mounted
This type of rack attaches to your trunk with a system of straps and hooks. Usually, they can carry one to three bikes, being the cheapest and lightest option. Perfect for family bike trips or road biking, these racks are easy to install and easy to use. However, these are the least secure, bikes may sway or bump into each other and you cannot carry any type of bike. Altough it is the most affordable style, bikes must be fitted extremely well and the vehicle can sometimes damage paintwork.
Disclaimer: bikerackforsuv.org is a participant in the Amazon Services LLC Associates Program and other affiliate advertising programs and may receive a commission if you purchase a product via a link on this page.
Frequently Asked Questions about Bike Racks:
My bikes are slightly heavier than the recommended load capacity. Can I mount them anyway?
The total load capacity of a bike rack is tested and recommended by experts and manufacturer. They ensure the weight won't exceed and spoil the body of your SUV or rack. Usually, a rack can withstand a heavier load but with varying factors such wind conditions, it is wise not to take the risk. 
Which bike rack is best for my SUV?
There are many options you can choose from, each with pros and cons. Hitch-mounted racks are great for heavier bikes while roof-mounted are used if you carry 1 or 2 bikes (could be road and even mountain bikes). Trunk-mounted is usually used for ligther bicycles while the budget is limited. No matter of bicycle type, these 5 carries are being considered the best:
1. Thule T2 Pro XT/XTR
2. Hollywood Racks Sport Rider
3. Kac K2/K4 Hitch Bike Rack
4. RockyMounts Backstage
 5. Thule EasyFold XT2
Which bike rack is best for my SUV?
There are many options you can choose from, each with pros and cons. Hitch-mounted racks are great for heavier bikes while roof-mounted are used if you carry 1 or 2 bikes (could be road and even mountain bikes). Trunk-mounted is usually used for ligther bicycles while the budget is limited. No matter of bicycle type, these 5 carries are being considered the best:
1. Thule T2 Pro XT/XTR
2. Hollywood Racks Sport Rider
3. Kac K2/K4 Hitch Bike Rack
4. RockyMounts Backstage
 5. Thule EasyFold XT2
Do bike racks fit all bikes?
Not every bike rack is a perfect fit for any bicycle. It dependss on some factors: heavier bikes (including e-bikes) fit better on hitch racks as these support a heavier load; mountain bikes will work best on hitch racks and roof racks while road bikes (and usually lighter ones) go very well on trunk racks, too. In addition, kids' bikes and women's models do not fit perfectly on some cradles, or they require additional top tube adapter. 
Can I use a car bike rack on my SUV?
Definitely. Most of car bike racks will fit your SUV, especially if these are hitch-mounted. Hitch carriers are a great choice for SUVs as they are designed to carry up to 5 bikes and use the hitch receiver. Their height makes it easy to load and unload bikes making it one of the most popular options.
With a roof rack, can my SUV go through a car wash?
It is not recommended that you take your car through a car wash with a roof rack on your vehicle. This is especially for tall SUVs. The bike racks will most likely get damaged.
Do all bike racks need a hitch?
Only hitch mounted racks will need a trailer hitch installed on your vehicle. Roof racks and trunk racks don't require a trailer hitch. The good news is that a trailer hitch can be installed on hatchbacks, minivans and oversized SUVs.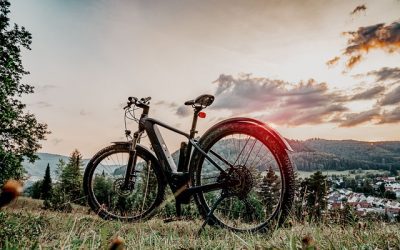 Weighing double than a standard bike because of the battery of course, it might seem difficult to transport an e-bike. However, most e-bikes have detachable batteries that can be transported separately.
read more