No one wants to put a few hundred dollars bike in the back of the car. The very simple solution is to get a bike rack; but not any rack. Finding the best bicycle rack can be a long process, even today with so many options on the table. The truth is there is no "best" bike carrier for each and every rider – it depends on the vehicle, bike, budget and other priorities.
There are three main types of racks: hitch mount bike racks (the ones you mount in your car's hitch), trunk mount bike racks (the ones that attach to your trunk lid with straps), and roof mount bike racks (sit on the top of your SUV or car). Hitch carriers are a bit more pricey but are more durable, versatile and stable. On the other side are trunk carriers which are more budget-oriented.
If you are ready for your next adventure, let's explore the best SUV bike carriers you can buy today.
Bike Racks - Buyer's Guide
Consider what to buy by asking you about vehicle type and bike type. If your SUV has factory crossbars then maybe a roof bike rack system is the best and practical choice. Next is your bike – if you have 20mm through axle forks, for example, Yakima HighRoller or Yakima FrontLoader can be a good fit. If you have downhill bikes and/or without crossbars, then a hitch mount (tray or platform style) might be a good option. SUV bike carriers like Thule T2 Pro XT or Hollywood Racks HR1400 are a good option to carry heavy bikes securely to the final destination. If you don't have a hitch receiver, then a 2" receiver is recommended since it gives you more options for a compatible bicycle carrier.
Be future-proof. Even if you are transporting 1 bike now, in future you may want to add more, so buy a 2 or 3 bike rack. You never know.
Bike frame compatibility is also important. It's almost impossible to determine the right bicycle rack for your SUV since there are lots of different frame designs, but if you want to stay safe, there are some rack styles that accommodate almost any bike: Yakima FrontLoader, Kuat NV and Kuat NV 2.0, Thule T2 Pro XT or Saris Bones 801.
Check your vehicle's manual before installing a roof system to find the max allowable weight the SUV roof can accommodate. Towing capacity needs to be checked in case of a hitch rack.
If you own a tandem bike then roof bike carriers usually do the job, like Yakima Sidewinder.
If you do not want to install a hitch receiver or roof racks are not an option, then you may consider purchasing a trunk mount rack. It fits a wide range of SUVs but be aware if you have full suspension mountain bikes or of potential incompatibility. The fit information can be accessed on manufacturer's websites: Yakima, Thule, Kuat, Allen Sports, Saris.
Check vehicle's payload limits. It's important to avoid any damage caused by the high load.
Securing the bike on the rack may be also a must have. Even if this will cost you extra, it will prevent the theft. Take into account that not all SUV bicycle racks came with this feature so you might consider to buy it. Even if your bike is not expensive, an additional cable lock may prevent some headaches and some extra money in your pocket.
Hitch mount bike racks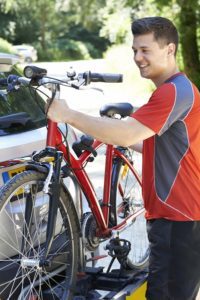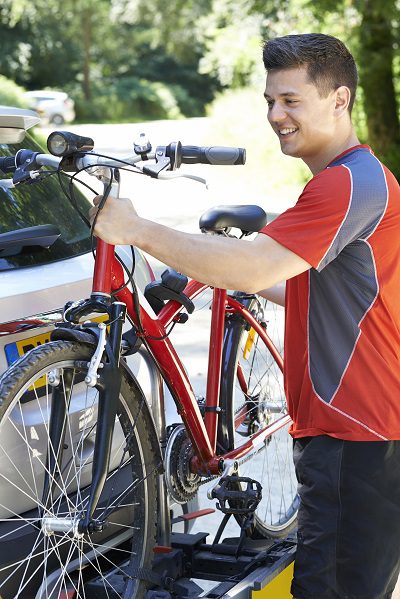 The hitch mount bike rack is the most versatile while it can carry up to 5 bikes. It is required a hitch receiver though. It is the easiest way to carry multiple bikes and it will not damage the car paint. You have two main types to choose from: hanging (support arm) and platform (tray-style). Explore the full range of hitch bike racks.
Hitch bicycle racks for SUV require a hitch receiver (which can be installed if needed) and the cost for these carriers is a bit higher as they offer more sophisticated materials and features. Platform-style carriers can hold 2 bikes and can be extended to 4 bikes; these type of bicycle carriers offer a higher weight limit and Amazon offers a wide range from which you can choose. Trailer hitch bike carrier for SUV can transport 2 to 5 bikes, the installation and removal are easy, minimum effort is required for lifting, compared with roof bike racks, locks are available and some fold flat against the vehicle.
However, the price is a bit higher, the trunk or rear door might be blocked, bikes may partially obstruct license plate and taillights and the driver must remain aware of SUV's extended length. Tray style hitch mounts have some ergonomic advantages when it comes to loading and you can carry mainly any type of bicycle. Hitch mounted bike racks for SUV keep bicycles out of the wind but can make parking in tight places difficult. Some bike racks from Amazon can respond to your needs, like Thule T2 Pro XT or Yakima RidgeBack.
Pros: can transport up to 5 bikes, generally the installation is simple, fuel consumption is not that high, it is not permanently attached to the vehicle, locks are available, easy to load and unload, bikes can be strong secured, some fold flat against vehicle to provide clearance to the trunk, bicycles attach with a moderate amount of lifting.
Cons: a receiver hitch is needed, swing-away models which offer the easiest access, are also the most expensive, the driver must be aware of SUV's extended length, bicycles may partially obstruct taillights or rear license plate.
Trunk mount bike racks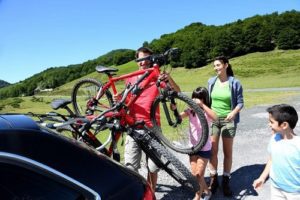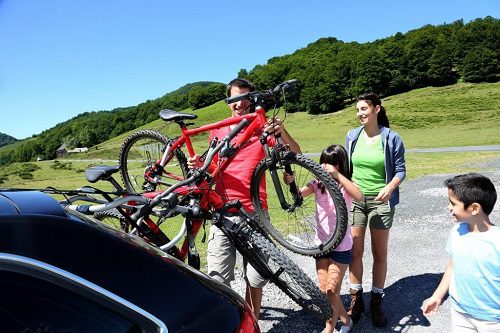 Trunk mount bike racks may be an alternative for your SUV especially if you don't prefer roof racks. They involve the least amount of installation and the least expensive way to transport your bike to the desired destination. SUV trunk bike racks are lightweight, can transport 2-3 bikes and are an economical choice. The same bike carrier can be easily moved between vehicles.
Straps with hooks are used to secure them to the SUV and the attachment system will prevent you from being able to open the hatch when needed. Bikes rest on support arms equipped with cradles. Also, security from theft is limited. The design limits rack's ability to carry full suspension mountain bikes for example. Maximum allowed weight capacity per bike is around 30-35lbs so could not be a good option for massive bicycles. You will notice that some bike racks for SUV carry the same nr of bicycles but the price is different; this happens due to extra versatility to fit more vehicles, extra features (like anti-sway cradles, or fold-away), locking options, better materials. Amazon offers a wide range of bike carriers which are very good, like Saris Bones 801 or Hollywood Racks Heavy Duty. Explore the full range of trunk bike racks.
Pros: easy installation, lightweight, moderate amount of lifting is needed, least expensive option, fold for easy storage, handy for occasional use.
Cons: least secure, the trunk is blocked, bikes may sway during transport if are not properly fixed, SUV's finish may be affected if you do not pay attention while attaching hooks, requires some maintenance during transit just to be sure you are not losing them.
Roof mount bike racks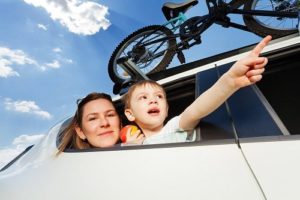 One of the best bike racks for SUV is the roof mounted styles due to its versatility. However, take into account that mounted onto an SUV will require lifting the bicycle over your head. If you will manage to do that you may consider that you will likely only be able to carry 2 bikes since the center of the crossbars will be out of reach. Many people appreciate their stability while driving. It is recommended to check your vehicle's manual or contact the manufacturer directly to understand the max allowable weight the roof can maintain. Bike carriers for roof racks vary between ones that allow both wheels to remain on the bicycle and the ones that require front wheel removal. Car bike racks that keep both wheels on the bicycle are taller, can be less stable and cost more while those with front wheel removal are great for SUVs and can be easier to load and unload.
Crossbars can be used to carry other equipment like kayaks or cargo boxes. Roof SUV bike racks are versatile, generate moderate cost, there is no bike-to-bike contact and no visual obstruction to driver's view. However, the aerodynamics of SUV is reduced, some noise may be caused by wind resistance, can be hard to load the bicycles, the driver must be aware of height restrictions. Some Amazon bike racks may be perfect for your needs, like Yakima FrontLoader or Yakima ForkLift. Explore the full range of roof bike racks.
Pros: versatile for all kinds of gear hauling, moderate cost, bikes do not sway, no obstructions to driver's view, bike-to-rack lockers available, one of the most secure carriers, access to any doors/hatch/tailgate.
Cons: wind resistance reduce aerodynamics, the driver must be always aware of height restrictions, may be hard to load and unload items, fuel consumption will likely increase.
Shop by number of bikes
1-bike and 2-bike racks are ideal for those who don't have many bicycles and roof mount is the best choice. Remember is always good to be future-proof and choose a 3-bike or even 4-bike rack even if you have 2 bicycles now. If you want to carry different types of bicycles on the same rack, then hitch mount and trunk mount are your best option. For a better stability and protection, trailer hitch 4-bike rack for SUV might be ideal. You can transport road or mountain bikes, child or women bikes and through axles, disc brakes, and full suspension bikes. We recommend Allen Sports, Thule, Kuat and Yakima carriers. 5-bike carriers are not so popular since the load is very high, but if you really want to buy one, then Amazon has some good offers from various brands.
Shop now
Shop by manufacturer
Discover each of the bike rack manufacturers below has to offer. By giving you some hints we would like to mention that Allen bike racks offer hitch, trunk, and spare-tire mounting options and they place in the middle when it comes to price. For example, Allen Sports Deluxe 4-bike Hitch Mount Rack is one of their best sellers. Thule SUV bike racks offer great quality and you can choose between hitch, roof, and trunk mounting options. Thule T2 Pro XT is one of their best product. Yakima offers from hitch to spare-tire racks and Ridgeback and FrontLoader bike carriers are one of their best sellers. When it comes to the highest security and stability Kuat stands out from the crowd. They offer amazing hitch mount bike racks for SUV but the price is also on the expectation. Kuat NV 2.0 appears to be a complete rack system with an amazing design.