4 Premium Swing-Away Bike Racks: The Perfect Solution for Convenient Bike Transportation
If you are looking after the best swing-away bike carrier so you can have access to the rear of your SUV but still keep the bicycles secure, you have come to the right place. These swingers are specific to hitch bike racks and present a great advantage to provide access to the hatch or tailgate while not removing bikes. Note that the swing mechanism must be strong and sturdy to support the heavy, loaded hitch rack. That is why you need the upper class of it. So we put together a list which we think, is what you need to make a decision. The Backstage from RockyMounts continues to be one impressive swing-away carrier in 2023, too.
Before anything else, what is a swing-away bike rack?
A swing-away bike rack has the capability to be swinged out of the way so you can have the access to cargo area of your SUV or car, while bikes remain loaded on the rack. Often happens that you need access to the trunk of your car and you don't want to unload all the bicycles from the carrier. That's where swing-away option comes to save the day.
4 Great Swing-Away Bike Racks in 2023
1. Best Overall:

Backstage Swing Away Platform Hitch Rack from RockyMounts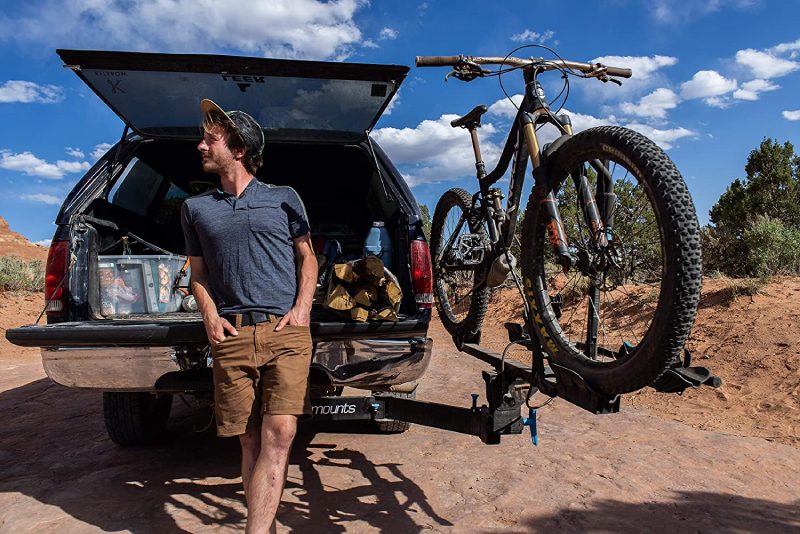 RockyMounts Backstage is the industry's first 180 degree swing away platform hitch rack. It is a well built carrier, heavy-duty, durable, functional and can carry everything from the lightest road bike to the fattest bike. The swing away feature allows the rack to be swung out towards the passenger side for enhanced access to the rear of SUV. Based around the Monorail platform, the Backstage carries 2 bikes up to 60 lbs per tray. Tray can be adjusted 2" side-to-side to avoid bike interference. No contact with frame, secures bicycle by front wheel. Carries road tires up to 5. 0" wide fat bike tires, and diameters from 20" to 29". Compatible with bicycles' wheelbases from 34" to 49". Folds flat against the vehicle, and tilts down 30 degrees to allow for hatch access. BackStage is one of the best ebike racks, too, due to its versatility and capability of carrying a variety of bike sizes and styles.
2. FullSwing 4-bike Rack from Yakima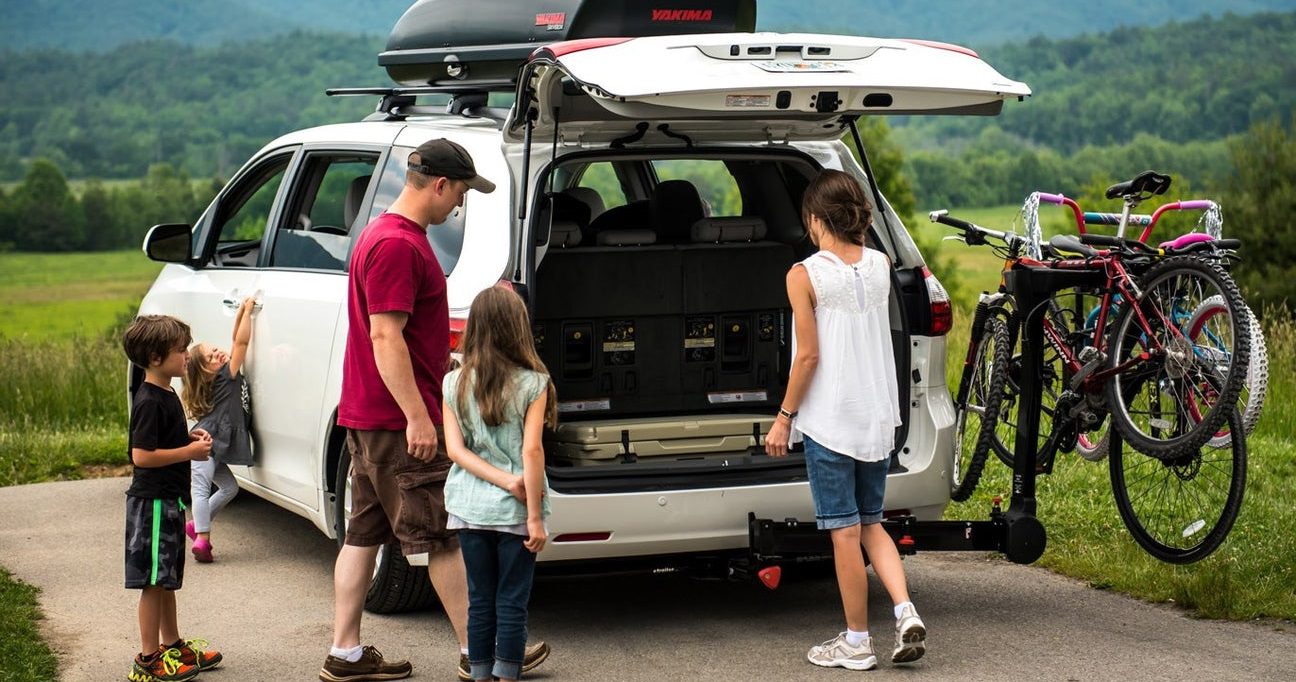 FullSwing is among one of the most revolutionary products from Yakima. It's an easy to assemble hitch rack that swings away from your car with bikes loaded. Installation is tool-free; all it takes is sliding the rack into the hitch and tightening it by turning on the SpeedKnob- located on the end of the mast. The swing function is a one-touch button, adding to the appeal of an already trusted brand. The rack also comes with ZipStrips for securing the bikes to the rack. For additional security, the straps can only be unfastened by pressing a release button. The FullSwing weighs 56 lbs and can carry up to 4 bikes with a total weight of 150 lbs. During use, the model allows bike protection by incorporating fully paddled arms- which can be folded down when not in use.
3. Ridge Swing-Away Bike Rack from SportRack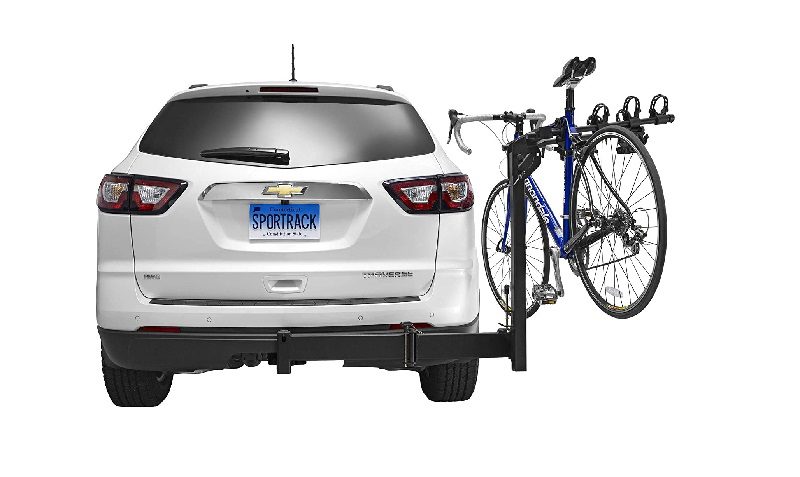 SportRack Ridge is a hitch mounted rack that carries up to 4 bikes with a total weight capacity of 140 lbs. The swing function operates with bikes fully loaded allowing easy access to the cargo area. It comes with dual arms for holding bikes with a folding down mechanism for when not in use. To prevent contact between bikes and between bikes and the car, the model has anti-sway cradles that hold each bike in 3 places- 1 by the seat post and the other 2 by the top tubes. The cradles also move along the arms to enable strapping your bikes at proper spacing. The unique placement of arms and cradles can prove disadvantageous for some bikes. Such include small children's bicycles, alternative frame bikes, and dual-suspension bikes. In such cases you may have to buy a bike adapter bar– sold separately.
4. Apex XT Swing Carrier from Thule

The Thule Apex XT is a premium hanging hitch bike rack for 4 bikes compatible with 2″ receivers. A unique design allows the bike carrier to swing out away from the vehicle, fully loaded. It features superior bike stability and fit with anti-sway cradles. Integrated cable lock keeps bike safe and secure (locking knob secures rack to vehicle). Quickly attach and secure bikes with ratcheting cradle strap. Ideal for a wide variety of bike sizes/frame styles.
Bikes are safe and secure during transport thanks to 7" of spacing between each bike.
Easily fold down bike arms when rack is not in use.
Convenient access to the rear of the vehicle using the HitchSwitch lever to tilt the rack down.
Best Seller

from Kuat:

Sherpa 2.0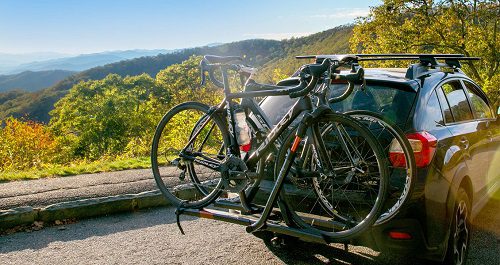 Inspired from Himalayan sherpas who are known for being strong enough to carry everything you need, Sherpa 2.0 can carry any bike with wheelbases up to 47″ and tires as large as 3″. It promotes a lightweight platform rack design as low as 32 lbs being made of aluminum all over the pace. Sherpa 2.0 is available in both 2″ and 1.25″ hitch sizes and can carry up to 2 bikes with up to 40 lbs per bike. It features an increased spacing between bikes to 14″, pivot lever with optional foot assist, bike lock with matching hitch lock, front tire hook design with intuitive release, adjustable ratchet arm.
Factors to Consider When Choosing Swing-Away Carriers
Vehicle Compatibility: One of the crucial factors to consider when selecting a swing away bike rack is ensuring it is compatible with your vehicle. Different racks are designed to fit specific vehicle types, such as sedans, SUVs, or trucks. Additionally, it's important to check the hitch size of your vehicle to ensure the rack can be properly attached. Some racks are designed to fit 1.25-inch hitches, while others are compatible with 2-inch hitches. Double-checking the vehicle compatibility will ensure a secure and stable fit for your swing away bike rack.
Bike Capacity: Consider the number of bikes you plan to transport on the rack. Swing away bike racks come in various sizes and configurations, offering different bike capacity options. Some racks can accommodate two bikes, while others can carry up to four or even five bikes. Assess your needs and determine the number of bikes you typically transport to select a rack with the appropriate capacity. Additionally, consider the weight capacity of the rack to ensure it can handle the combined weight of your bikes.
Ease of Installation and Use: Opt for a swing away bike rack that is user-friendly and easy to install. Look for racks that feature a straightforward installation process, with clear instructions and minimal tools required. Consider features such as quick-release levers or adjustable arms that make it easy to load and unload bikes. Some racks also offer folding or collapsing capabilities for convenient storage when not in use. Choosing a rack that is easy to install and operate will save you time and frustration.
Durability and Materials: The durability of a swing away bike rack is crucial, especially if you plan to use it frequently or for extended trips. Look for racks made from high-quality materials, such as sturdy steel or aluminum construction, that can withstand regular use and exposure to weather conditions. Consider features like powder coating or corrosion-resistant finishes that enhance the rack's durability and longevity. Reading customer reviews and checking for warranties can also provide insights into the rack's overall quality and durability.
Security Features: Security is paramount when transporting your bikes. Evaluate the security mechanisms available in swing away bike racks. Look for features such as locking systems that secure the bikes to the rack and the rack to the vehicle. Some racks offer individual locking mechanisms for each bike, providing an added layer of protection against theft. Additionally, check for anti-sway features or bike stabilization systems that prevent bikes from shifting during transportation, reducing the risk of damage. Consider racks with integrated cable locks or compatible accessories that allow you to secure your bikes to the rack more effectively.
By carefully considering these factors, you can select a swing away bike rack that matches your vehicle, safely accommodates your bikes, offers ease of use, provides durability, and ensures the security of your valuable cycling equipment.
Disclaimer: bikerackforsuv.org is a participant in the Amazon Services LLC Associates Program and other affiliate advertising programs and may receive a commission if you purchase a product via a link on this page.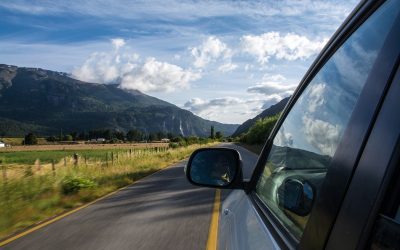 Exploring the Best Hitch Bike Racks for SUVs on Your Long Road TripsThere's something magical about the allure of the open road, stretching out before you, filled with the promise of new adventures....
read more