Platform-style hitch bike carriers bring extra security while holds the bike by the wheels. With their ground clearance and wide spacing between trays, most bicycles can be loaded and unloaded in seconds. Platform bike racks are a good fit for the majority of bike styles being capable of carrying road and mountain bikes, carbon fiber frames, suspension, fat bikes, or e-bikes. Fits both 1.25-inch and 2-inch hitch receivers.
EasyFold XT from Thule is no different, being capable to transport e-bikes and heavy mountain bikes. There is a large distance between wheel holders enabling the transport of sturdy bikes with large wheel bases. EasyFold provides easy trunk access even with bikes mounted, thanks to smart foot pedal tilt. The easy mounting of bikes is made through detachable bike arms with lockable Thule AcuTight torque limiter knobs that click when optimal torque is reached. Foldable bike loading ramp integrates into the carrier for convenient storage.
HIGHS (+)
Safe and secure
Easy trunk access while bikes loaded
Bike ramp makes loading easy
Can handle heavy bicycles
LOWS (-)
Expensive
Hard to configure for multiple bikes
Ideal for e-bikes and fat bikes
Thule EasyFold XT is designed to carry two bicycles with a maximum load capacity of 130 pounds or up to 65 pounds per bike, ideal to transport ebikes. The maximum tire width is 3″ (With Thule XXL Fatbike Wheel Straps 4.7″) so will fit a fat-tire electric bike too. Works well with e-bikes that have fenders. Could transport BionX Styriette or Rad Power Bikes RadCity Step-Thru 3 type of electric bikes. The carrier is quite expensive but well worth it – the foldable loading ramp enables the loading of heavier e-bikes so you don't have to lift them.
Fully foldable
Fully foldable for convenient mounting, handling, and storage.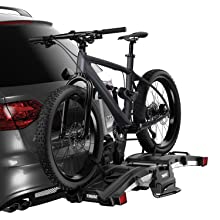 High load capacity
Enabling transport for e-bikes and heavy mountain bikes.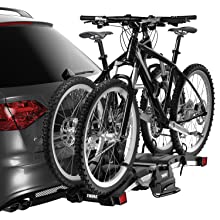 Easy mounting
Detachable bike arms with Thule AcuTight torque limiter knobs for an easy, secure fit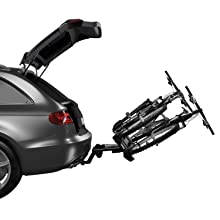 Easy trunk access
Smart foot pedal tilt allows trunk access while bikes are mounted.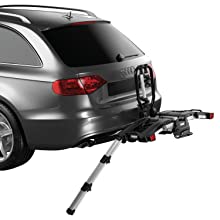 Bike loading ramp
Foldable loading ramp integrates into the rack for convenient storage (included).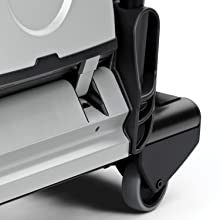 Ergonomic transport
Integrated wheels and carry handle provide an easy, comfortable transport.
Loading and Unloading is a Breeze
The EasyFold is an easily assemble carrier and you would hope that from Thule's most expensive rack. Mounting it to the car or SUV it's an easy thing to do. There is a foldable loading ramp integrated which lives inside the tray that makes loading the bike on and off a breeze. The ramp is light and flexible which allows you to mount it and remove it. Once the straps are undone they can be tucked away down where they won't flap around; the unloading will come up after this process. Full-suspension mountain bikes could present a challenge, however. Some owners mentioned that wheel straps couldn't be attached. The solution was to use the clamp designed for the outside bike. It features a 9-inch distance between bikes.
Full Tilting Mechanism
It's a premium carrier therefore, it features a full tilting mechanism for easy trunk access even with bikes mounted, thanks to smart foot pedal tilt. You just need to push a central foot pedal and the whole rack moves. It makes a clicking noise when the rack is pushed back into place. More than this, it is fully foldable for convenient handling and storage.
Great Security
Fat bikes or e-bikes can be quite expensive and that's why you have to be prepared for transportation. The EasyFold XT is promising total security through various aspects: it is quite sturdy and strong built, contains 3 locking cores (one on the short arm, one on the long arm, and one on the hitch knob), comes with two keys, and has wheel straps with adjustable pump buckles for fastening wheels  (Optional XXL Wheel Strap kit to fit longer wheelbases and tires up to 4.7"). There's a carbon fiber protector available if you're clamping on a carbon frame.
Compare to similar products
Our verdict
Thule EasyFold XT 2 fits almost all bicycles by clamping to the bike's frame rather than using a hook over the front wheel. Usually, this carrier works fine if you have the same 2 bikes. Long wheelbase bicycles might not work well. Other than that, it presents great security, easy access to the car trunk with bikes loaded, easy mounting, and loading/unloading.
Disclaimer: bikerackforsuv.org is a participant in the Amazon Services LLC Associates Program and other affiliate advertising programs and may receive a commission if you purchase a product via a link on this page.
Here are Some Questions About Thule EasyFold XT Bike Carrier:
Will it work with ebikes that have fenders?
Yes. EasyFold XT carrier works very well with bikes that have fenders.
How much weight will it hold?
The Thule EasyFold XT2 can hold 2 bicycles up to 65 lb each.
Does it work with kid bikes?
Yes, you can configure the bottom straps and the arm claw and it works for larger kids bicycles. It will not work with toddler bikes though.
Does this bike carrier have an extender for total capacity for 4 ebikes?
No, Thule does not offer this option yet. For hauling four ebikes you might need a trailer.
What is the diameter of the tube that the short and long arm attach to?
What's the difference between EasyFold XT and EasyFold XT2?
The Thule EasyFold XT 2 is the newest model in the series. The XT model features small improvements to the mechanics of the rack and the arm clamps, but the most important changes are to the loading ramps and upright assembly. The newer ramps allow for a sturdier connection to the bike rack and easier loading of heavy bikes. The improved upright makes it easier to attach different types of bikes to the carrier through more possible arm mounting positions.
Will this carrier work with carbon fiber frame?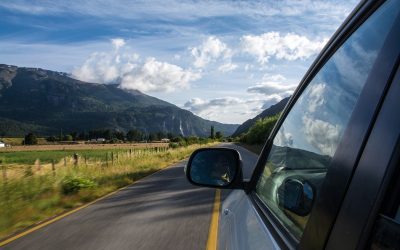 Exploring the Best Hitch Bike Racks for SUVs on Your Long Road TripsThere's something magical about the allure of the open road, stretching out before you, filled with the promise of new adventures....
read more