Hitch Bike Racks: The Only Guide You'll Ever Need
The finest, crème de la crème trailer hitch bike racks you can get today. No matter of your bike style, SUV model, or nr. of bikes – these carriers will do the job.
What is a
hitch

bike rack?

A hitch-mounted bike carrier (or rack) is a type of bicycle rack that slides into the receiver of a trailer hitch on an SUV or car. This type of carrier is the most popular amongst all types and probably the most versatile, being available in a variety of styles while it can carry up to 5 bikes at once. It comes in two styles: platform (tray-style) which holds bikes by their wheels and hanging (arm-support) by hanging from their top tubes.

Hitch mount bike racks are ideal for families, for those who ride often, weekend trips, mountain bikes, carbon fiber frames, suspension or children's bikes, non-traditional bikes like tandem, recumbent, electric, or fat bikes.
Outstanding Hitch Bike Racks
Best-rated hitch bike carriers in 2023:
Thule T2 Pro XT
Swagman Chinook
Hollywood Racks Sport Rider
Rocky Mounts Backstage
Yakima Dr. Tray
Yakima RidgeBack
Kuat NV 2.0
Yakima HoldUp
Saris Freedom
Kuat Sherpa
Find more details about each carrier mentioned above on our dedicated article, 10 Outstanding Hitch Bike Racks in 2021.
We spent many hours researching and looking at the carriers from different angles. We did also look at how Amazon customers are rating each one of them. These bike carriers will adapt to almost any bike or vehicle, will not damage bicycles and you (and your bikes) will safely arrive at the destination. The design is truly amazing and the features existing on each one make them the most durable and reliable trailer hitch racks. 
What is the best hitch bike rack?
If you are in a hurry and want to see the headliners, we made it easy for you. Pro XT from Thule is a premium platform hitch bike rack with a heavy-duty construction which offers maximum strength, Approach rack from BuzzRack is designed for e-bikes and fat bikes, a tiltable platform for tailgate access with bikes on, while Sport Rider from Hollywood Racks is the perfect choice for your fat e-bike. Worth mentioning that various manufacturers are adding more and more bike carriers for fat bikes on their offer.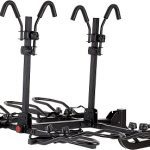 Best for Fat Bikes
KAC K4
Platform hitch rack designed for standard, fat tire, and electric bicycles. Holds up to 60 lbs per bike. Patented anti-wobble system, tilt design for rear cargo access. Safe, durable, secure, fits 2-inch hitches only.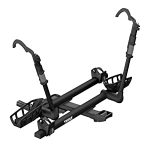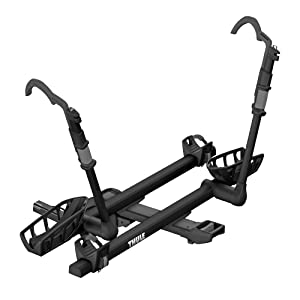 Best Seller
Thule T2 Pro XTR
Premium, platform hitch bike carrier which blends an extremely high level of strength, versatility, and user-friendliness. It simply outperforms not only hitch racks but almost all bike carriers. Load capacity: 120 lb.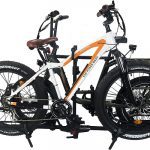 Best for eBikes
Sport Rider
Sport Rider from Hollywood Racks features a 5-inches tire width, being excellent to transport 2 heavy electric bikes with max 80 lbs per bike. This high-quality platform hitch carrier is able to carry any fat tire bikes and will match a wide range of bike styles.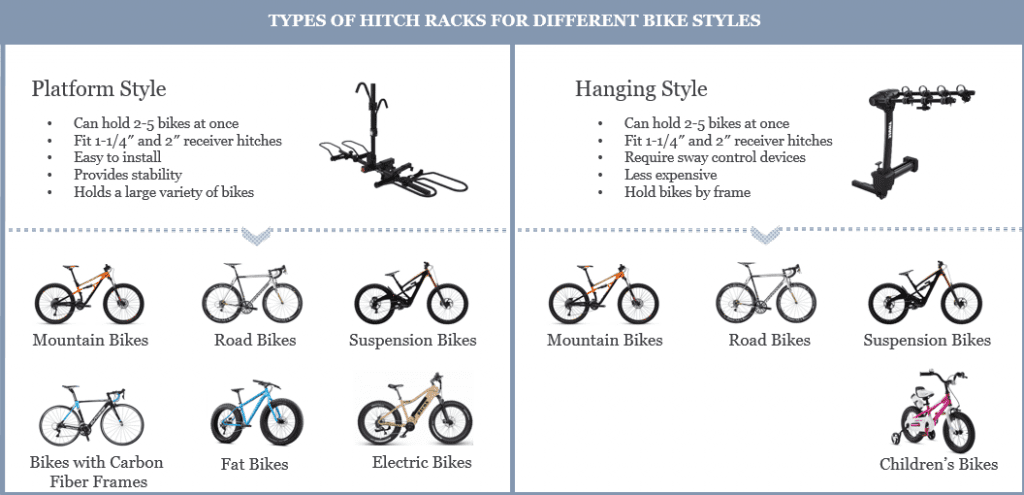 Types of Racks for Different Bike Styles
Wondering which type of bike carrier fits your specific bike? Quickly consult our short guide below to get the insights and information you need. Let's remember there are two main hitch-mounted types which also come with some features (tilting, swing-away, folding arms, etc).
Platform carrier

 

(or wheel-mount/tray-style) which supports bikes by their wheels.

Wheel Clamp Style eliminates any contact with frames by holding bikes in place by their wheels (like Kuat NV 2.0 bike carrier).
Frame Clamp Style hook over your bicycle's crossbar. holding the bike in place by the frame (like Swagman Chinook bike carrier).

Hanging carrier

 

(or arm-support) which supports bicycles by their frames. A good option for standard frame bikes.

Single-Arm carriers support each bicycle on a single cradle.
Dual-Arm carriers have two arms for improved bike stability.
Platform Bike Racks (Tray-Style)
These tray hitch mount bike carriers support the weight of bicycles on a tray and secure them by clamping the front wheels. It can be extended to hold more bikes if needed and can carry almost any type of bike. The risk of bike-to-bike contact is minimized while the tray can be adjusted and eliminates sway issues. Hitch mount platform bike racks offer a higher weight limit than standard carriers. It can hold a large variety of bikes regardless of frame, suspension, size or wheel size. Fits 1.25-inch and 2-inch hitch receiver and makes the load and unload way easier compared with other styles.
The best platform hitch racks like Thule T2 Pro, Kuat NV 2.0, or Yakima HoldUp can accommodate road and mountain bikes, carbon fiber frames, suspension or fat bikes. Tray style bike racks that clamp onto wheels won't compress your bicycle's suspension. 4 bike platform racks are becoming more popular and there are some good options on Amazon.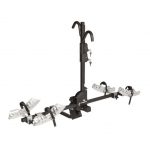 Swagman Chinook
A platform hitch mount bike carrier that fits 1-1/4″ – 2″ hitch receiver, has a max bike load of 45 lbs, wheel size 12″-29″. Rack tilts down while bikes are loaded. Lightweight and easy to install, fits most bike frame sizes, shapes, and styles.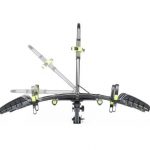 BuzzRack Express
Fits 1-1/4″ and 2″ receiver hitches and carries up to 2 bikes. Quickly adjust the wheel trays to accommodate women's, kids', road, mountain, full suspension and 29er bikes. Rack folds flat against vehicle when not in use.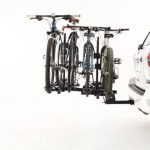 Hollywood Racks HR1400
A very durable and flexible 4-bike platform carrier that folds up vertically and tilts down. Weight capacity per bike: 50 lbs. Fits most types of bikes including mountain, road, cruisers, ladies frames, kids bikes. Fat-tire kit available.
Hanging Bike Racks (Arm-Support)
Hanging bike racks have low loading height and support bikes by their frames so the bicycle hangs from its top tube. The disadvantage here is that the frame is the primary point of attachment and the support arms might not fit bikes with unusual frame shapes or full suspension mountain bikes. The alternative is some bicycle hanging racks that hold bikes by their wheels so the contact with the frame is eliminated. You might consider an adapter bar for bikes with alternative frame. Hanging style can hold up to 5 bikes and weigh less than platform bike racks. Fits 1.25-inch and 2-inch receiver hitch and require sway control to prevent bicycles from swaying.
The best hanging bike racks like Thule Apex Swing or Yakima RidgeBack can accommodate mountain and road bikes, children's bikes, carbon fiber and step-through frames, and full suspension bikes.
The best platform hitch racks like Thule T2 Pro, Kuat NV 2.0, or Yakima HoldUp can accommodate road and mountain bikes, carbon fiber frames, suspension or fat bikes. Tray style bike racks that clamp onto wheels won't compress your bicycle's suspension. 4 bike platform racks are becoming more popular and there are some good options on Amazon.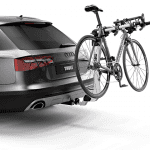 Thule Helium
Super lightweight aluminum hitch hanging rack for 2 or 3 bikes. Industry-leading 7″ spacing between bikes. Superior stability. Max capacity per bike: 37.5 lb. Rack tilts down for rear of vehicle access and easily fold down bike arms.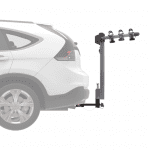 Yakima LiteRider 3
One of the lightest (19 lbs) aluminum hanging bike carrier that fits 1.25″ or 2″ hitch receiver and carries 3 bikes at once.  Fits any bike with traditional geometry. Anti-sway cradle design minimizes bike-to-bike contact.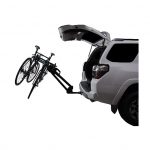 Saris Glide EX
Hanging hitch mount rack which carries 2-5 bicycles, up to 35 lbs each. Best-in-class ratchet straps and generous spacing between bikes. Features easy-to-load bike hold downs and complete integrated security.
Swing-Away Hitch Bike Racks
The swing-away feature allows you to gain some access to the rear of your vehicle or SUV. Basically the rack swings away from the vehicle while bicycles can remain on the rack. This feature exists on both platform and hanging hitch bike carrier style. We recommend below the most popular choices and best-sellers, but feel free to check our supreme swing-away bike carrier list.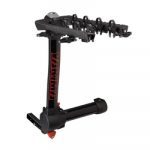 Yakima Full-Swing
A 4-bike swing-away hitch carrier that fits all types of bikes with traditional frame geometry. 40 lbs. maximum weight per bike. Zero-hassle ZipStrips secure the bikes to the rack. Folds down when not in use. Included Same Key System locks.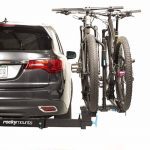 RockyMounts Backstage
A swing-away platform hitch bike rack wich carries 2 bicycles, up to 60 lbs each. Carries road tires up to 5. 0" fat bike tires, and diameters from 20" to 29". Folds flat against the vehicle, and tilts down 30 degrees to allow for hatch access.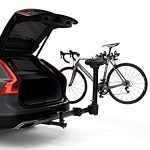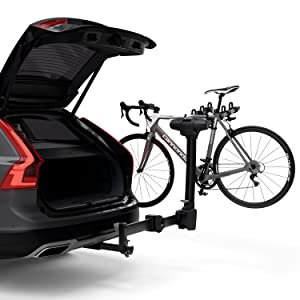 Thule Apex XT
A premium 2-5 hanging hitch carrier that features swing-away design with bikes attached, compact fold. Ideal for a wide variety of bike sizes/frame styles. Max weight capacity per bike: 37.5 lb; distance between bikes: 7″.
Tilting bike racks are extremely useful in case you want clearance to the rear hatch. Basically, the rack tilts down at the base of the rack. Keep in mind that for some carriers the bikes must be removed before tilting. Both hanging and platform styles have this option. In the case of tilting platform bike carriers, bicycles can remain on rack.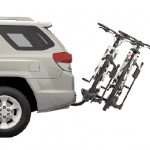 Yakima Holdup
A 2-bike tilting hitch carrier that offers excellent ergonomics, a low loading height, and a nice capacity to fit carbon road bikes as well as disc brakes, thru axles and full suspension bikes. Fits 20-29" wheels, 49 lbs per bike.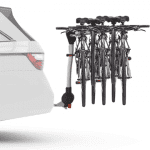 Yakima RidgeBack
One of the best 5-bike hitch racks that fold flat for easy storage and fit any bike with traditional geometry. Able to accommodate most bicycles and frame styles and features a nice ratcheting strap system to secure everything in place.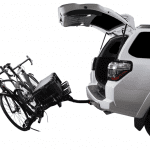 Saris Superclamp
A lightweight yet mighty 2-4 bikes hitch mount carrier with additional cargo option. Weighs only 35 lb and you can put bikes with 50 lb each. Tilting feature allows hatch access, even when fully loaded, and folds up when not in use.
Affordable Hitch Bicycle Racks
What we recommended until this point in the current guide is really the cream of bike carriers, the elite when it comes to bike security, versatility, and stability. However, if you are looking to buy a cheaper trailer hitch bike rack, there are options, rest assured. We will suggest 3 carriers for you to buy at a lower price, but keeping in mind security, bike, and car protection, tilting or other features. We will be looking at Allen Sports and Swagman.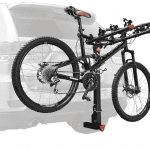 Allen Sports Deluxe
Quick install hitch secures and tightens rack inside of the receiver hitch. Arms fold out of the way when not in use and rack tilts back when needed. 140 LB weight capacity.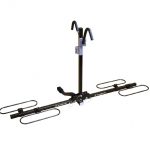 Swagman XC2
Compatible with 1-1/4″ and 2″ receiver hitch. Fits 20″ -29″ wheel sizes. Capacity: 35 lbs per bike. Center arm folds down to allow access to the rear of SUV. Fat bike tire trays available separately.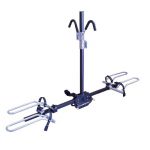 Swagman XTC2
Platform hitch rack that secures bike wheels into wheel hoops with secured rubber straps. Folds up into a vertically compact unit. Maximum capacity: 35lbs per bike. Rack Weight: 29.7 lbs. 
Buying guide: How to Choose a Hitch Mount Carrier
Choosing the right bike rack for your SUV might be a bit overwhelming especially when you take into consideration bike and vehicle compatibility. You should consider the following questions:
Which type of bike or bikes do I have? There could be children's, women's, road or mountain bikes and so on.
How many bikes do I have?
What are the different kind of hitch mount bike racks?
What are the top-rated racks? What are the best sellers?
How can I determine which hitch bicycle racks will fit my vehicle?
What are the special features available?
Hitch mount bike carriers come in a variety of styles and can accommodate a large variety of bikes. If you have bikes with carbon fiber frames you will find that platform hitch bike racks with wheel clamps and hanging bike racks are a good fit – it's important to find one that makes no contact with bike frames. For bikes with suspension, both hanging and hitch tray bike racks may do the job. Mountain bikes are very popular and you will want to get a secure and stable platform bike carrier like Thule T2 Pro XT. For children's bicycles, the hanging bike carriers are the best. You may want to consider an adapter bar and check its length to make sure it will fit your bike.
What type of hitch do i need for bike rack?
Most SUVs or vehicles equipped with a hitch receiver accept a hitch mount. If the hitch receiver is missing, it can be installed afterward. Hitches are divided into classes, from Class I (fit any vehicle and tow up to 2,000 lbs) to Class V (fit only heavy-duty vehicles and tow up to 18,000 lbs) according to towing capacity. Class I hitches (1.25-inch openings) are designed for most small SUVs and cars. Class III hitches (2-inch openings) are found on truck-based SUVs. Depending on the number of bicycles you will be transporting, you should know that if you will carry more than 2 bikes, you need a Class III hitch, so a 2-inch receiver.
Bike racks for SUV without hitch
Do i need a hitch for a bike rack?
It depends on which type of bike rack you prefer. Trunk racks or roof racks don't require a hitch installed but these are coming with pros and cons. Trunk carriers are not so expensive, are lightweight and easy to install and store. Roof carriers are versatile but add extra height to your SUV. However, if you opt for a hitch-mounted carrier you will earn at security and versatility. We expanded the topic in our Bike Racks Explained in 300 Words article.
Roof mount carriers are coming in 3 versions: Fork-mount, Frame-mount, and Wheel-mount. Rooftop bike racks allow you to easily transport one, two or more bikes, with or without the front wheel removed. Ideal for those who ride often, die-hard bikers or those who want to go on a weekend trip.
Trunk mount is one of the most effective ways to carry bikes and fit on most vehicles. It works by clamping into the vehicle with 4-6 rubber-dipped metal hooks. SUV trunk bike racks work best with mountain bikes and road bikes (standard-frame bikes) but are also compatible with women's or kid's bikes.
How to install a hitch rack?
Installing a hitch bike carrier isn't that hard if you know how many bikes you want to transport and your receiver hitch class. Here is what you need to do:
Determine your hitch receiver class
Place the carrier hitch tube into your car's receiver
Adjust tire trays or supporting arms of the carrier
Load the bikes onto carrier
We put together a quick step-by-step guide to install a hitch rack so you can save some money.  
How do I keep my hitch rack from swaying?
You may have noticed that sometimes the hitch is swaying and this is not something comfortable while driving with bikes on the carrier. What we recommend to stabilize the hitch is a u-bolt hitch tightener for 2″ and 1.25″ which is rust free and that will do the job. 
Disclaimer: bikerackforsuv.org is a participant in the Amazon Services LLC Associates Program and other affiliate advertising programs and may receive a commission if you purchase a product via a link on this page.