12 Top Bike Racks for e-Bikes
Having the best e-bike rack in place isn't an easy task. But it's not that hard either. We are stepping in to guide and help you purchase the best possible carrier based on your bike style, SUV and needs. You don't just need a carrier that is designed for electric bikes, you need 'the' e-bike carrier that will safely transport your bicycles to destination, it is easy to use, versatile, sturdy and cost friendly. We are offering you different options to choose from, tailored to specific needs or requirements.
Check out the list of 12 e-Bike racks 
When evaluating these carriers we carefully took into account various aspects like: what is the maximum weight per bike the carrier can handle? Electric bikes are heavier than usual bicycles so we want to make sure these carriers can accommodate increased weight.  How intuitive is to use? are these racks user friendly? What about security? Electric bikes are expensive so we want to be sure there will be no damage and will reach the destination safely. Other aspects and features like tire width, tilting down, swing away, ramps, lock features are equally important.
1. Best Overall e-Bike Hitch Rack:

T2 Pro XTR from Thule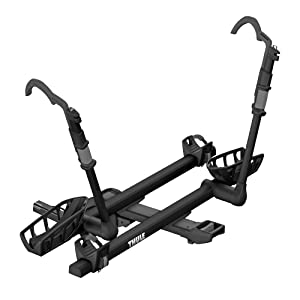 Key info: sturdy and ebike ready, heavy-duty hitch carrier, maximum tire width: 5", load capacity: 120 lbs, fits 20 – 29″ wheels, rack weight: 52 lbs.
Thule T2 Pro XTR from Thule is one of the best bike racks for SUV ever built as it fits all types of bicycle sizes and makes no frame contact. Ideal for electric bikes, mountain bikes, fat bikes, carbon frames, etc it is highly versatile and easy to use while it sets the standard for platform hitch bike racks. The design is user friendly and has some smart features like a tool-free car mounting system or a tilt release system. Every feature works as intended maintaining the top spot due to flawless execution.
T2 Pro XTR electric hitch bike rack offers a generous 12.5″ spacing between bikes with the ability to adjust side to side in order to eliminate bike interference. Fits 20 – 29″ wheels and up to 5″ tires without adapters making it ideal to ebikes and even fat ebikes or other styles. During tests it has been proved to be extremely durable and you can even increase the load capacity to 4-bikes with Thule T2 Pro XT Add-on (compatible with 2-inch receiver only). For increased safety you can check the tightness of the connection every 100 or 200 miles (at least at the beginning). 
If your ebike has front fenders note that these are not compatible with T2 Pro XTR. The front wheel ratcheting hook needs to sit directly on the tire where it meets the front fork for a solid connection. A fender prevents that from happening and can make the connection insecure and unsafe. As an alternative you may want to check EasyFold XT from Thule as this model allow the presence of fenders.
Thule's goal is to design and manufacture products that are built to last. T2 Pro XTR is durable, heavy-duty, versatile and secure, making it ideal for electric bicycles. If you want the best all-around ebike platform hitch rack we strongly recommend this as an option.
2. Best for Heavy e-Bikes:

Sport Rider from Hollywood Racks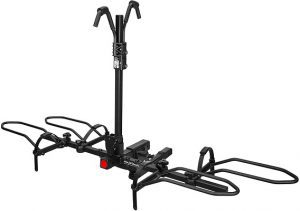 Key info: 2-bikes (max 80 lbs per bike), maximum bike wheelbase: 60", maximum tire width: 5", extra heavy duty wheel holders, hitch size: 2" only, folds flat and tilts down.
Hollywood Racks Sport Rider is an exceptional carrier, being ideal to transport up to 2 heavy electric bikes or standard bikes (max 80 lbs per bike). This model is the fat tire electric bike hitch rack version of the Sport Rider SE2 hitch carrier. It includes new universal extra heavy duty wheel holders for heavy load carrying capacity. The Sport Rider for electric bikes is designed specifically to fit 2-inch hitch receivers. For 20″ fat tire rear wheels you will need a Small Wheel Adapter to prevent derailleur hanger interference. The patented No-Wobble System eliminates slack between the receiver hitch and the rack without the use of any tools. You will need an adapter if you want to transport step through bikes.
This heavy-duty bike rack for electric bikes is able to take care of any fat tire bicycles. The wheel cradles will fit tire widths up to 5 inches and along with the capacity of carrying 80 pounds per bike, that's something quite unique or rare. The wheel cradles are extremely wide and the cushion will prevent any damage to your wheels. And it's going to work with RVs.
Needless to say that customers are very happy with this carrier giving almost the maximum possible rating. It is often sold out because it's one of the best. Customers mentioned and liked the sturdiness, hard-rubber zip straps on the loops, the way it goes into the receiver and tightens, ease of use, tilt down feature, anti-rattle/shake feature, cable lock. On the downside could be mentioned the pin lock which is not a confidence inducing lock.
Hollywood Racks' goal is to make good quality products that are easy to use and came fully assembled. The first e-bike rack came in 2000 when e-bikes started to take over the world and in 2002 Sport Rider model came in to the market being considered one of the most versatile, strong and reliable bike carrier at that time.
3. Best to Carry 4 Bikes:

Sports K4 from KAC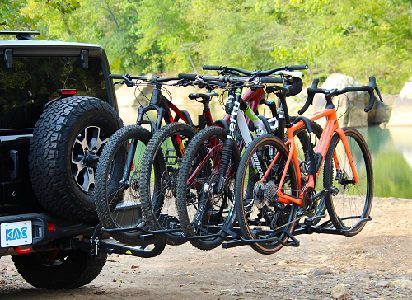 Key info: 4-bikes (max 60 lbs per bike), maximum bike wheelbase: 54", maximum tire width: 5", fits most electric bikes and fat tires, hitch size: 2" only, rack weight: 79 lbs.
KAC Sports K4 is a versatile hitch mounted bike carrier designed for electric bikes and fat bikes and a variety of other styles for a 2-inch hitch receiver. The heavy duty 5-inches wheel holders easily carry a wide range of bikes no matter the frame, suspension, or tire size. More than this, you can easily take it down to 2-bike rack. The Smart Tilt feature allows you to lower the carrier away from the back of your SUV, providing easy access to cargo area. This ebike rack includes 2 safety straps (1 strap secures 2 bikes), assembly instructions and all necessary hardware and a locking hitch pin and a key for the hitch pin lock.
Need to load different bike styles on the rack? No worries as the manufacturer promises it can carry up to four bikes of any style. Adjustments and positioning to make sure the bicycles stay fit are required though. It is greatly adjustable, sturdy and stable. While transporting you will not feel the bikes will move, it is well built. It is really easy to change between 4 bikes and 2 bikes therefore, it might be a convenient feature.
The assembly is easy with the included tools but you can also use your wrench – nice to have. KAC Sports K4 is ideal for ebikes and non-electric bikes but it is heavy and takes two people to get on the SUV. It takes quite a bit of space in the garage to store while not in use.
Need trunk access? This electric bike carrier offer the possibility to tilt it down using the integrated quick release lever. However, if you have a spare tire you may be able to open the door half way and it may be hard to tilt with four bikes on.
Few customers complained about the rust so it's important to have this in mind before purchasing. It may or may not be the case, though.
4. Best for Fat Tire eBikes:

BackStage from RockyMounts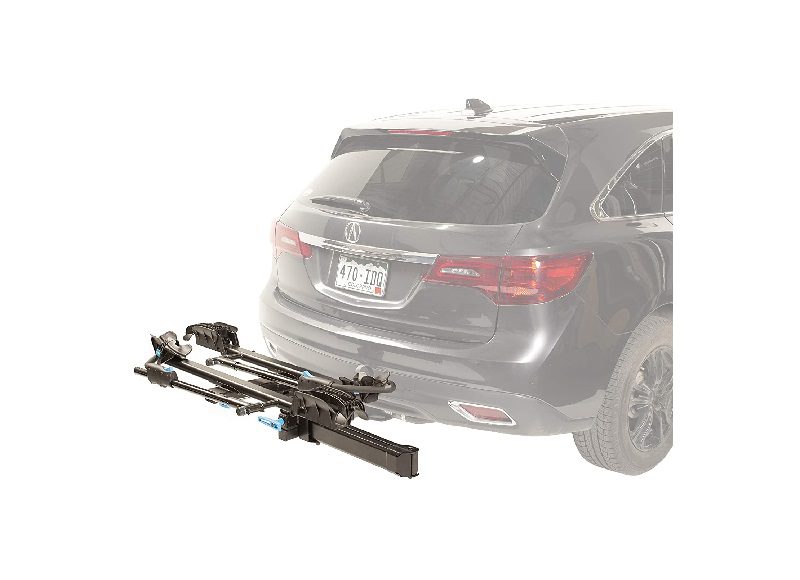 Key info: Carries road tires up to 5 inches fat ebike tires, and diameters from 20" to 29", compatible with bicycle wheelbases from 36" to 50", carries 2 bikes, up to 60 lbs per tray (120 lbs total), no contact with frame, secures bicycle by front wheel, the industry's first 180 degree swing away platform hitch rack.
RockyMounts Backstage presents unique features which makes it one of the best bike racks for electric bikes nowadays. It is a fantastic adaptable carrier which provides full access to the rear of the vehicle, even with bikes loaded. The Backstage can twist 180-degree and can tilt downwards at 30 degrees.
RockyMounts bike carriers are created with an ideology – 'when you can't ride it there, we've got you covered'. They are making well designed, solid and dependable racks to get you to the next destination. RockyMounts is based in Colorado and their racks are built using a robust mix of materials and high levels of engineering quality. The Backstage (as well as Monorail) comes with a heavy-duty cable lock and 2 connections points. Although we are featuring Backstage here, Monorail is a great fat tire e-Bike rack too. Monorail is advertised to be the most versatile carrier in the RockyMounts line up, having the capacity to carry from skinny tire road bikes, up to heavy fat tire electric bicycles.
Backstage ebike hitch carrier is highly versatile and can fit a huge range of wheel sizes and tire widths. It works with wheel sizes from 20 to 29-inches in diameter as well as tires up to 5-inches in width without the need to install any adapters. With 120 lbs in total weiht limit, it can handle just about any bicycle, including heavy electric ones. However, make sure your electric bike doesn't have fenders as it won't work due to the front wheel clamp design. For fender equipped bikes you can choose EasyFold XT carrier instead.
5. Best for eBikes with Fenders:

EasyFold XT from Thule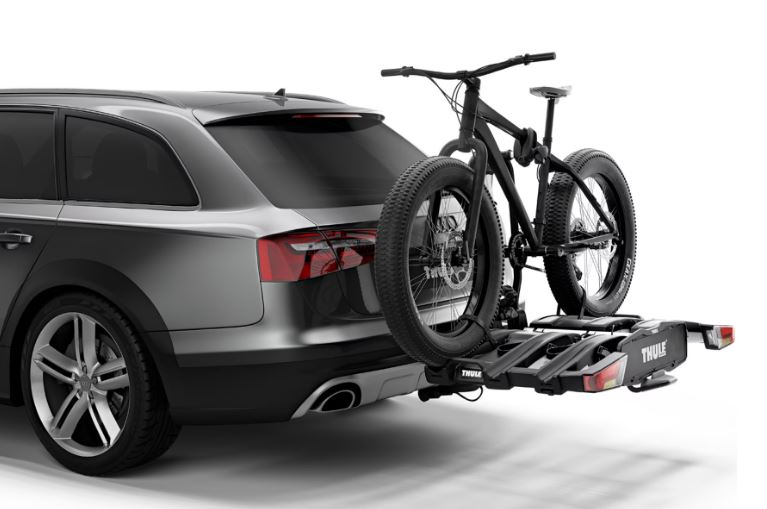 Key info: Premium, high-load capacity bike carrier ideal for e-bikes and heavy mountain bikes, secure bikes with torque limiting knobs and ratcheting wheel straps, 65 lbs per bike load capacity, tilt function (with bikes mounted), 3″ maximum tire width, works with ebikes with full fenders.
EasyFold XT is a great electric bike rack for those who have e-bikes with fenders, even heavier e-bikes. It clamps onto frames so you don't have to worry about fenders or any other equipment. Other great alternatives are KAC Sports K4 and Swagman Current (if you are looking after a cheaper option). There are three locking cores in total – one on the long arm, one on the short arm and one lock on the hitch knob. 
This electric bike rack is sturdy and strong thanks to the smart use of steel, aluminum alloy, and plastic.  It is lightweight but strong, portable, compact, easy to install, and no assembly or tools are required. It features a 9-inches distance between bikes, enabling transport of sturdy bicycles with large wheel bases.
One thing you would love about EasyFold XT is how the wings fold up easily. It stores in a much smaller space than any other carrier, which is important especially if you have a small garage.
If you are spending thousands on e-bikes don't cut corners. Keep them safe and secure with well built carriers that will make your life easier.
6. Best for Electric Mountain Bikes:

Superclamp EX from Saris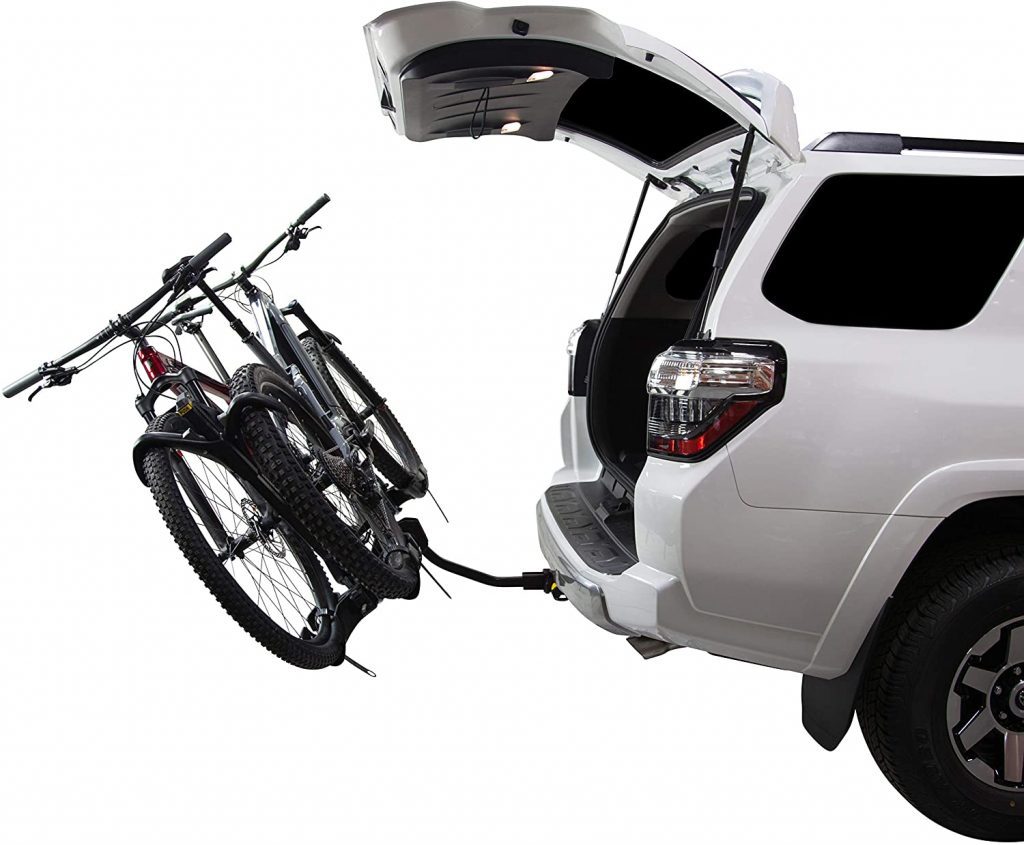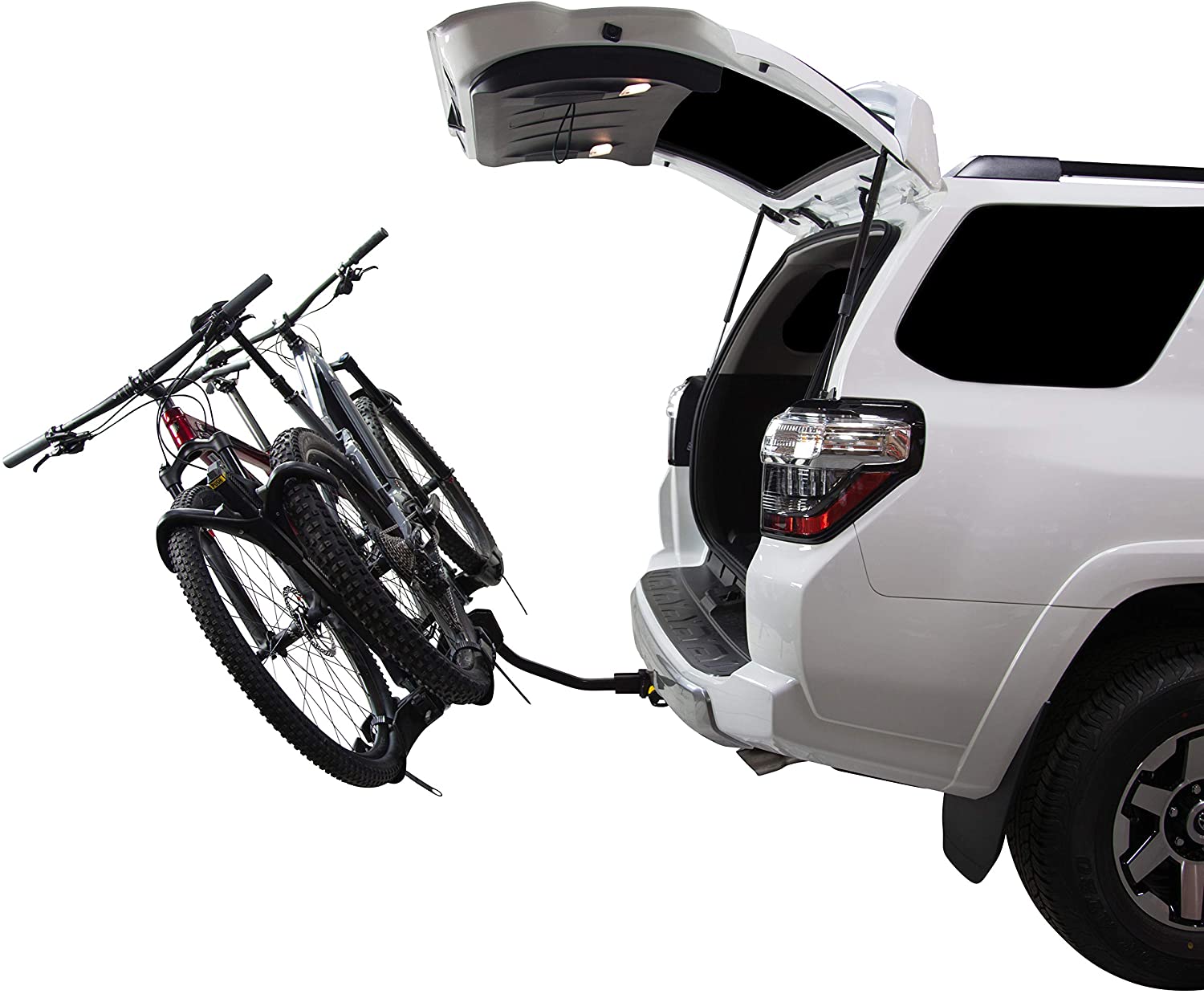 Key info: Carries 2 or 4 bicycles up to 60 lbs each, fits a wheelbase of up to 50″, up to 4″ tire width, weighs only 35 lbs, can haul eBikes, beefy mountain bikes or other styles, sleek and compact.
Saris Superclamp EX is designed for families who are looking for a platform rack system which is secure to carry different styles of bicycles, especially electric mountain bikes. The space between bikes is wide enough to make that possible, therefore, whether you have road or hybrid bikes, or kids mountain bikes, Superclamp EX will do the job.
Versatility, durability, and weight (light) are some of the factors that make this American-made bike rack rank so high. For a 4-bike rack, the Superclamp EX is light weight at only 63 pounds; by industry standards, this is around 40% lighter than its competitors. Another great alternatives could be Kuat NV 2.0, Vibrelli V70 or any of the carriers presented here.
The wheel straps are long enough to let you handle different bike styles and larger wheels, including electric MTB. Regarding setting up the bikes on rack – keep in mind it does require few minutes to get them fit and stable but this is necessary with every carrier. The bar connecting rack to the hitch is long enough to accommodate various models so if you want to use it for a electric MTB plus smaller bikes it may take longer – keep this in mind.
All in all, Superclamp EX is a great solution for eMTB. We recommend to read all of the details before deciding to buy therefore, we invite you to read our Superclamp EX Hitch Rack Review or view the product on Amazon.
7. Best Quality on an eBike Rack:

NV 2.0 from Kuat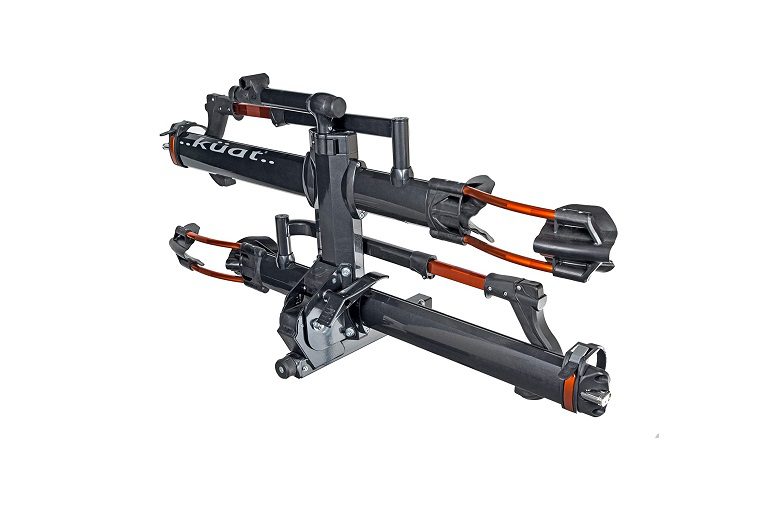 Key info: Premium gloss metallic powder with water transferred logos, pivot with optional foot assist, Trail Doc included, no-tool install with hand tight hitch cam system, front tire ratchet with intuitive release, holds wheelbases up to 48" and tires as large as 4.8", 2-bike capacity up to 60 lbs. each, not RV compatible.
Kuat impressed everyone with its astonishingly well build NV 2.0 which is standing out among the competition, making it ideal for electric bikes. You can haul two ebikes with ease and conveniently access the SUV trunk. It costs a lot but definitely worth it. Simply put, it is an investment. NV 2.0 has a premium build and it is designed to work with a variety of bike sizes and styles. Most probably, this electric bike carrier is one of the most reliable, stable and well-built designs you will ever get. You will not have security issues while driving on highways or bumpy roads. It uses premium materials, including metal construction and a glossy metallic coating. In addition, it does look good.
The NV 2.0 can accommodate mountain and regular road bikes with 20-29 inch wheels. Bike attachment system is simple and stable. The tilt lever is user-friendly while it has been redesigned. Kuat's Trail Doc work stand proves to be useful although it doesn't really replace a proper repair stand. It does come equipped with multiple locks. All in all, if you can make a concession on it price then go for it as you will get premium quality, stability, security and versatility into one single e-bike rack. 
8. Best Value:

Current from Swagman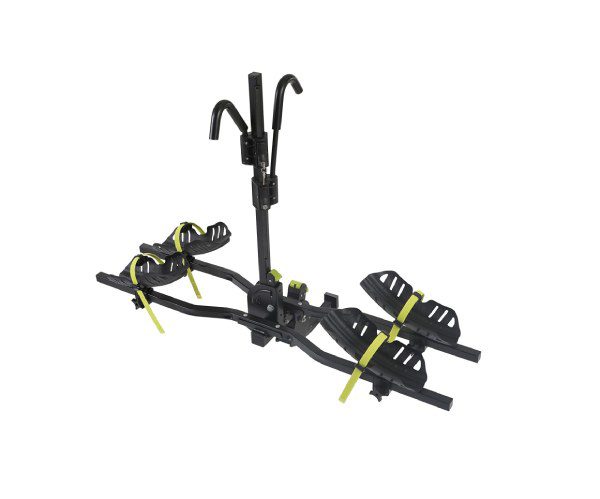 Key info: Fits tires up to 5″ wide, fits most frame sizes and shapes, rack tilts back to allow access to rear of vehicle, locking threaded hitch pin and locking ratchet hooks, maximum capacity of 60 Ibs per bike.
If you are looking after an affordable solution as an alternative to the much expensive ebike carriers presented in this guide, then Swagman Current is the right choice. You will get almost the same features – up to 60 lbs per bike making it perfect for transporting electric bicycles, fat bikes and other styles, tilts away from the rear of your vehicle, locking hooks to keep your bike safe, rack security included, fits tires up to 5″ wide. 
The solid build is made to be compatible for RV and quickly installed on your own. The carrier tilts back so you can access your trunk without taking the bikes off and folds up out of the way when not in use. If your bike has full fenders then Current platform hitch carrier is a great option too. Thule EasyFold XT accommodates ebikes with fenders but it's more expensive.  
9. Monorail from RockyMounts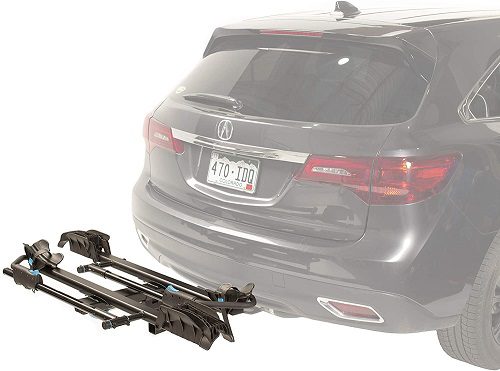 Key info: Carries road tires up to 5.0" fat bike tires, and diameters from 20" to 29", compatible with bicycle wheelbases from 34" to 49", folds flat against the vehicle and tilts down 30 degrees to allow for hatch access.
RockyMounts mentions the Monorail as the most versatile rack on their line up having the capacity for all styles of bikes, including heavy fat tire e-bikes. You can carry up to 2 ebikes with this version but you can extend it to 3 bikes with an available add-on. The load capacity is 60 lbs for each bike and if you put 3 bikes that number drops to 45 lbs per bike. 
Monorail ebike carrier is compatible with bicycles' wheelbases from 34" to 49" and road tires up to 5.0" wide fat bike tires, and diameters from 20" to 29". Basically it's a rack for the entire family and can be used as a great alternative to the other models that has been presented until now. 
Monorail is well suited for everyday use being user-friendly with its intuitive design. Loading bicycles is super simple thanks to its low loading height. The tilt release feature is super easy to access, having a similarly user-friendly design as found on Thule T2 Pro XT. The product comes disassembled but in about 20 minutes you should be ready to go. Monorail costs less compared with other premium electric bike carriers and offers almost the same quality and features making it a great contender.
10. V70 from Vibrelli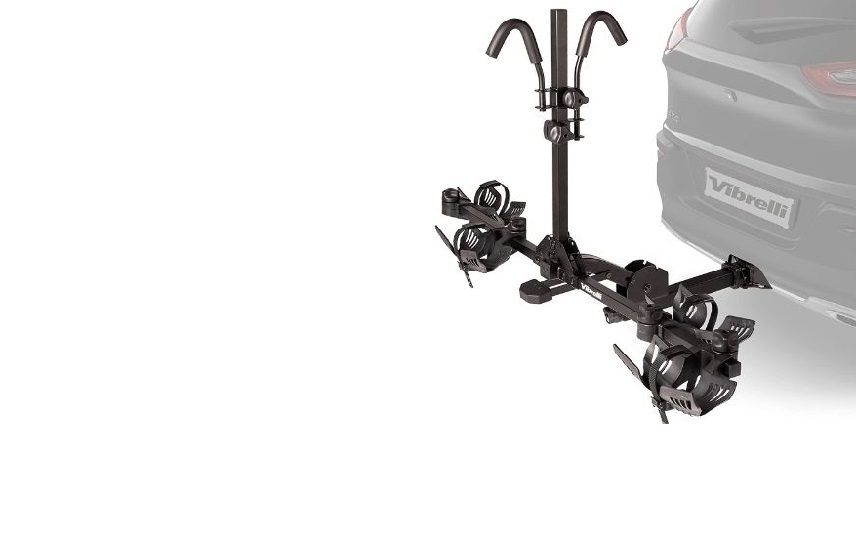 Key info: holds two bikes each weighing 65lbs, great fit for road bikes, mountain bikes, fat tire bikes up to 5″ wide, compatible with SUVs and cars using 2" tow hitch receiver, not compatible with RVs, easy tilt down & fold up, triple lock security, patented anti-wobble hitch. 
Vibrelli V70 is fully ebike compatible – the max total load is 130lbs, fat tire up to 5 inches wide. It makes it a great alternative for Hollywood Racks Sport Rider in case you have heavy ebikes. The unique wheel cradle design allows different bike models to be held firmly in place, while distributing pressure evenly avoiding damage. The quick and easy ratchet strap mechanism secures the wheels, reducing movement when driving.
Vibrelli V70 is easy to assembly taking less than 10 minutes. While you are placing the second bike you need to perform some adjustments. The build quality is excellent. The patented anti-wobble hitch locks the rack to the hitch receiver to reduce movement. Quick release pedal tilts down the bike hitch rack for easy trunk access, and also folds up out of the way when not in use. The carrier comes with 3 locking mechanisms to keep your bikes safe (spare key is included). An additional safety strap is also included, so you can feel confident your bicycles are secure.
11. OnRamp from Yakima
Key info: Engineered to carry 2 bikes up to 66-lbs each, accommodates bike wheelbases up to 50", you can carry E-Bikes, mountain, road, hybrid, women's specific, BMX, kids bikes and bikes with fenders with ease, tilts forward with bikes loaded for trunk access, adjustable bike trays.
Yakima OnRamp is one of the most friendly electric bike hitch mount carrier that blends simple, efficient design with secure performance at an attractive price. With an integrated ramp that lets you roll your bike into place and a 66 lb per bike weight limit, this rack offers a decent solution to carry heavier electric bikes. 
OnRamp platform carrier weighs 42.6 pounds which is relatively easy to store and carry. It fits to a variety of bike styles – road bikes, mountain bikes, ebikes, eMTB, kids bikes having a total carrying capacity of 132 pounds. Accommodates tires up to 29 x 3.25″ and up to 27.5 x 4.5" wide tires with the FatStrap Kit (sold separately). Which is an advantage is the integrated ramp that does help you manage heavier bicycles. You do have bikes with fenders – no worries, you have it covered. Note that the ramp is a bit flimsy and the bicycles can easily come off the track. 
12. Volt 2 from HYPERAX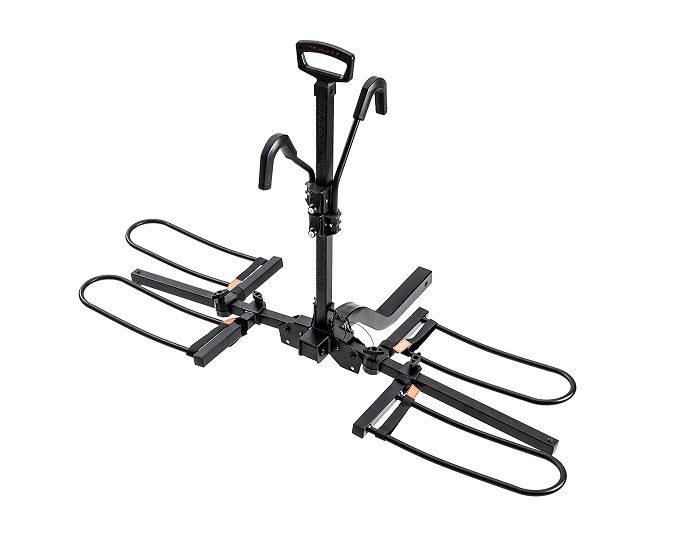 Key info: 140 lb total capacity, 5″ max tire width, fits 20″ to 29″ wheels, reflective tire strap, tiltable rack.
Hyperax Volt 2 promises to hold two ebikes with ease due to its 70 pounds per bike capacity and 5″ maximum tire width. This carrier is compatible with electric bikes, mountain bikes, road bikes with up to 5-inch fat tires, and up to 58-inch wheelbase. For step thru bikes or lady bikes a bike adapter (not included) is required. This SUV platform rack is capable of carrying two super 73 E bikes as long as they are within 70 pounds of each ebike.
It is designed to have access at the trunk so the rack can be tilted downward with bikes loaded. The carrier also comes with reflectors for safer night driving. It is compatible with 2″ hitch receiver. It is made of high carbon steel and it features an anti-theft frame lock. The proprietary co-injected soft rubberized hooks secure your bikes in place without scratching the paint.
Hyperax promises to help you get your gear safely wherever you go: rivers, mountains or outdoor destinations. They are building user-friendly and sturdy racks that transport lifestyle gears with premium features in order to make your life easier.
Best Seller

from Kuat:

Sherpa 2.0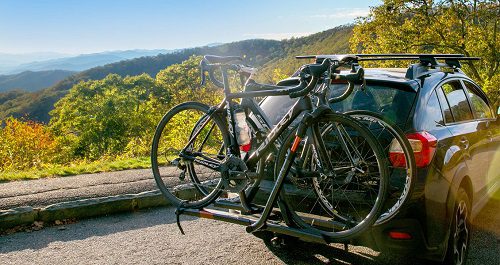 Inspired from Himalayan sherpas who are known for being strong enough to carry everything you need, Sherpa 2.0 can carry any bike with wheelbases up to 47″ and tires as large as 3″. It promotes a lightweight platform rack design as low as 32 lbs being made of aluminum all over the pace. Sherpa 2.0 is available in both 2″ and 1.25″ hitch sizes and can carry up to 2 bikes with up to 40 lbs per bike. It features an increased spacing between bikes to 14″, pivot lever with optional foot assist, bike lock with matching hitch lock, front tire hook design with intuitive release, adjustable ratchet arm.
What is The Best Electric Bike Rack?
Based on our analysis we consider T2 Pro XTR from Thule to be one of the best bike racks for electric bikes overall. This is due to multiple reasons: it is heavy-duty, award winning, 120 lbs load capacity, 5 inches tire width, it is extremely versatile and strong. Fits 20 – 29″ wheels and it is the ideal choice for carbon frames, mountain, downhill, or fat bikes. It provides a generous 12.5″ spacing between bikes with the ability to adjust side to side to eliminate bike interference.
Of course, one size fits all approach might not be the right one, therefore, if you look after a heavy-duty ebike carrier the Sports Rider from Hollywood Racks is another great choice. It features an impressive load capacity of 80 lbs per bike, 5 inches tire width and folds flat and tilts down.
If your goal is to carry 4 bikes then K4 from KAC might be the solution. Kuat NV 2.0 is a great contender being uniquely designed and providing best material quality. If you have ebikes with fenders then EasyFold from Thule is the right choice.
What is The Best Bike Rack for Heavy e-Bikes?
We consider Sport Rider from Hollywood Racks the best option since it can carry up to 80 lbs per bike. This is quite impressive and if you have a fat tire e-bike then rest assured this carrier will do the job safe and sound. As a best practice it is recommended to remove the battery since instantly reduces its weight by several pounds.
If you want a cheaper option look after Vibrelli electric hitch bike racks – holds 2 electric bicycles each weighing 65 lbs. Vibrelli V70 hitch carrier is for road bikes, mountain bikes, MTB, fat tire bikes up to 5″ wide. Compatible with SUVs and cars using 2" tow hitch receiver. 
What is The Best e-Bike SUV Rack?
Most of ebike racks use the 2-inch hitch receiver especially if you have heavier ebikes. So you want to make sure you have that type of hitch receiver installed. Secondly, you surely noticed that all 12 recommendations are hitch mount platform carriers, and no roof or trunk options. This is due various reasons: platform hitch racks are more stable and support increased weight, a roof rack installed on a SUV will add height which is not quite convenient. Trunk mounted racks are usually used for lighter bikes. If you still want to opt for a roof rack for ebikes we suggest to have a look at UpRide and Proride XT from Thule or Tomahawk and Brassknuckles from RockyMounts.
All 12 hitch racks recommended on this guide will carry your ebikes safely to destination. It really depends on which one is your favorite based on the needs and specifications.
Disclaimer: bikerackforsuv.org is a participant in the Amazon Services LLC Associates Program and other affiliate advertising programs and may receive a commission if you purchase a product via a link on this page.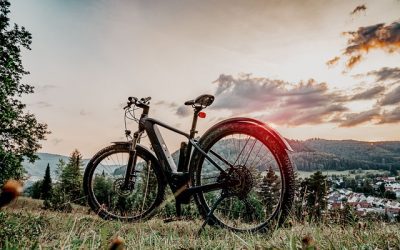 Weighing double than a standard bike because of the battery of course, it might seem difficult to transport an e-bike. However, most e-bikes have detachable batteries that can be transported separately.
read more