Exploring 6 Excellent Full-Suspension Mountain Bike Racks
Full-suspension mountain bikes have both front and rear suspensions to soak up most of the bumps that otherwise would be sent to your body. You will be using your MTB on various trails and you would need a good bike rack to transport it there. Best to look after versatile carriers capable of carrying wheels and tires of different sizes. Another aspect is durability: the average bike weight is around 29 lbs with a limit of 35-37 lbs. We have prepared a list of six best bike racks for your full-suspension bicycles. The majority can handle even electric bikes, fat bikes or even electric mountain bikes and impressive load capacities. Don't forget to check the other list we created, with 10 best mountain bike racks.
Check out our suggestion of full-suspension mountain bikes in 2023
1. KAC K2 Hitch Mountain Bike Rack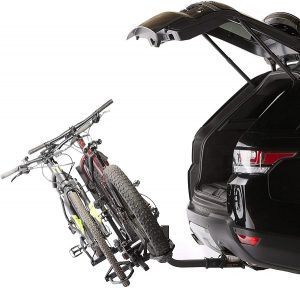 To explore difficult trails with ease and confidence, you need a full suspension mountain bike. And to get you there, the K2 2'' hitch carrier from KAC comes highly recommended. This is a heavy duty platform rack that fits 2 bikes with a similar version that can carry 4 bikes.
It is rated for most ebikes, road bikes, mountain bikes, and fat bikes. The rack is perfect for traditional frames but it's versatile enough to support low Y-frames with a frame adapter. It's designed to carry bikes with tires of up to 5" tire width and a maximum wheelbase of 54'' on sturdy and adjustable trays. These universal trays can hold 2 bikes weighing up to 120 lbs with each bike not exceeding 60 lbs.
To ensure the safety of your full suspension bikes, this KAC Overdrive Sports rack comes with a safety strap that effectively secures both bikes to the platform. It also features an anti wobble system to ensure zero slack between the rack and receiver once you hit the road. For ease of travel during the night, the rack is fitted with a rear reflector for added visibility.
Other outstanding features include a quick release smart tilt mechanism plus adjustable padded hooks with lock and key for securing frames. A lock pin is also included to secure the rack to the hitch and engage the anti-wobble feature at the same time. It is, however, worth noting that the rack is not rated for RVs and vehicles with 5th wheel couplings.
2. Vibrelli V70 Hitch Mountain Bike Rack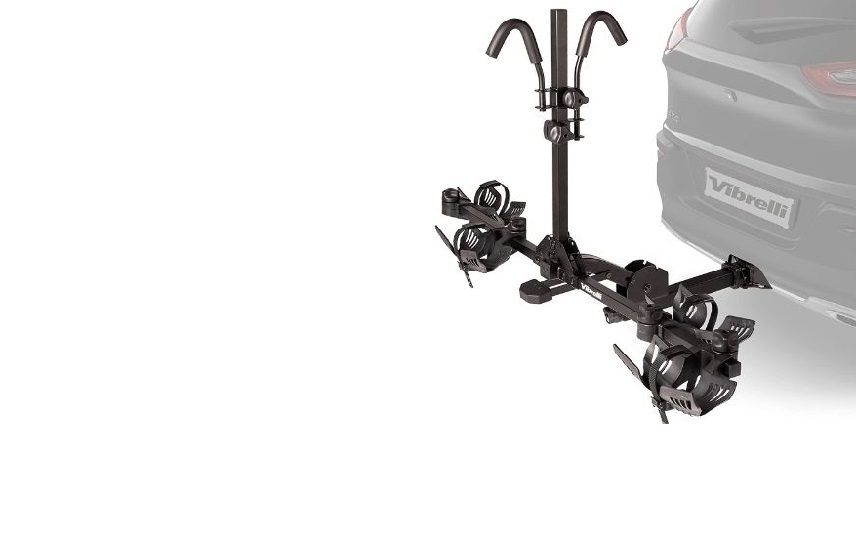 To transport heavy full suspension mountain bikes, an equally sturdy rack is needed. The Vibrelli V70 ebike-compatible 2-bike hitch rack with a total load capacity of 130 lbs is exactly what you need. It is rated for road bikes and mountain bikes, as well as fat tires bikes with a width of 5" or less
For your bikes' safety, the V70 has a Triple Locking Security System. First off, it comes with a patented anti-wobble lock that secures the carrier to the hitch receiver for a smooth ride. The second lock secures padded arms that clamp the bikes by the top frames. Lastly, the third lock in the system keeps a locking cable in place once the bikes are loaded.
This is a 2" hitch rack recommended for use on SUVs and cars but not for hitching on RVs, motorhomes, 5th wheel vehicles, and trailers. That said, the rack requires a vehicle with a ground clearance of at least 12" from the lower side of the receiver.
The Vibrelli V70 features advanced functionality including custom cradles and sturdy ratchet straps for securing different sized tires. To allow fast access to the boot, the rack comes with a quick release mechanism that tilts down the platform by the way of a foot pedal. The same tool-free mechanism folds up the rack when not in use. Most importantly, the product's durability and functionality is backed by an ironclad 10-year warranty in case of manufacturing defects.
3. Thule EasyFold XT2 Hitch Mountain Bike Rack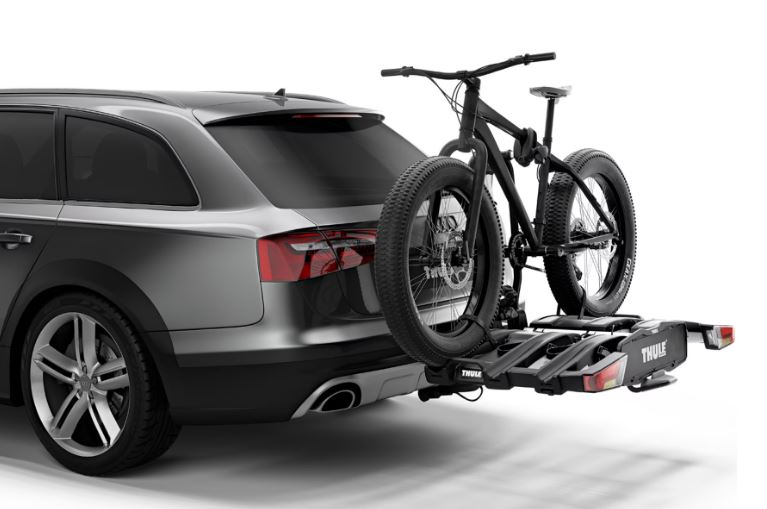 More than any other bike rack, the Thule EasyFold XT 2" Hitch Bike Rack is suited to safely transport full suspension mountain bikes. This 2-bike rack is easy to install and supports both heavy mountain bike and e bikes. It has fully foldable and compact loading ramp that joins with the rack for suitable storage.
And thanks to its smart foot pedal tilt, users can easily access the car trunk with the bikes on board. Even more, it's detachable bike arms and lockable Thule AcuTight torque limiter knobs eases mounting and is good for convenient storage.
This rack is modeled to carry high-load capacity of 130 lbs (max) with each bike weighing up to 65 lb. Its fashioned for bikes with 3" tire width, 29" wheel size, and a wheel base not exceeding 1300 mm. Its wheel straps have adjustable pump buckles to ensure the wheels are secure. Still on the wheel straps, you can add the set of an extra Optional Thule Fat Bike Wheel Strap Kit, which is sold separately, to accommodate fat tires reaching 4.7".
Other additional features include a carry handle and integrated wheels that enables easy transporting, designed to fit 1.25" and 2" receivers. It also has a fairly large distance between the wheel holders to hold longer bikes. Lastly, if you are worried about security, the Thule EasyFold XT 2 Hitch Bike Rack has an outstanding lock design that allows you to lock your bike to the rack and the rack to the receiver.
4. Kuat Racks NV 2.0 Hitch Mountain Bike Rack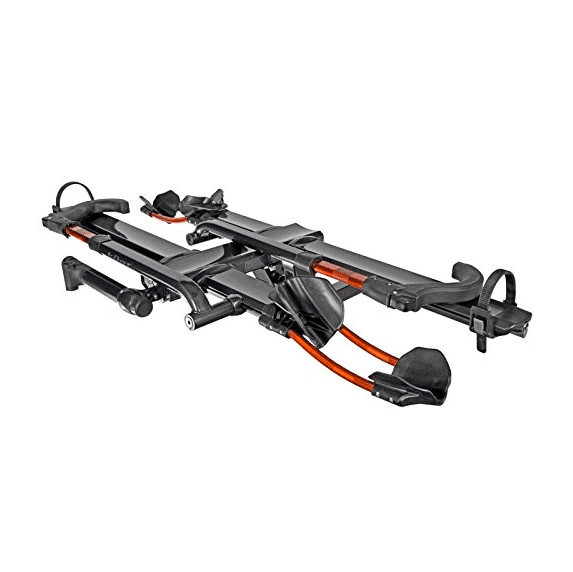 This bike rack strikes a riveting balance of price and performance for full suspension mountain bikes. From design and security to durability, Kuat Racks NV 2.0 Bike Rack sits up there with the very best.
It has a spacious capacity that can accommodate a maximum of 2 bikes with each weighing 60lbs. The NV 2.0 has the ability to hold bikes with wheelbases of 48 inches and up to 4.8" in tire width and. Its adjustable front tire cradle system together with a unique tire ratchet style makes the disassembling process quick.
Other useful features include a pivot with optional foot assist, a Trail Doc feature that comes in handy when the bike is not in use and you don't want to strap it down in the cradle, as well as a no-tool installation with tight hand cam system. However, the NV 2.0 is not compatible with an RV but is recommended to use on vans.
Unlike its previous model, the new design has great additional security features. Such include a fully integrated cable locks and hitch lock which are all keyed alike, meaning you'll use only one key for all the locks. This ensures that both the bikes and the rack itself are free from theft. Furthermore, the rack is rated for use on 1.25" and 2" hitch sizes. When it comes to durability, NV 2.0 frame is build with a super solid metal that last a life-time.
5. Hollywood Racks Destination 2-4 Bikes Hitch Mountain Bike Rack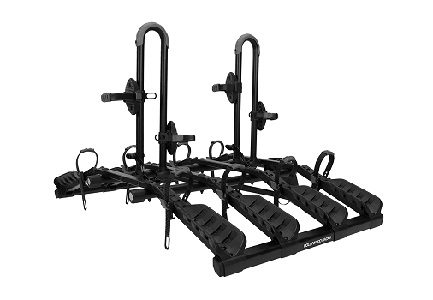 Made of alloy steel and plastic, Hollywood Racks Destination 4-Bike Platform Hitch Mount Bike Rack is compatible with your passenger car, SUV and Truck but not for use on a trailer or towed vehicle. It is an excellent bike rack ideal for carrying multiple bikes with ease. Further, it has a relatively lighter load capacity than most hitchers which make it easy to assemble as well mounting bikes on.
Thanks to its vertically folding mechanism, it eases storage, carrying, especially without the bikes on board. You can transport 4 full suspension mountain bikes with each bike having a maximum load of 35 lbs. A 2-bike version is also available. This lightweight hitch carrier is strictly designed to fit 2'' hitch receivers. It is widely used to carry ladies frame, mountain bikes, kids' bicycles, and hybrids. It has movable wheel trays which can fit wheelbases not exceeding 48'' and tire widths of 3'' max.
Furthermore, it has both ratchet frames holders and wheel holders. The ratchet holder hooks on the centre mast and is adjustable to fit different frames and ensures zero wobbling. Additionally, the ratchets reduce slipping with each bike sitting on its own movable wheel tray.
Besides eliminating wobbling, it has a threaded hitch pin and a frame hooks that ensure your bikes are firmly tied to the rack at 4 points. Meaning, if one straps accidentally breaks, the bike will still remain on the rack. Nonetheless, to avoid any kind of damages ensure you position the bike perfectly, as well as recommended pedal position.
6. Thule UpRide Roof Mountain Bike Rack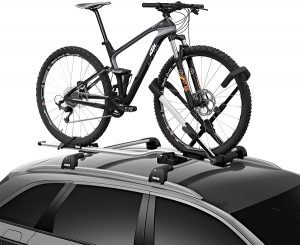 No matter what rack has caught your attention, picking the best bike carrier narrows down to what kind of bike rack you are looking for and how much you are willing to spend. Luckily, Thule UpRide Bike Rack is among the best roof carriers. It's a universal upright bike carrier that can only transport one full suspension mountain bike at a time.
It was invented to fit fat bikes as well as most road bikes. The Thule UpRide Roof Bike Rack has no frame contact but features a hook that perfectly holds the front wheel, suitable for carbon fiber frames. In addition, the back wheel is tightly secured by a ratcheting strap. What's more, it has an all-round design that fits bikes with bottle cages and rear suspension.
Speaking of load capacity, it can carry bikes with weights of up to 44 lbs and is versatile enough to accommodate bikes of 20 to 29 inches. You can add a Thule UpRide Fat Bike Adapter in your collection to cover tires with 5" thickness.
Like most carriers the lock capability ensures that the rack is fully secured. You get to lock the rack to the bike and the rack to vehicle. However, the lock, as well as the adapter, is sold separately. To be honest, bike racks can be at times confusing to assemble which isn't the case with this 18.5 lbs rack. The reason is that it has a user-friendly installation that allows switching the carrier to either side of the car.
Disclaimer: bikerackforsuv.org is a participant in the Amazon Services LLC Associates Program and other affiliate advertising programs and may receive a commission if you purchase a product via a link on this page.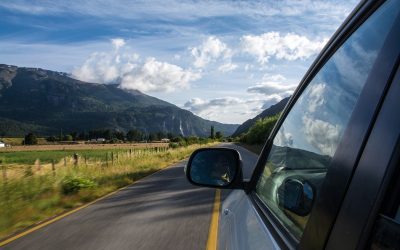 Exploring the Best Hitch Bike Racks for SUVs on Your Long Road TripsThere's something magical about the allure of the open road, stretching out before you, filled with the promise of new adventures....
read more