SUV Bike Racks: Best Selection of 10 Carriers in 2023
Many are asking which are the top SUV bike racks this year. Finding the best bike rack in 2023 is not the easiest thing to do, we know. You might think that having so many options would make things easier…well, not all the time. Each bike carrier has its own features and each one of them has some advantages and disadvantages compared with what you want. We are here to give you some help and make your decision easier. The below SUV bike carriers are considered one of the best on the market but these are not the cheapest. However, they fit on the majority of vehicles and you can put almost any bicycle on them.
The end goal is to safely transport your bikes to your destination without compromising the space from your SUV/car. The majority recommended here are hitch and roof racks (you can consider these as semi-permanent extensions of your car) as they are more durable and can support more weight, while others, like trunk racks, are more portable.
Platform style hitch racks are the easiest to load and the most versatile. Among them, T2 Pro XTR from Thule and Backstage from RockyMounts are considered to be the best overall. If you have an electric bike go with Vibrelli V70 or KAC K4. The winner for the best design will go to Kuat NV 2.0 ? This is just a glimpse so feel free to discover more below.
10 Bike Racks for SUV (2023 Update)
1. Best Overall:

Thule T2 Pro XTR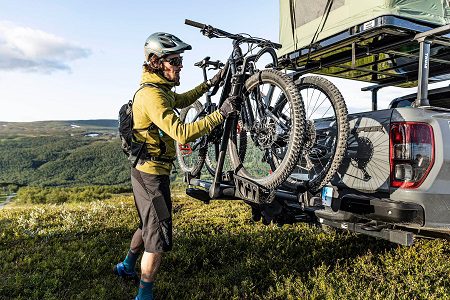 Highly versatile, excellent performance, amazingly easy to use.
Is this the best ever hitch mount bike rack? or even the best SUV bike rack? Before anything else, Thule replaced the T2 Pro XT with the T2 Pro XTR while the only difference is the new set of wheels at the base that makes it easier to transport. Now let's dive in into its features. Thule T2 Pro XTR promotes a versatile design that fits nearly all styles of bicycles up to 60 lbs with zero frame contact. The maximum tire width is 5 inches without any adapters making it ideal for mountain bikes, ebikes, electric mountain bikes, fat bikes, carbon frames, downhill bikes. The majority of contenders are limited to 3 inches tires making them incompatible with fat bicycles. The individual trays are adjustable laterally so you conveniently avoid bike clearance issues. It fits 20-29-inches wheels and offers a 12.5 inches distance between bikes.
Who is the T2 Pro XTR best for? buy this platform hitch rack if you are looking to haul multiple bikes and a variety of wheel and tire sizes, families needing to haul bicycles 20″, fat bike riders, or you just want a versatile. sturdy and secure SUV bike carrier. Ratcheting arms are some of the sturdiest on the market being very secure even when pulling them side to side. Tilt system is impressive, being ideally placed for adjustments with the lever located in the middle of the carrier, away from the car and bikes.
2. Best Swing-Away:

RockyMounts Backstage Platform Hitch Rack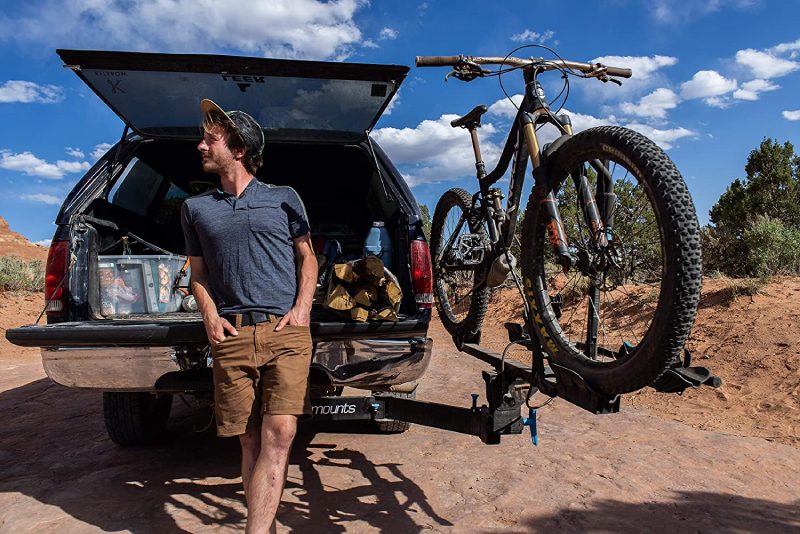 A premium hitch rack that features the best swing-away mechanism.
The Backstage hitch mount bike rack from RockyMounts is the ideal tray-style SUV bike rack if you're looking for the best fit on your van, combined with sturdiness and versatility. Similar to Yakima FullSwing hitch rack, Backstage will swing away 180 degrees from the vehicle. Unlike FullSwing (with is hanging hitch rack and can carry up to 4 bikes), Backstage is a platform hitch rack and can carry 2 bikes maximum (not compatible with add-on). We wouldn't see this as an inconvenience though, since the platform rack can carry bikes with up to 60 lbs weight and up to 5.0" fat bike tires, and diameters from 20" to 29".
Backstage is a premium SUV bike carrier while its features go beyond swing-away option. Being a platform carrier it has a low loading height, folds flat against the vehicle and tilts down 30 degrees to allow for hatch access. It is an ideal electric mountain bike rack since fits e-bikes with massive wheel diameters, from 20" up to 29" and secure them tightly with the ratcheting hooks.
The bike clearance is of 13" between the adjustable trays, which is making this platform hitch rack more fat bike-friendly and adaptable. That is why Backstage is considered one of the best fat tire eBike rack and one of the best all time bike carriers. 
3. Hollywood Racks Destination 2-4 Bikes Platform Hitch Rack
Destination is the Hollywood's lightest platform hitch bike rack weighing only 20 pounds (2-bike version) or 42 pounds (4-bike version) but gives a secure, easy to install and easy to use carrier. By comparison, other contenders weigh anywhere from 70 to 90 pounds: KAC K4 is at 79 lbs while Thule T2 Pro XTR 2-bike is at 52 lbs.
It is designed with individual wheel trays to make loading and unloading super breezy and includes padded frame holders to protect your bike even on the roughest roads. It also includes ratchet straps that slide vertically along the center post and rotate 360 degrees to accommodate every shape and size of the bike frame. The locking threaded hitch pin keeps the lightweight hitch bike rack from swaying during transit and the rack also folds up when not in use for safer driving and convenience. 
If you own an ebike, Hollywood Racks comes with one of the best electric bikes racks – Sport Rider for Electric Bikes, an ideal heavy duty ebike rack which can carry two e-bikes with a 60" wheelbase and maximum capacity of 80 lbs. per bike. A great alternative to 4-bike version is Sport Rider SE4 which comes out of the box set up as a two bike base unit. The two bike add-on kit (included in the box) is easily assembled to the base unit by sliding it onto the base unit and tightening the lever. It features patented "No Wobble-No Tools" hitch tightening system. Easily fold the rack flat against the car when not in use, or tilt it down for easy cargo door access
4. KAC K2 and K4 Platform Hitch Rack (Versatile & Strong Design)

KAC K2 and K4 platform hitch racks are capable of carrying a variety of bike sizes and styles with ease. KAC praise they can carry up to 2 bikes or 4 bikes of any style while keeping them safe during transportation. This versatile rear-mounted bike rack is designed for a 2-inch hitch receiver and supports standard, fat-tire or ebikes up to 60 lbs each. What is great about this hitch bike carrier is the fact that wheel holders can be adjusted up to five inches wide to hold larger fat tire and electric bikes.
The powder-coated steel ensures the rack has a long life while the patented anti-wobble system eliminates slack. KAC hitch bike rack comes equipped with tire straps and includes a Safety Strap to safeguard your bikes and better protect you against the unexpected. Foam padded hook arms secure your bikes to the rack while preventing damage to your paint job. If you have a step-through bicycle with a low frame, you'll want to consider an adapter for a secure fit.
A patented quick release lever makes it easier than ever to enjoy life on the road with your bicycles. The Smart Tilt feature allows you to lower the rack away from the back of your SUV, providing easy rear cargo access instantly. KAC K2/K4 is considered one of the best bike racks all time given the versatility, sturdiness and security it offers.
5. Best Design:

Kuat NV 2.0 Platform Hitch Bike Rack

Kuat NV 2.0 is a pltform hitch bike carrier that is designed, buit and tested to push the envelope and establish a new benchmark in bike carriers. Kuat's vision is that they wanted to create THE rack and not just yet another rack so it fits with the most discerning enthusiasts in mind. To be honest, they succeded in doing that – NV 2.0 presents a full suite of premium features, sleek looks and integrated work stand. On the downside – it is heavy, expensive and a bit difficult to assemble.
Kuat NV 2.0 platform hitch bike rack has a capacity of 2 bikes and fits both 1.25″ and 2″. It will carry 50 lbs. per bike (2-bike set-up) or 40 lbs per bike (4-bike set-up). The NV 2.0 will accommodate road and mountain bikes with 20-29-inches wheel size and 5-inches tire width (separate fat kit required).
You will have a snug-tight fit between hitch and rack with just a twist of the cam – some great news: no wobbling even on the roughest roads. The new pivot allows you to gently drop the rack with a tap of the foot so you can get your ride on the carrier without lifting a finger. The integrated repair stand makes field maintenance easy even if it doesn't replace a proper bike repair stand. Bicycles load quickly onto the beam with an adjustable tire cradle at the front and a ratcheting strap at the back. Premium gloss metallic powder with water transferred logos.
6. Vibrelli V70 Electric Bike Hitch Rack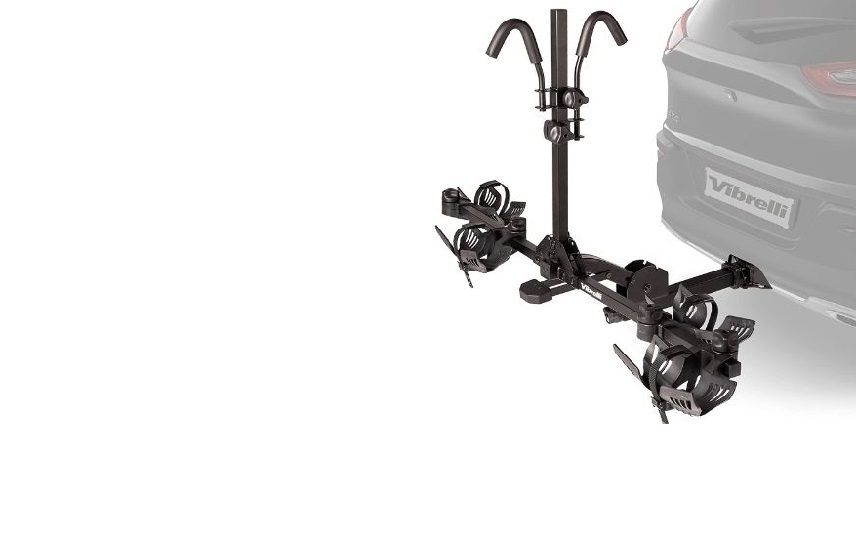 Vibrelli V70 is one of the best electric and mountain bike racks that will carry fat electric bikes and standard bicycles with ease. V70 is designed to carry two bikes of max weight 130 lbs (65 lbs per bike). The wheel cradles are custom designed to fit all bike tires up to 5" wide. The unique wheel cradle design allows thin road bike tires and fat tires up to 5 inches wide, to be held firmly in place, while distributing pressure evenly avoiding damage. The quick and easy ratchet strap mechanism secures the wheels, reducing movement when driving. The rack comes with three locking mechanisms to keep your bikes safe (spare key included). With two bikes fully loaded the rack can easily be tilted down with minimal effort, allowing access to the vehicle trunk. While still attached to the vehicle hitch, the bike rack can easily fold up out of the way when not in use, making it easy to park in the garage or store safely when out on a ride.
7. Saris Super Bones 3-Bike Trunk Rack

Saris SuperBones 3-bike trunk mount rack looks very similar to Bones but as those from Saris mentioned, it is reimagined. SuperBones features innovative retractable straps, one-touch adjustability for ease of car fit and seamless strap management. Pivoting and floating foot easily and intuitively adjusts to vehicle's design. Dual locking system that securely locks the bike to rack and rack to car. Interwoven steel straps store neatly within the rack, and the floating foot pivots to conform to a wide variety of trunk shapes. SuperBones is capable of carrying 3 bicycles with up to 35 lbs per bike.
8. Yakima FullSwing 4-Bike Hitch Mount Rack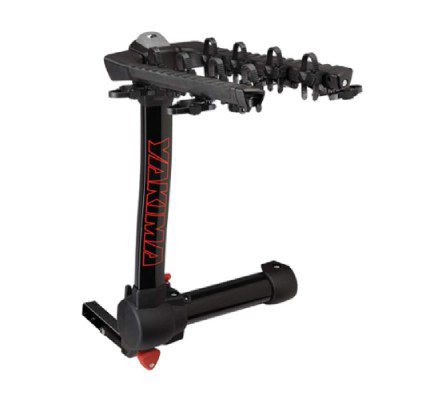 Yakima FullSwing is one of the best swing-away bike racks today as it swings out of the way with a single touch to provide access to back of vehicle. FullSwing is a heavy-duty rack being capable of carrying a variety of bike styles – mountain bikes, downhill, cruiser, fat bikes, touring, family bikes. Fits all types of bikes with traditional frame geometry (some mountain, women's and kids' bikes require the TubeTop adapter, sold separately). Anti-sway bike cradles eliminate bike-to-bike contact and bike-to-vehicle contact. Fully padded arms help protect bikes, and rubber straps on each cradle securely anchor bike into place. The installation guide is quite detailed so you will have no issues. Just make sure you follow their sizing guide to ensure the rack will fit your car (it fits 2-inch hitch receiver).
9. Yakima FrontLoader Roof Mount Rack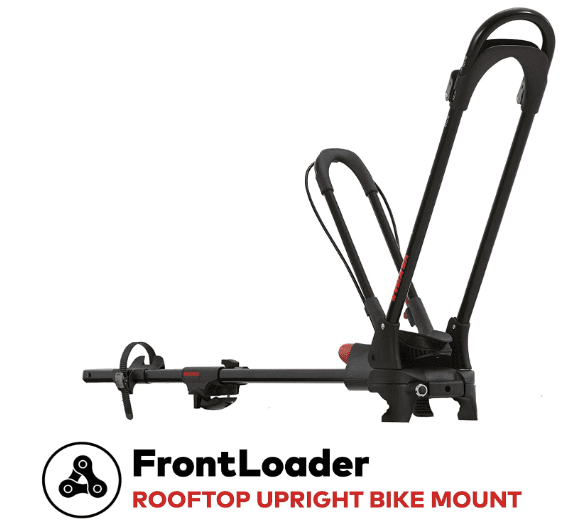 The FrontLoader can fit virtually any crossbar and all the bikes with 20" to 29" wheels and tires up to 3" wide, thus it will not fit fat-tire bikes, but this compensates with the accommodation of disc brakes, thru-axles, and full suspension bikes. The everyday use is as easy as it gets when you have a low roof car because the front wheel doesn't need to come off, for your bike to be fitted into the roof-mounted rack. Convenience is at home with the FrontLoader, because it comes fully assembled and its mount and removal also require no tools, due to the excellent clamp system.
FrontLoader doesn't come with lock cores so you will have to purchase those separately. It is a sturdy rack but it has plastic components including the crossbar clamping system.
10. RockyMounts BrassKnuckles Roof Bike Rack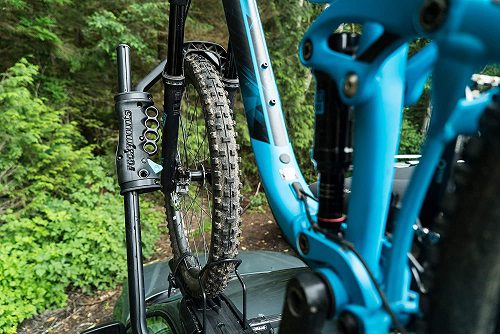 The RockyMounts BrassKnuckles is a roof mount bike rack that carries 1 bike, up to 45 lbs on RockyMounts, Thule, or Yakima bars, 35 lbs on factory crossbars. It has a user-friendly design and uses a sturdy clamp arm that secures the bike by the front wheel with no frame contact. It carries road tires up to 3. 0" wide mountain bike tires, and diameters from 20" to 29", being compatible with bicycles' wheelbases from 34" to 48". As with any roof carrier the most difficult part is lifting the bicycle up onto the roof on your SUV.
This rack makes no frame contact to secure your bicycles while the front wheel clamp is one size fits all. No adjustments are needed when switching between different wheel sizes or tire widths. When not in the use, the small front wheel chock folds down into the base and the hook nests inline with the tray for a low-profile look and to reduce wind noise. The BrassKnuckles attaches securely to the SUV and holds your bike steadily at highway speeds.
We are continously updating this guide as we are keeping a close eye on what's coming new from manufacturers. 
Disclaimer: bikerackforsuv.org is a participant in the Amazon Services LLC Associates Program and other affiliate advertising programs and may receive a commission if you purchase a product via a link on this page.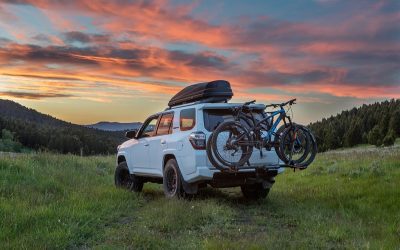 Exploring the Best Heavy-Duty Fat Tire Bike Racks for Adventurous CyclistsCycling enthusiasts, whether they prefer leisurely rides or challenging off-road adventures, understand the importance of...
read more