Exploring Exceptional 5-Bike Hitch Racks for Cycling Enthusiasts
The best way to carry bikes is on a hitch platform that supports the entire weight by the wheels. A hanging rack that holds bikes by the frames is another good hitch carrier variety. These are racks that are adapted for use on cars, SUVs, trailers, and trucks.
Prices vary depending on the versatility, ease of use, safety, and anti-theft features. Typically, platform racks are easier to use and support more weight but come at a lower cost value compared to hanging racks.
These types of racks are sturdy and only require that your vehicle has a tow hitch of size 1.25" or 2". The best part is that receivers can be adapted to fit either hitch size with locks to eliminate wobbling and vibrations during transit.
Before you purchase a rack, first find out if it's rated for your specific vehicle type and model. This has much to do with the bumper size, how the rear hatch opens, and the clearance of a rear-mounted spare tire. Manufacturers also may also cap on the load limit allowed on the hitch and the size of a rack upon fully deployed.
Considering these and other factors here are the top 5-bike hitch racks.
5-Bike Hitch Racks for SUV in 2023
1. Thule Apex XT Hitch Bike Rack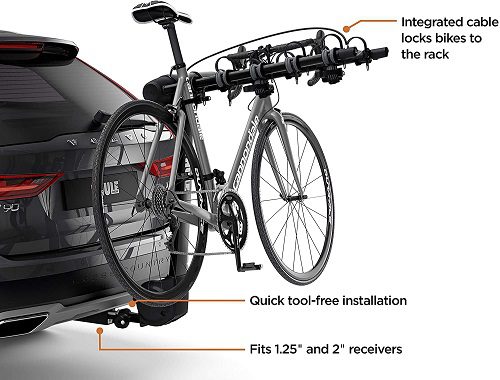 Thule Apex XT 5-bike rack is a compact-build tilt away hitch rack. It has a clearance of 42.1'' when loaded, an average size considering that some carriers extend for over 60". For stowing away, dual folding arms reduce the size to just 14.7".
The rack is perfected for ease of use and security for your bikes. At only 35 lbs, you can install and mount the rack without any assistance. Installation is tool-free with a manual to ensure you eliminate wobble and securely lock the rack.
It is a sturdy rack that supports 5 bikes of up to 150 lbs on a 1.25" or 2" hitch. Load is supported on a sturdy arm fitted with anti-sway cradles (5.5'' spacing) to ensure each bike remains in position.
For maximum safety, it features an integrated heavy-duty lock, with the cable fitting inside the rack when disengaged. The rack also comes with a lock for securing it to your car.
2. Yakima RidgeBack Tilt-Away Hitch Rack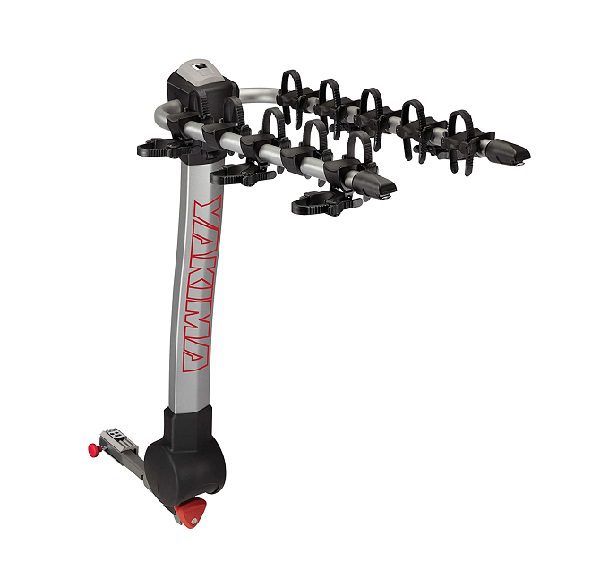 This is a tilt-away rack designed for a 1.25" and 2" hitch receiver. Yakima RidgeBack lets you haul 5 bikes on a rack that tilts away for unfettered access to the vehicle's rear.
It is designed for bikes with traditional geometry, with a top tube adapter (sold separately) for adapting other frames. The rack weighs 40bs making installation a one-man job.
Additionally, the rack is fully assembled from the shop and all you have to do is install it onto the hitch receiver. Bikes are secured to the rack using removable ZipStraps and anti-sway cradles. You can further secure your bikes with a Yakima HandCuff lock (sold separately).
When fully loaded, it supports 150lbs with bikes spaced at 4.5''. Note, the carrier should not be fitted on a hitch extender and neither is it rated for use on RVs, trailers, and campers. Also, the Yakima RidgeBack is best for carrying bikes of different sizes.
3. Yakima FullTilt Tilting Hitch Rack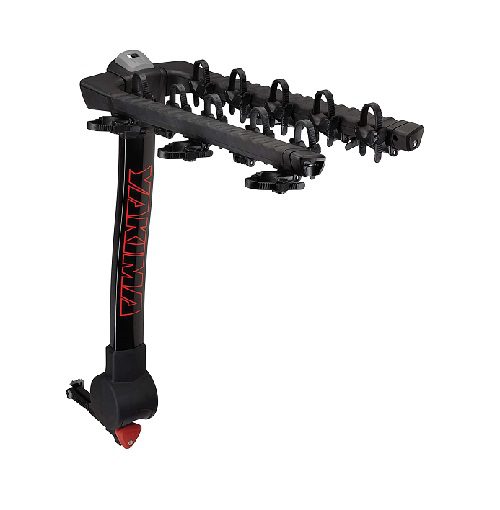 The Yakima FullTilt is similar in functionality to the RidgeBack 5-bike rack from the same company. It weighs 18kg (approx. 40lbs) and helps you transport bikes of up to 150lbs with each bike weighing not more than 40lbs.
You only need to mount the rack onto a 1¼" or 2" hitch receiver, deploy it, and start loading your bikes. It comes from the box fully assembled for a truly tool-free installation.
Further, the product has an AutoPin for positioning and securing the rack onto the receiver plus a SpeedKnob for locking the connection. Security for your bikes is enhanced by an integrated cable lock.
Yakima FullTilt is made of alloy steel for durability and resilience. With well-padded arms, the design eliminates scratches on the frames. Bike-to-bike contact is avoided by having anti-sway cradles in addition to ZipStraps for better stability on the road.
4. Curt Premium Hitch Bike Rack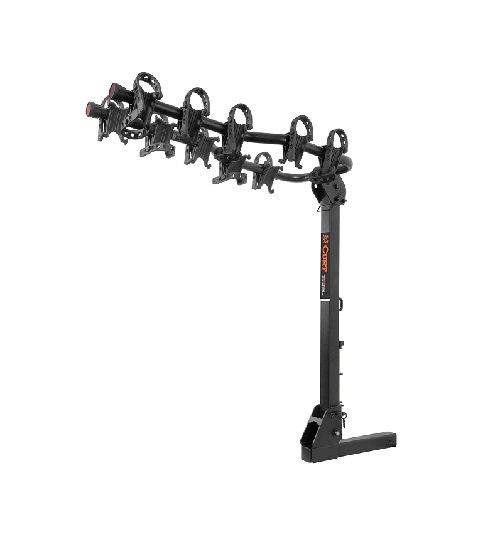 Made for both big and small bikes, the Curt 18065 Premium bike rack carries a whopping 225lbs! It is rated for a 2" hitch with tapered arms to make it easier to hold bikes of varying sizes. The design is further boosted by adjustable cradles made of rubber to avoid scratching the bike frames.
Installation is fast though it does require a steady hand to tighten bolts and clips. Once assembled though, the carrier is strong, featuring an anti-rattle bolt and clip for the rack-hitch connection. Resistance from the element is ensured by a durable coat finish of black powder that also improves aesthetics.
For balance, the manufacturer recommends that you arrange bikes in alternate directions (left vs. right). A support strap is also included for improved stability for your bikes. To access the cargo section, you need to remove a bolt and tilt the rack away from the car.
5. Allen Sports 5-Bike Hitch Carrier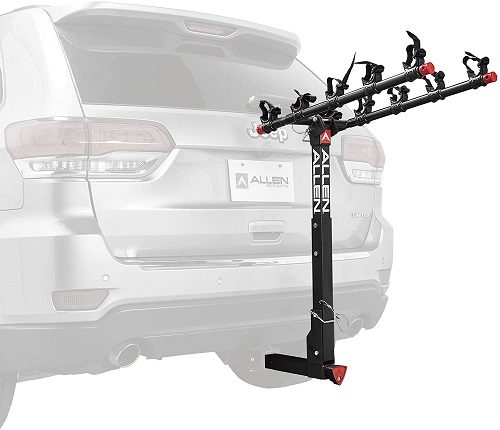 This is a rugged 5-bike rack with a rack capacity of 175lbs. Only minor assembly is required to connect the carry arm, main post, and hitch insert. The item is only 24lbs in weight and fits into a 2" hitch receiver with a knob and key for engaging the locking mechanism.
The rack folds when not in use and snaps into an upright position by way of squeezing tabs. You can fit and secure bikes with varying frames using separate anti-wobble tie-down cradles that rotate freely.
Allen Sports Deluxe Locking rack is free of wobble due to sturdy carry arms that fold easily when not in use. The assembly tilts away to give unrestricted access to the liftgate.
The rack is designed for traditional frames but can accommodate y-frames when an adaptor bar is installed (sold separately). Best use calls for bikes to be arranged alternately, with the heaviest bikes positioned near the vehicle, plus extra padding on bike-rack contact points.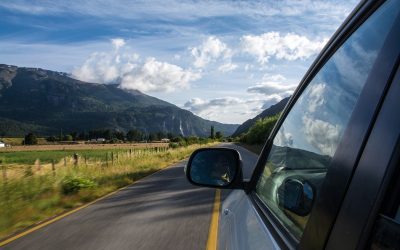 Exploring the Best Hitch Bike Racks for SUVs on Your Long Road TripsThere's something magical about the allure of the open road, stretching out before you, filled with the promise of new adventures....
read more