Roof Racks for SUV: An Essential Guide in 2023
The finest roof mounted bike racks you can get today.  Explore fork-mount, frame-mount and wheel-mount carriers that will transport your bicycles safely to destination.
What is a bike roof rack?
The roof-mounted carrier allows you to easily transport one, two, or more bicycles using fork, frame, or wheel-mounted options. It is one of the most versatile and secure bike rack types but it will require having a base roof rack installed on the top of your vehicle. Rooftop bike racks are ideal for those who ride often, die-hard bikers, or those who want to go on a weekend trip.
Roof bike racks are a good option if you would like to carry mountain bikes, road bikes, bikes with step-through frames, children's bikes, bikes with suspension, bikes with fiber frames, and even fat bicycles. Also, a good choice if you are willing to lift bicycles up to your vehicle's roof and overhead clearance is not an issue.
The 10 best roof bike racks in 2023:
Yakima Highroad
RockyMounts TieRod
Thule UpRide
Yakima FrontLoader
RockyMounts Tomahawk
RockyMounts BrassKnuckles
Yakima ForkLift
Thule Pro Ride
Kuat Trio
RockyMounts Jetline
Find more details about each carrier mentioned above on our dedicated article, 10 Best Roof Bike Racks in 2020.
We spent a good amount of time researching and looking at the carriers from different angles. We did also look at how Amazon customers are rating each one of them. These roof-mounted bike carriers will adapt to almost any bike or vehicle, will not damage bicycles and you (and your bikes) will safely arrive at the destination. 
What is the best roof bike rack?
If you are in a hurry and want to see the headliners, we made it easy for you. RockyMounts, Yakima, and Thule are the three main roof rack manufacturers. Tomahawk carrier as an example from RockyMounts takes your attention since it's ready for anything and provides extensive mounting options – fat bikes, road or mountain bikes, this roof rack will get you there no matter what you drive or ride. HighRoad carrier from Yakima is a premium upright bike mount that provides ultimate security and bike protection capable to carry a large variety of bicycles. UpRide from Thule is a universal upright carrier with no frame contact for maximum frame protection.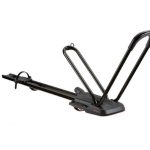 Best Overall
Yakima HighRoad
The newest premium upright bike mount from Yakima. New wheel hoop fits 26" to 29" wheels and tires from 23mm to 4.0" with no adjustment needed. Sleek, low profile tray minimizes hatch interference. Carries any bike style.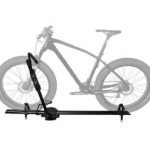 Best For Fat Bikes
RockyMounts Tomahawk
Designed for fat bikes but capable for almost any bike, this roof rack carries up to 5.0" wide mountain bike tires, and diameters from 20" to 29". Compatible with bicycles' wheelbases from 34" and 48". No frame contact.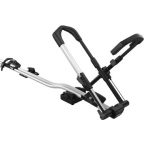 Best for Expensive Bikes
Thule UpRide
Perfect roof rack for bikes with carbon frames. Versatile design accommodates bikes with non-traditional frame designs, rear suspension, and bottle cages. Fits most 20–29" wheel bicycles with tires up to 3″ wide. No frame contact.
Your bike will be secured by removing its front wheel, increasing the stability and clearance. The sway will be minimal, having a slightly lower profile than other roof-mounted systems. if you are concerned about the height or your SUV or car, then fork mount bike racks are a good choice. It is extremely easy to mount and remove bicycles and provides excellent stability and security. Just remove the front wheel from your bike, place the bicycle onto the carrier and secure it. A nice fit for high-end bikes with carbon fiber frames. However, fork-mounted option won't work with some bicycles like those with thru-axles or disc brakes, so you need to reorient to frame or wheel mount racks.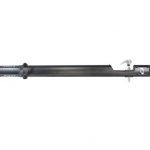 Kuat Trio
A true fork-mount bike rack, Trio is capable to carry bicycles with any axle standard at the fork. It is durable and it has a lower profile than carriers that clamp the tire.  Works with 9-mm quick-release skewers.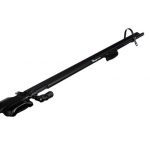 RockyMounts TieRod
Carries road tires up to 2.7" wide mountain bike tires, and diameters from 20" to 29". Compatible with bicycles' wheelbases from 34" and 48". Stainless steel mounting straps wrap around factory or elliptical crossbars.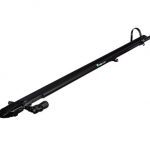 RockyMounts JetLine
The most aerodynamic and low profile fork mount rack carries road tires up to 2.7" wide mountain bike tires, and diameters from 20" to 29". Compatible with bicycles' wheelbases from 34" to 48". Carries 1 bike, up to 35 lbs.
Frame-Mount Upright Roof Racks
On frame-mount bike carriers, the bike is secured to its frame instead of its front wheel, so there is no need to remove the front wheel. Extremely easy to install, secure and remove. Just place the bike on the carrier and secure it. Nice fit for bikes with disk brakes, mountain, and downhill bikes.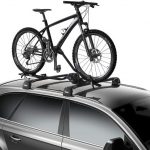 Thule ProRide XT
Upright bike carrier for the quickest, most convenient mounting – for bikes up to 44 lbs. Improved mounting hardware fits most factory crossbar profiles. Stable wheels – firmly fixed in smartly designed wheel holders.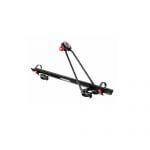 Yakima RaptorAero
 A great option for bikes with traditional frame geometry and bikes with fenders. Fits 1″ to 3″ diameter downtubes; Accommodates disc brakes, thru-axles, and full suspension; Carries 1 bike up to lbs. at minimum 16″ crossbar spread.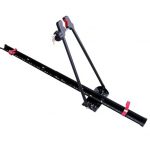 Swagman Upright
The minimalistic & sleek design looks great on any vehicle. It is made from sturdy plastic and steel and only weighs 5Ibs. Fits square, round and oval crossbars up to 3″ wide. Max weight capacity of 35Ibs. per bike.
Wheel-Mount Upright Roof Racks
For wheel-mount roof racks, the bike is secured at its front wheel in order to avoid the contact with its frame and you don't have to remove the bike's wheel. Just place the bicycle on the carrier and secure it. Upright bike mounts allow you to keep both wheels on and attach your bicycle by the frame or tire. Nice fit for carbon fiber bike frames, mountain and downhill bikes, and those with disk brakes.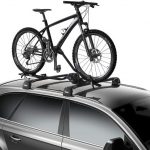 RockyMounts BrassKnuckles
Carries 1 bike, up to 45 lbs, road tires up to 3.0" wide mountain bike tires, and diameters from 20" to 29". Can fit up to 5" with an additional kit. No contact with frame, secures bicycle by front wheel; wheelbases from 34" to 48".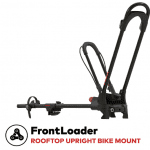 Yakima FrontLoader
Fits any type of bike, including disc brakes, thru-axles, and full suspension. Fits 20″ to 29″ wheels and tires up to 3″. It holds your bike upright as you secure it. No frame contact. Fully assembled out of the box.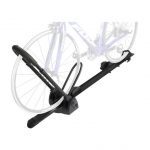 Venzo Roof Rack
Clamp is aero shaped and perfect to aero crossbars. Fit 24″ to 29″ RIM: The adjustable clamp allows any wheels from 24″ to 29″, and tire width max 2.3″. Built with high-quality aluminum and hardened steel and reinforced plastics.
Buying guide: How to Choose a Bike Roof Rack
Roof mount bike racks are a great option for vehicles with a low height profile but work on SUV as well, as long as you don't have an issue with the clearance. If you do have a problem and want to look after alternatives, we suggest our Hitch Bike Rack Guide. It is recommended to look after the right crossbars – those from Thule or Yakima will do the job. If your car has crossbars already, make sure these will fit with the bike carrier.
If roof bike carrier looks like a good choice, consider asking yourself the following:
How frequently and how far do I need to carry bikes?
How many bikes will I be carrying?
What types of bikes do I have?
Which vehicle do I have?
These are the first four questions you need to ask before deciding to buy a bicycle roof rack. Roof bike carriers give you a full choice of different loading/unloading and mounting options, from fork mount bike racks (requires front wheel removal) to wheel mount or frame carriers (both wheels will stay on the bike).
It is generally a very stable and secure system that can work with different configurations and number of bikes – you can carry your mountain bike with the front wheel on or off.
Front-wheel removal (the case of fork-mount carriers) keeps the bike lower which is great for SUVs as it gives some clearance. It is the classic way of hauling bicycles up top and can be lighter and easier to load.
Roof mounted bike racks that keep both wheels on the bike are taller, can be less stable and cost more. Anyway, there will be a lock that will secure your bike to the rack. The rack needs to be locked to the bars and bars to your vehicle. Crossbars will let you carry not only bikes but also kayaks, cargo boxes, skis and more. Remember that mounting your bicycle on the roof of your car will entail lifting it above your head. Also, it is common to forget that your bikes are on the roof so you need to always be aware of your clearance in case of bridges or garage.
What is the best bike roof rack?
While there are many great options available, we found that those from RockyMounts and Thule are extremely well-built, sturdy and secure. Tomahawk carrier from RockyMounts, for example, carries 1 bike, up to 40 lbs, 35 lbs on factory crossbars and fit tires up to 5.0". Check out our 10 best roof carriers selection to see more options. 
Are roof bike racks safe?
Today, bicycle roof racks are highly secure and versatile. Thule, Yakima, and RockyMounts have some great locking systems available that will not allow your bike to move or fall.
How many bikes can fit on a roof rack?
You can add up to 4 bicycles at once on the carrier which allows you to access the rear of the SUV and the number plate and lights will be visible. You might want to check the roof carrying limit of your bars and vehicle, though.
However, the hitch-mount option is better suited to carry more bikes and come with great features like tilting or swing-away which will provide rear access.
How to mount bike on roof rack?
The video below is self-explanatory and will show you how to do it. Note that in the video is shown a fork-mount type. 
How to secure bike to roof rack?
For this time in the video is use a wheel-mount roof rack. Have a look to see how easy it is to secure it, lock and unload the bicycle.
Disclaimer: bikerackforsuv.org is a participant in the Amazon Services LLC Associates Program and other affiliate advertising programs and may receive a commission if you purchase a product via a link on this page.