Can You Put an Electric Bike on a Bike Rack?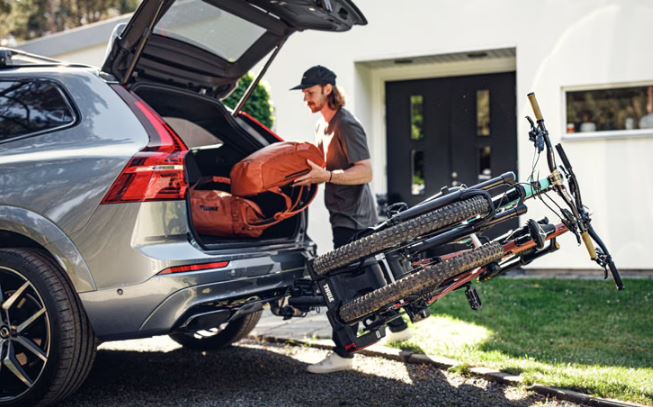 Electric bikes are here to stay as they're not only good for your everyday commute, but also your weekend trips with your loved ones. You can easily conquer a bumpy route or explore the city without breaking a sweat – but how are you supposed to store it when you're going away and want to take it with you?
Here comes the question: can you put an ebike on a bike rack? The answer is yes, you can. Here are the most important things you need to know about your ebike before purchasing a bike rack:
Weight Your eBike
You already know that an electric bike is twice as heavy as a regular one, which is why you'll need to find a rack that supports its weight and keeps it safe in any circumstances. The reason for the weight increase is the heavy components as the battery and motor.
Our recommendation is to detach, if possible and the design allows it, the battery from the e-bike before weighting it, so you can have a clearer idea about the type of rack that can support it safely.
Choose a Bike Rack Specific For Your Type of eBike
There are several types of ebikes, destined for mountain trips or city commutes – with different designs and features. When it comes to loading the e-bike into your bike rack, it's important to know if it fits correctly and to consider its main purpose.
An electric mountain bike can be heavier and larger than a city e-bike, due to its main purpose and the heavy-duty it has to support on a hike or bumpy road. The city ebikes can be lighter and slimmer, in order to fit the purpose and integrate nicely into the urban landscape.
It can be difficult to find the right electric bike rack, so we've done our research, and here is our favorite:
The Thule EasyFold XT 2 Bike Rack For Heavy eBikes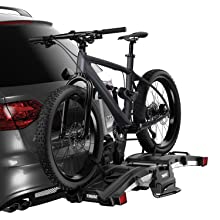 A heavy, full-size ebike is usually destined for mountain hikes and different types of off-the-grid roads, but also it can be used for day-to-day commuting and can weigh between 50 lbs. to nearly 65 lbs. It can be difficult to transport an e-bike and we recommend using a premium rack that can support its weight, but also its features.
Our recommendation is the Thule Easy Fold XT 2 bike rack. This type of rack can support 2 ebikes of a maximum of 65 lbs. each, being able to carry a total capacity of 130 lbs. The Thule bike rack supports the ebikes only with the battery removed and contains an integrated ramp that will make the loading and unloading process a piece of cake. You can also tilt the rack to allow space to reach your rear hatch and open it without your ebike getting in the way. The bike rack together with the ebikes can be locked to your vehicle, so you don't have to worry and all you have to do is enjoy the ride.
As a conclusion to our research on ebikes, we strongly recommend you carefully check the features of your item, before making a bike rack purchase, in order to make the most out of your time and money. It is important to know if the battery of your bicycle is removable and also how much weight you're saving without it, as this is a crucial condition when it comes to traveling with an ebike.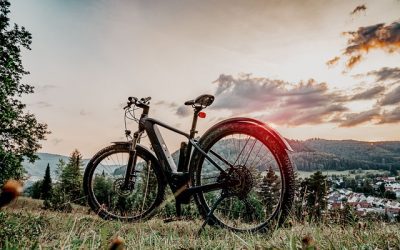 Weighing double than a standard bike because of the battery of course, it might seem difficult to transport an e-bike. However, most e-bikes have detachable batteries that can be transported separately.
read more