(Almost) Everything You Need to Know About Electric Bikes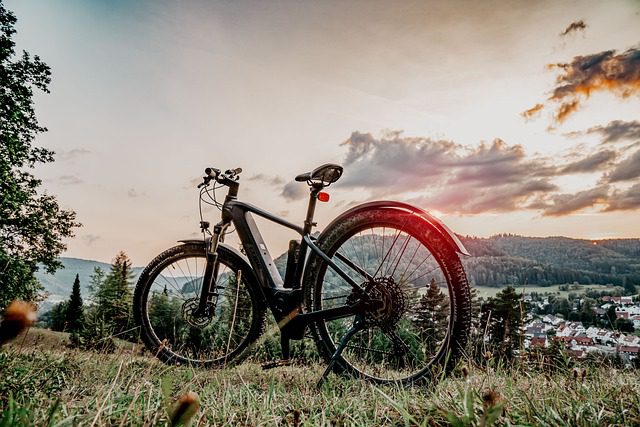 "Power bike," "motorized bike," "pedal assisted," "pedelec," whatever name you prefer, electric bikes have come a long way. First off, electric bikes are not much different from the traditional bikes. They share a few similarities such as wheels, frame styles, wheels. Additionally, pedals and brakes in most bikes work similarly.
E-bikes are classified by their motor power and control system. Speaking of the control system, they can further be classified into either pedal assist or power -on-demand systems. The pedal assist system means the power of the motor is controlled by pedaling. On the other hand, the power-on-demand version is switched on through a throttle.
In the early 19th century the first electric bike models made their debut. In December 1985, Ogden Bolton jr, introduced a battery-powered bicycle, which was designed with a hub motor fitted inside the rear wheel. Two years down the line, Hosea W.Libbey invented the "double electric motor" that had two batteries, two motors, as well as two wheels.
Later, in 1898,  Mathew J. Steffens introduced a belt-driven rear wheeled electric bicycle. However, at the time, the transportation industry was largely dominated by the production of electric motor cars and e-bikes were left out.
A century later, the electric bike saw major revivals. In the 1990s, the introduction of e-bikes with torque sensors and power control drove the field, thanks to Yamaha and Panasonic companies. At the time, most e bikes were fitted with small rechargeable batteries and electric motors.
Unlike previous versions, the new models increased in aspects such as speeds reaching 80km/h. Even so, regular bikes still controlled the market. Nonetheless, in the 21st century, the trend took a positive turn, people started to embrace motorized bikes. With that, the production rate increased, the industry saw an increase of at least 35% between the years 1993 to 2004.
In this age and time, the use of electric motorbikes has been embraced widely across multiple cities around the world. To put that into perspective, today, there are about 120 million motorized bikes in China now compared to 1998 when there were only 56,000 of them.
In Europe the sale rate also increased significantly, with over a million units sold annually. Besides increased production and sale rates, e- bikes have highly increased in popularity and give better alternatives to cars; as such they reduce gas pollution.
Weighing double than a standard bike because of the battery of course, it might seem difficult to transport an e-bike. However, most e-bikes have detachable batteries that can be transported separately. This is an important feature that ensures you do not exceed the load capacity of a bike rack.
That said, we recommend investing in a heavy-duty electric bike rack that has a high load capacity plus can transport more than one electric bike. Still on the weight factor, an e-bike is also best carried on a platform hitch rather than a roof or swing rack to ease the loading process.
What's more, platform racks distribute weight steadily and precisely. On the flip side, the position of parts like the battery may vary from one model to another making it hard to position your e-bike on the rack. With that in mind, go for Hollywood Racks Sport Rider for Electric Bikes, a heavy duty rack holds your e-bikes by the wheels. It comes fully equipped, being able to carry two e-bikes with a 60" wheelbase and maximum capacity of 80 lbs. per bike. The universal wheel holder that comes with the rack will fit any bike, up to 5″ tires.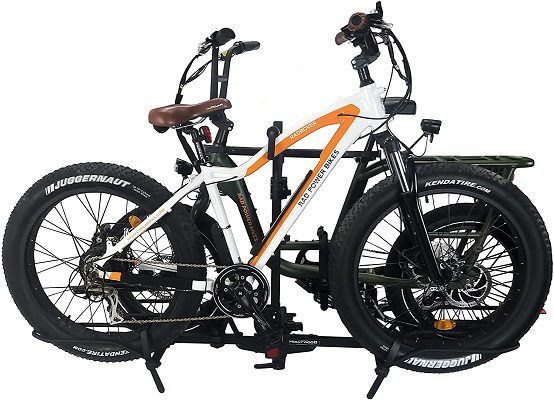 The Sport Rider from Hollywood Racks for electric bikes is ideal for heavy duty e-bikes. Coming fully equipped with a locking hitch pin and locking cable, this rack is able to carry two e-bikes with a 60" wheelbase and maximum capacity of 80 lbs. per bike. The universal wheel holder that comes with the rack will fit any bike, up to 5″ tires.
Best Hitch-Mount Bike Racks for Fat-Tire Bikes (2023)Fat bikes have revolutionized the biking experience with their impressive versatility and rugged design. These burly beasts, equipped with...
read more