Thule Apex XT Review
Meet convenience and versatility with Apex XT bike hitch rack. Perfect for a bike vacation with the whole family. Swing-away version available.
View on Amazon
Designed to fit different sizes of hitch receivers, the Thule Apex XT bike hitch rack is a premium hanging rack, ideal to fit up to four bikes quickly and securely on your SUV or Passenger Car. The rack comes with anti-sway cradles, which will prevent the potential contact between the bikes during your trip and also the patented swing-away design is convenient for vehicle access, when the bikes are attached to the rack. You will be able to easily access the luggage in your trunk whenever needed, just by swinging the rack away. Your bikes will be secured and safely carried to your destination.
HIGHS (+)
Ergonomic loading
Convenient access to the rear of the vehicle
Easily fold down bike arms when rack is not in use
Superior bike stability
Accommodates 20″ and even some 16″ kid's bikes
LOWS (-)
A bit difficult to load
Not well suited to full suspension bikes
Ease of Assembly
The Thule Apex XT bike hitch rack is easy to install and quick to lock to your car due to the tool-free, Snug Tite Stinger (lock included), which is the perfect travel solution. The installation details and elements will be provided to you, and you'll be able to secure the rack to your car easily, following the instructions. Some of the bolts are a bit difficult to tighten due to their position, making access with the included wrenches tedious. Two people on the job could be ideal. To install the carrier, slide the hitch arm into the receiver and snap the spring-loaded pin into the hitch pinhole. Then to fully secure the rack, turn the knob at the base of the rack several times to "tighten" the carrier within the receiver. Also, the rack can be easily tilted away from your vehicle to gain access into the rear hatch, if necessary.
Versatility
The Thule Apex XT is ideal for a wide variety of bike sizes or frame styles. The rack supports many types of bikes, as city, mountain or even fat bikes, but doesn't support tandem bikes. You can easily and safely store your bikes in the rack and travel to the destination. The hitch mount bike carrier also folds down easily when the rack is not in use, for convenient storage purposes.
If you buy the 4-bike version you will get a maximum weight capacity per bike of 37.5 lb while the distance between bikes is 7 inches.  When bike-to-bike contact is present, it is a possibility to damage your bikes when the car is in motion. The compact cradle design accommodates wide variety of bike sizes and frame styles. Thule Apex lacks the versatility of other racks such as Thule T2 Pro XT or KAC Overdrive K2 and sometimes children's bikes or small bikes can also be a challenge.
Safety
The important thing to remember when you're traveling with your bikes attached to the Thule Apex XT Bike Hitch Rack is to respect all the driving rules required by the authorities, drive safely and never above 80mph. In order to keep your bikes secured to the rack, you must comply with the weather conditions, local traffic signs (e.g. strong wind, speed bumps, bumpy road) or other requirements met on your journey.
Security
The integrated cable lock that comes with the Thule Apex XT allows full security to your rack and bikes, when you're on the move, but also when you're away from the vehicle. The rack is fully anti-theft secured, easy to lock in and nearly impossible to break.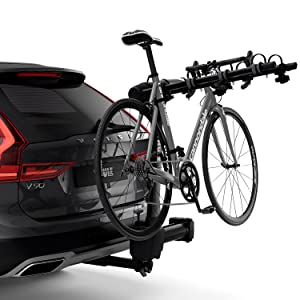 Secure and safe
Bikes are safe and secure during transport thanks to 7" of spacing between each bike. 5.5″ of spacing for 5-bike version.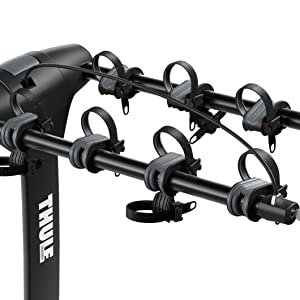 Integrated security
Lock bikes to the rack using the integrated cable lock (lock included).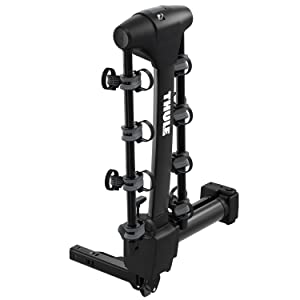 Compact fold
Easily fold down bike arms when rack is not in use.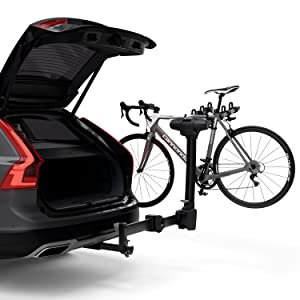 Rear of vehicle access
Convenient access to the rear of the vehicle, even with bikes attached, due to the patented swing-away design (for swing-away version).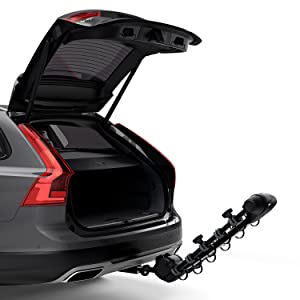 Tilting option
The HitchSwitch lever tilts the carrier away from vehicle for trunk, hatch, or tailgate access (for non-swing away versions).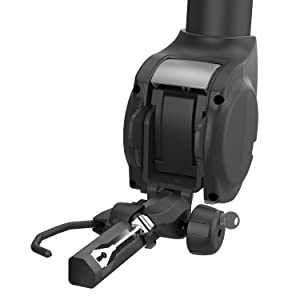 Tool-free installation
SnugTite Stinger provides a tool free installation, eliminates hitch rack movement, and locks the hitch rack to the vehicle.
What Makes Thule Apex XT Stand Out?
The Thule Apex XT is a versatile hitch mount bike rack that will make your trips and bike rides easier to manage.
This premium SUV hitch bike rack comes with a superior bike stability and fit with integrated anti-sway that prevents bike contact only when it is needed. It locks the bike to the rack using the integrated cable lock which will be included in your purchase and will assure a safe distance of 7" between each bike (5.5″ spacing for 5-bike version). The Thule Snug Tite Lock included is an innovative feature that assures safe and stable transportation of your bikes. You can also attach and secure your bikes with ratcheting cradle strap, for an extra-safe trip.
It is a family bike rack, suitable for numerous family members or for your weekend getaways with your friends. This could be the right choice because this type of bike hitch rack will allow you to:
Fit up to 5 bikes on the rack (swing-away version available for4-bike version) 
It is versatile and fits multiple types of bikes, from city bikes to mountain or fat bikes
The installation process is easy to follow and the locking system is quick, requiring only a key
It is lighter that other similar bike hitch racks
It works perfectly with both 1.25″ and 2″ hitch (for swing-away version 2″ only)
The included pads will protect your bikes from getting scratched on the road
Compare to similar products
Our verdict
This Thule hitch mount bike carrier is different than the main competitors, as Yakima Hold Up 2,ot only due to the professional look and feel, but also the features and the innovative locks it comes with, which are a game changer for the industry. It comes fully equipped with the items you'd need for a safe trip, and also allows room for mistakes, offering two replaceable locks and keys for security reasons.
As a last thing to remember when you decide to purchase this type of carrier is to always check the knob mechanism every few miles when you're on the road, so it doesn't get loose. This is only a safety precaution, but very important to consider when you're loading your bikes to the rack. The Thule rack might get loose if it's not correctly closed.
Disclaimer: bikerackforsuv.org is a participant in the Amazon Services LLC Associates Program and other affiliate advertising programs and may receive a commission if you purchase a product via a link on this page.
Here are Some Common Questions About Thule Apex XT Bike Carrier:
Does this work with cars that have a spare tire?
You would need a hitch extender to make this work.
Does this work for kids bikes?
Yes, as long as you use the 982XT frame adapter.
Will it fit a round or square hitch?
This rack fits into a square 1.25 inch or 2 inch hitch receiver.
Why is the swing rack so much lighter than the Yakima and RockyMounts?
The metal material (which is steel) is in a half oval shape to make it lighter.
Can this rack be installed with bikes that have fenders?
Yes, it can since it is a suspension carrier.
Can I open the hatch if i have 2 bikes mounted?
You do have to remove the bikes to gain access to the hatch.
Is there a warranty included and how safe is it?
Yes, there is a limited lifetime warranty that can be viewed at www.thule.com.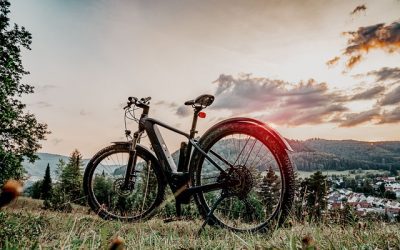 Weighing double than a standard bike because of the battery of course, it might seem difficult to transport an e-bike. However, most e-bikes have detachable batteries that can be transported separately.
read more